Map of Chattanooga, Tennessee

Map of Chattanooga
This Chattanooga map collection features a road map, landmarks, and things to do. Also, it includes an interactive map of Chattanooga to view the city and surrounding areas.
Chattanooga is known for its pristine nature. This includes anything from hiking, mountain biking, and climbing. For example, Lookout Mountain and Ruby Falls are top attractions near Chattanooga, Tennessee.
Chattanooga has a population of roughly 180,000 people and is the 4th most populous city after Nashville, Memphis, and Knoxville. Our map collection features several printable maps of Chattanooga to help you explore it.
Jump To: Interactive Map | Printable Road Map | 10 Things to Do | Reference Map
Chattanooga map collection
Interactive Map of Chattanooga
This interactive city guide is the perfect accompaniment for your trip to Chattanooga. Situated in the southern section of the state, the city of Chattanooga also straddles a border with the state of Georgia. Due to its location along the Tennessee River and in the Appalachian Mountains, this city has a scenic view of the surrounding hills and valleys. Find out where to go, what to do, and what to eat in Chattanooga.
Chattanooga Road Map
This road map is designed to show you interstates, highways, and major roads. For example, it includes I-24, I-75, and state highways. Whether you're in town for a few days or a few weeks, be sure to print this map and discover all of the hidden gems in this lovely city. Because Chattanooga is a great place for an adventure, you can discover the best ways to get around the city and experience Chattanooga like a local. Or explore the rest of the state with the Tennessee road map.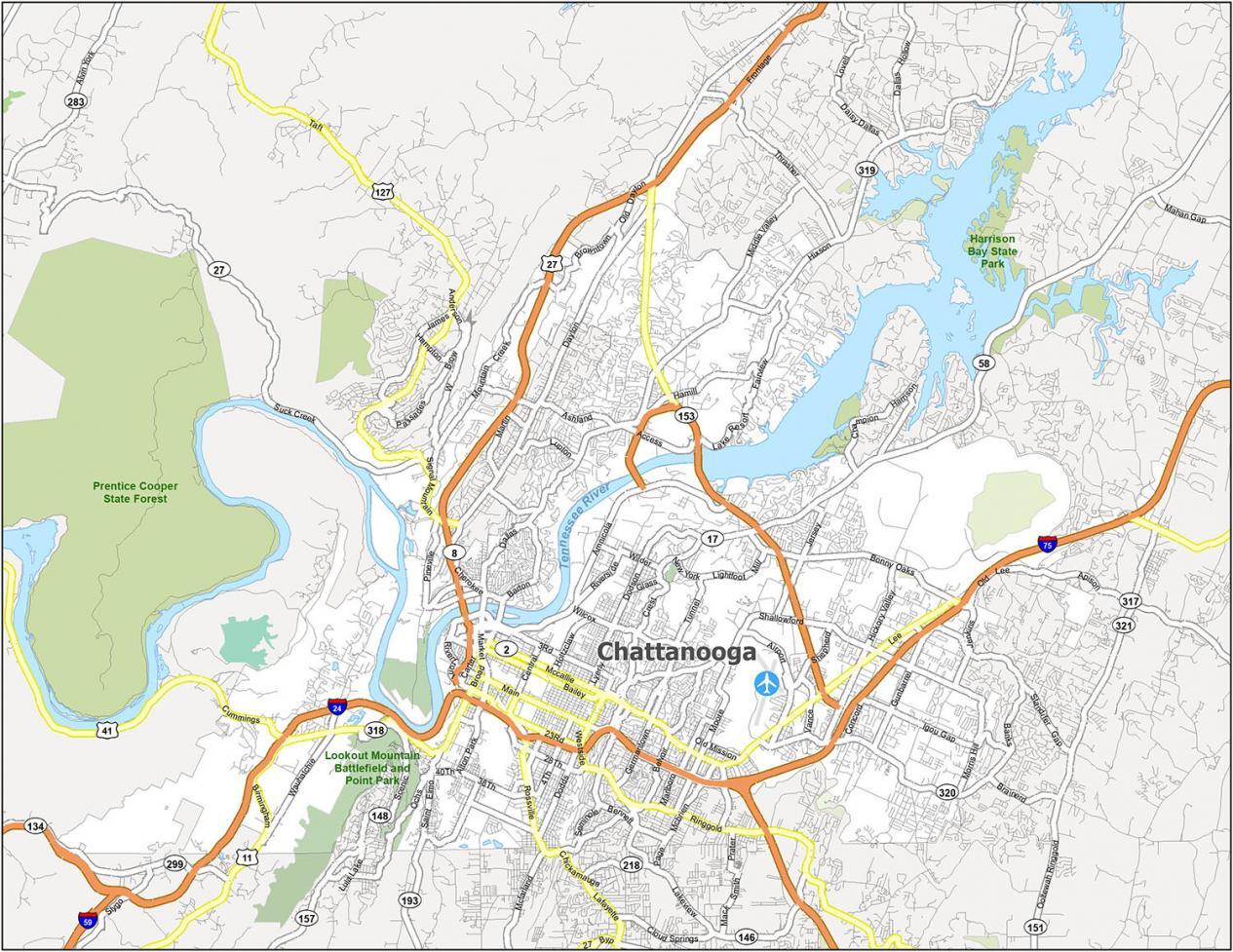 Interstate Highways: I-24, I-75
US Highways: 2, 8, 11, 17, 27, 41, 58, 127, 317, 319, 320, 321, Amnicola Hwy, Birmingham Hwy, Cummings Hwy, Old Us Hwy 27, Old Lee Hwy, Lee Hwy
Parkways/Expressways: Riverfront Pky, Scenic Hwy
Major Roads: 9th St, 20th St, 23rd St, 40th St, Alton Park Blvd, Apison Pike, Bailey Ave, Barton Ave, Bonny Oaks Dr, Brainerd Rd, Broad St, Campbell St, Central Ave, Cherokee Blvd, Dayton Blvd, Dodds Ave, Dodson Ave, Frazier Ave, Georgia Ave, Glass St, Hickory Valley Rd, Hixson Pike, Jenkins Rd, Lookout Mountain Blvd, Lyerly St, Main St, Market St, Martin Luther King Blvd, Mccallie Ave, Old Wauhatchie Pike, Riverside Dr, Rossville Blvd, Saint Elmo Ave, Signal Mountain Rd, Suck Creek Rd, Tennessee Ave, Veterans Bridge, Washington St, Westside Dr
10 Things To Do in Chattanooga
Chattanooga is a city that is home to many attractions for tourists, including a famous zoo, aquarium, and botanical gardens. There are also many recreational opportunities, including Lookout Mountain and hiking opportunities in the nearby Appalachians. With this map, you can quickly and easily explore Chattanooga.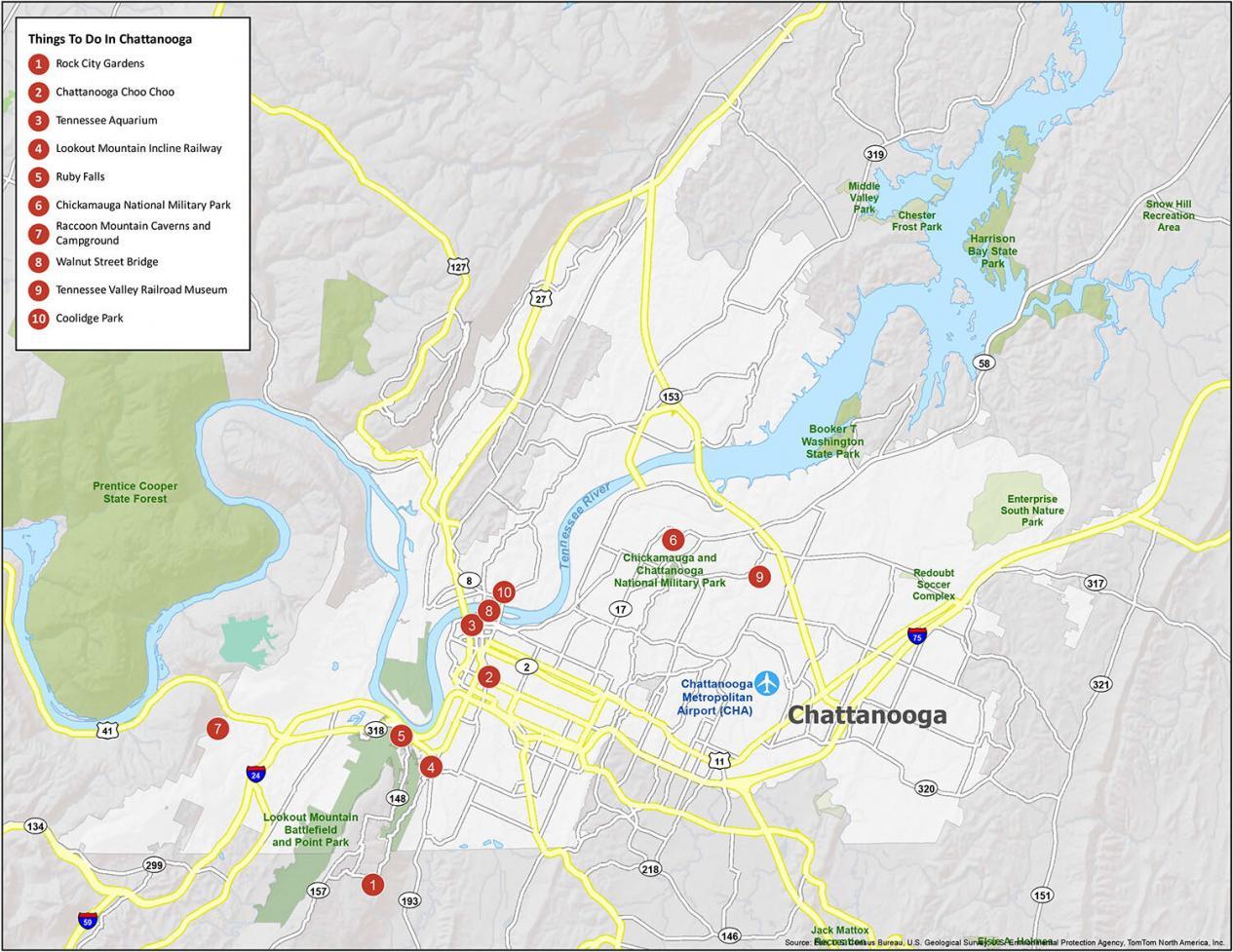 Our list of recommendations for Chattanooga, which is known for its beauty and nature.
Rock City Gardens
Chattanooga Choo Choo
Tennessee Aquarium
Lookout Mountain Incline Railway
Ruby Falls
Chickamauga National Military Park
Raccoon Mountain Caverns and Campground
Walnut Street Bridge
Tennessee Valley Railroad Museum
Coolidge Park
Chattanooga Reference Map
If you're looking for a map of Chattanooga that details the city's attractions and city layout, this map is the best choice. It offers a simple layout that can be used whether you're driving, walking, or riding a bike. Chattanooga has a lot to offer, so there's no better day to plan your trip to Chattanooga, Tennessee.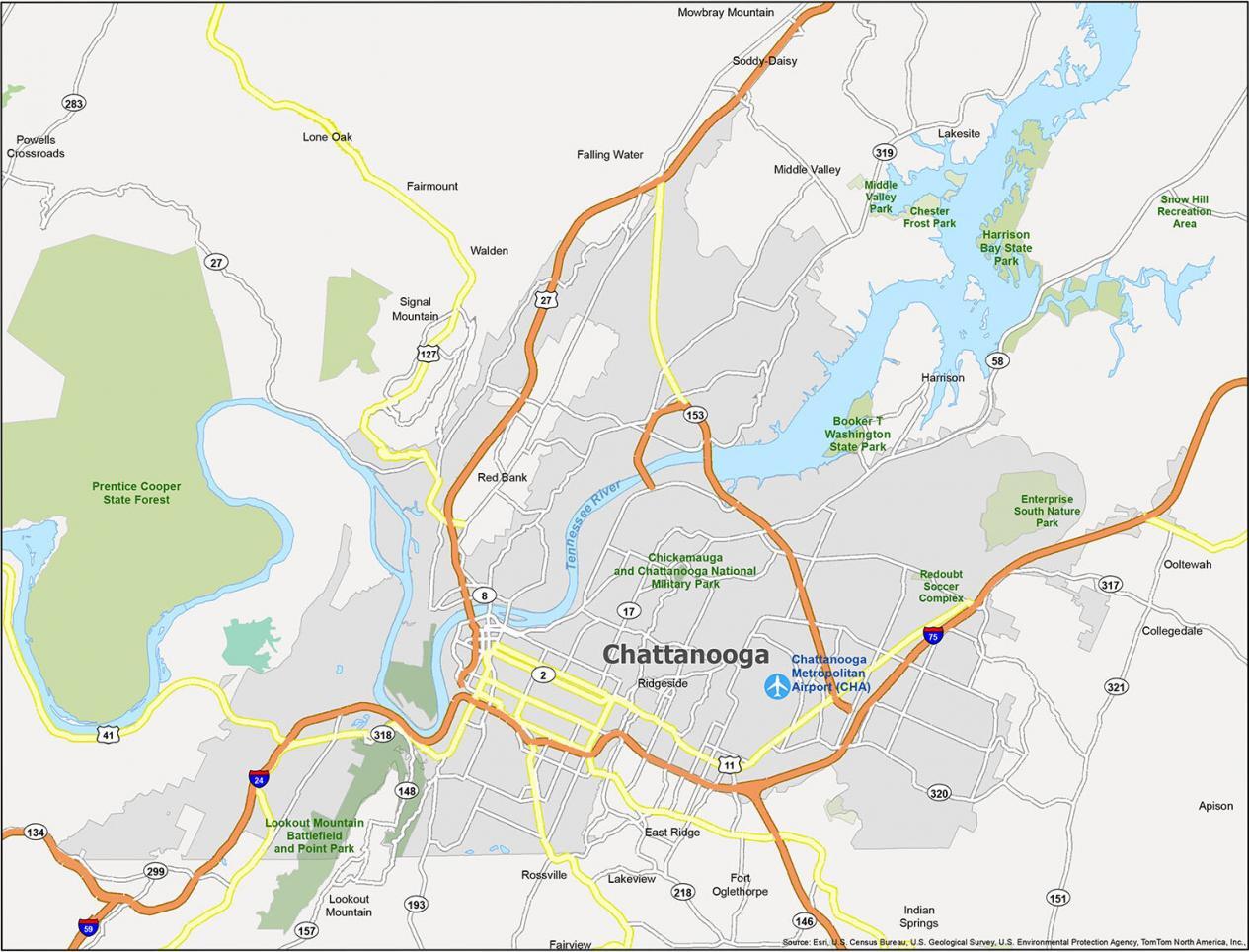 Cities: Chattanooga, Collegedale, East Ridge, Fort Oglethorpe, Lakesite, Lookout Mountain, Red Bank, Ridgeside, Rossville, Soddy-Daisy
Towns: Lookout Mountain, Powells Crossroads, Signal Mountain, Walden
Census-designated place (CDP): Apison, Fairmount, Fairview, Falling Water, Harrison, Indian Springs, Lakeview, Lone Oak, Middle Valley, Mowbray Mountain, Ooltewah
Tennessee map collection
References