Dynamic text in ArcGIS Pro is a feature that allows you to insert text elements into your map layouts that are automatically updated based on the current properties of your map or project.
This can include information such as the current date and time, the extent of your map, the map's scale, the map's author, and other data properties.
In this article, I'm going to show you how to add dynamic text in ArcGIS Pro.
Adding Dynamic Text in ArcGIS Pro
To use dynamic text in ArcGIS Pro, you can do this by inserting a text element into your map layout.
First, click on the "Insert" ribbon and then choose the dynamic text property you want to use from the drop-down. If you're going to add any of these tags to your map, you simply have to select it and click on your map.
Here is a list of the possible elements you can add for dynamic text:
READ MORE: 20 ArcGIS Pro Tips and Tricks
Customizing Tags
If you want to add center coordinates, select the "Dynamic Text" drop-down and select "Center". Then, click on the map where you want to insert the dynamic text.
This will add the center coordinates of your map frame. But how would I customize this? By default, the coordinates are in degrees, minutes, and seconds. How can you change this to decimal degrees?
Double-click the "center" dynamic text and it will display the tag for your dynamic. In this case, the dynamic text will be the following:
<dyn type="mapFrame" name="Map Frame" property="center" units="dms" decimalPlaces="0"/>
If you want to change the coordinates system, you can change the "units" property. Instead of "dms", you can change this property to "d" which is short for "decimal degrees". Finally, you can also adjust the decimal places to "6".
<dyn type="mapFrame" name="Map Frame" property="center" units="dd" decimalPlaces="6"/>
If you're trying to find any dynamic text tags or if you're trying to customize something that you have on your map already, there is a "help" button. This will lead you to the ArcGIS Pro documentation on dynamic text which is extremely thorough.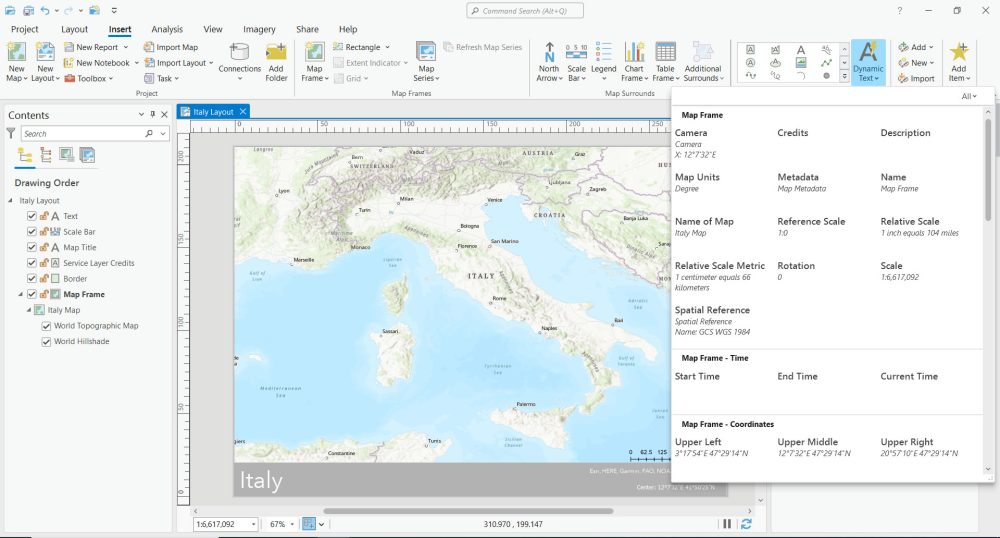 Conclusion
Dynamic text is a feature in ArcGIS that automatically updates based on the current characteristics of your map layout.
By using dynamic text, you can create maps that are more informative and easier to maintain.
For example, you can include a dynamic field that updates to reflect the name of the currently selected layer or dynamic dates that automatically show the last time you updated a map.