35 Differences Between ArcGIS Pro and QGIS 3
Six years ago, we compared ArcGIS vs QGIS. The response was incredible and we thank you for that.
But since then, the game has changed. Yet, the players are still the same.
The Omen of Open Source GIS is back with QGIS 3. It's up against the Pioneer of Proprietary GIS, ArcGIS Pro.
Buckle up.
Because today, you're going to witness a head-to-head battle between the juggernauts of GIS software.
Pick your poison.
Table of Contents
1. 3D – How far can it bend?
Both QGIS 3 and ArcGIS Pro bend data in 3D. When testing, we wanted to see just how far they both could bend.
QGIS 3 fuses 3D natively without plugins. Likewise, ArcGIS Pro renders 3D data in local and global scenes.
We found QGIS 3 handles raster DEMs smoothly like this 3D display of Mount Shasta.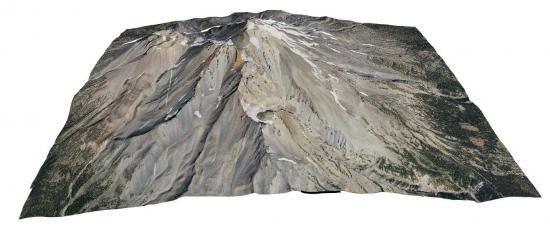 Another highlight is the 3D measuring and 2.5 renderers in QGIS 3. This is how you get building heights with shadows.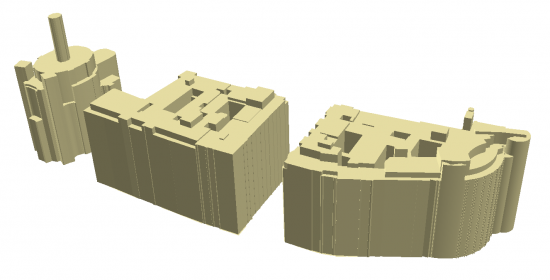 But when it comes to 3D editing and analysis, ArcGIS Pro can do more. The visibility analysis tools are interactive and intuitive. It's fun to explore the 3D analysis tools in GIS like – line of sight, shadow, and skyline.
QGIS 3 only has viewsheds through GRASS GIS. In comparison, it falls short of the 3D tools in ArcGIS.
As 3D data expands in a big way, ArcGIS Pro outshines QGIS 3. If it's editing, analysis, or displaying 3D multipatches you want to do, ArcGIS Pro wins by quite a large margin.
2. UI – GIS Interface Wars
I think it was Shakespeare who once said, "To ribbon, or not to ribbon, that is the question." As it turns out, QGIS 3 and ArcGIS Pro have different opinions on ribbons in the user interface.
ArcGIS Pro is like GIS meets Microsoft Office. The tab interface keeps all your tools organized. When clicked, it only suggests relevant tools.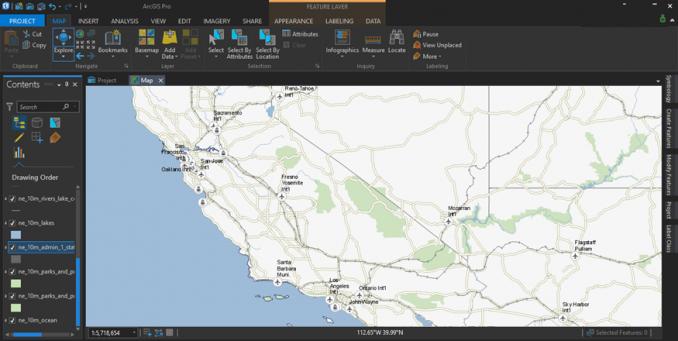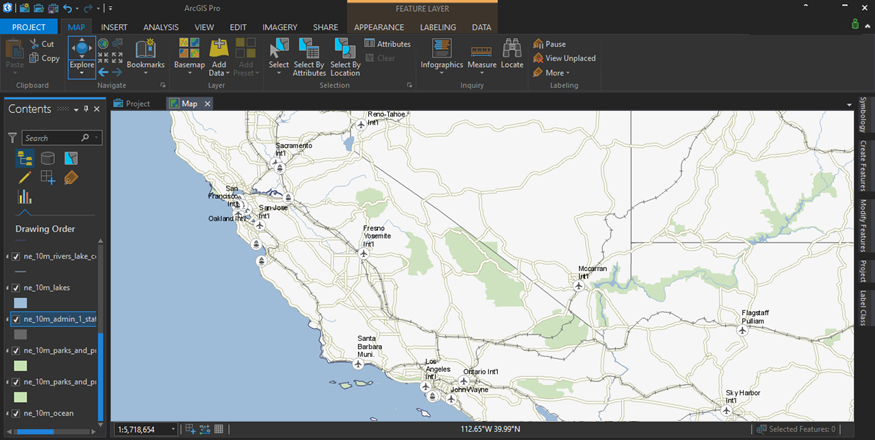 The start page has more of a dashboard feel. For instance, you can pin all your favorite projects. The undo/redo stack has a larger history in ArcGIS Pro.
QGIS keeps it familiar. It's as straightforward as it was before. The buttons feel refined and cleanly put together. But I can't help it looks a bit untidy and unorganized when you compare it to ArcGIS Pro.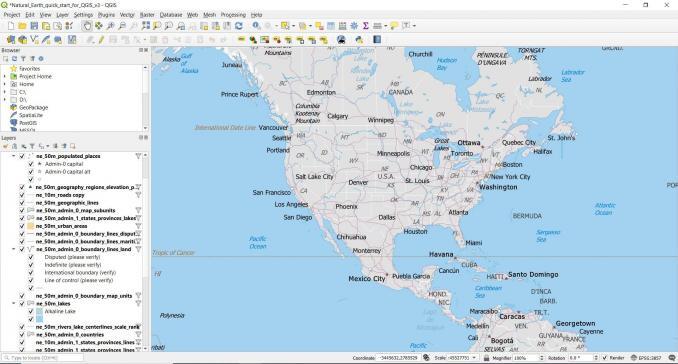 Docking feels overly sensitive. QGIS 3 loves to dock windows! Dropping layers into the map is a lifesaver.
Although it's a matter of preference, contextual ribbons are a refreshing departure from the same old UI. That's why ArcGIS Pro gains a bit of an edge for the user interface.
3. Coordinate Systems – Flatten the Earth
Even though 7000+ coordinate referencing systems (CRS) exist today, both QGIS and ArcGIS are seasoned veterans in handling them.
But listen carefully.
The new interface in QGIS 3 kills two birds with one stone. Not only does it preview the geographic bounds, But it also shows only relevant coordinate systems. This clever idea puts a nice twist to coordinate systems.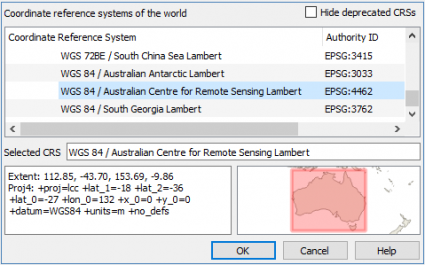 ArcGIS Pro avoids a total facelift. Instead, it gives you a more complete arsenal. It has some of the rarest tribal projections.
On-the-fly projections are the industry standard and both are MVPs. Tried, tested, and true. QGIS 3 edges out ArcGIS Pro for its intuitive projections.
4. Catalog – A library of GIS data
QGIS Browser. Gone. ArcCatalog. RIP. Laid to rest in Redlands, California.
Next to their coverage files, ArcView 3.0, ArcScene, ArcGlobe, Flex, and Avenue. Remember those?
Once entirely stand-alone applications, now they're just overhead.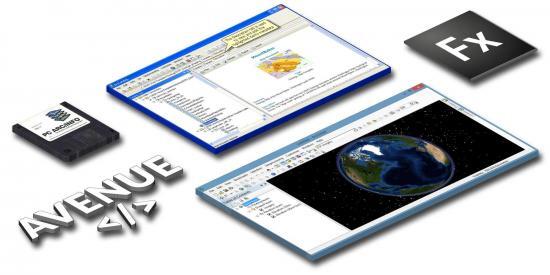 Instead, QGIS 3 and ArcGIS Pro natively integrate them within its core application. Not surprisingly, both are solid in each and every aspect. Like a library, they still have it all.
Previewing, organizing, and of course metadata creation. Despite these major tweaks, no recycling bin can be found to undo any accidental deletes. Heartbroken, I wait for this feature in a future release.
A big complaint is because of the departure of the stand-alone ArcCatalog. Sometimes you just want to search around directories to find GIS data. Without ArcCatalog, you have to create a project (or start without a template), then go searching for the data. Why the hassle?
5. Editing – Slice, dice, fillet, divide, and explode!
Both QGIS 3 and ArcGIS Pro ramp up GIS editing with new inventive and improvised tools. Each one enables you to MacGyver your data in unique ways.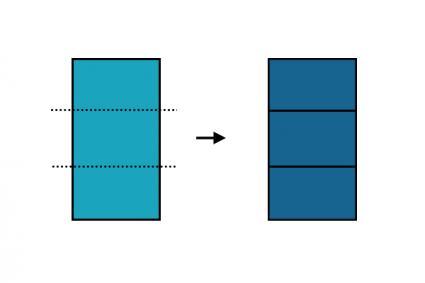 Fortunately, QGIS 3 adds better vertex handling. Its snapping tools closely mimic a CAD user experience. While tools like tracing with an offset are useful for roads, closing features at 90° are good for digitizing buildings.
ArcGIS Pro adds a slick contextual editing interface. Instead of the default point-and-click, the default options are very different.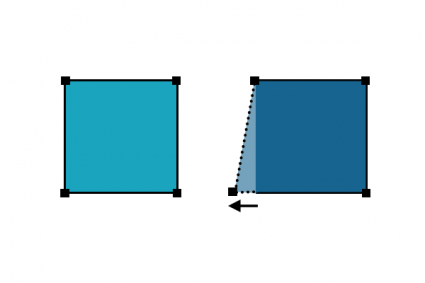 Reference grids help you align to features in the map so you can better digitize features in 2D and 3D. Editing steals the show in a big way. Both have more venom than ever before.
6. Vector Analysis – Licensed to geoprocess
In GIS, there's nothing more important than having the right tools available for you. Because if your only tool is a hammer, the whole world is a nail. So which software gives the most versatility?
ArcGIS Pro has a goldmine of 1500+ geoprocessing tools in 35 toolboxes. All are neatly organized in the analysis ribbon and geoprocessing pane.
But it's the licensing that kills. It leaves you "licensed to geoprocess" like a bad James Bond movie.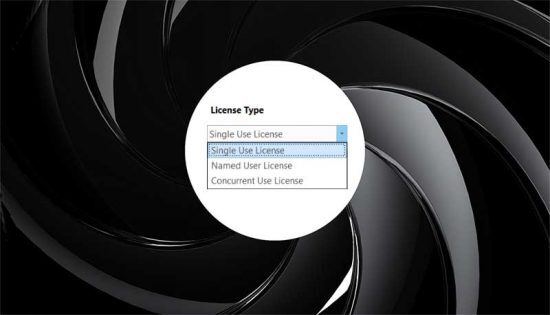 QGIS 3 keeps its tradition alive with 900+ vector geoprocessing tools. As part of this assortment of tools, you can leverage GDAL, GRASS, and SAGA GIS.
But you can also tap into 600+ plugins to lay a solid foundation of additional geoprocessing tools. It's a bit untidy with tons of overlap but workable.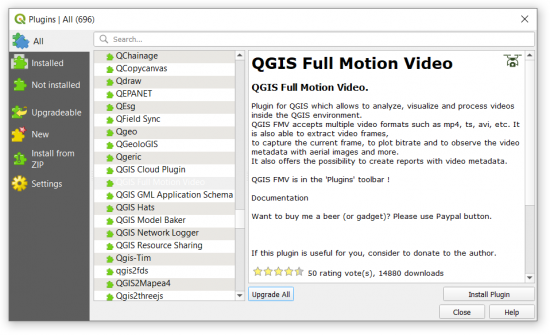 Oddly enough, a core tool like Erase still needs an advanced license in ArcGIS Pro. Really-to-use tools cost money. But when it comes to geoprocessing, the sheer volume of tools is greater in ArcGIS Pro compared to QGIS 3.
Criteria
ArcGIS Pro
QGIS 3
Geoprocessing Tools
1500+ geoprocessing tools
201 tools (QGIS 3)
50 tools (GDAL)
298 tools (GRASS GIS)
361 tools (SAGA GIS)
900+ tools in total
Toolsets
35 toolboxes
25 toolboxes
7. Remote Sensing – See the unseen
There's no magic bullet in either software package as a complete remote sensing solution. ArcGIS Pro takes a step in the right direction. But in QGIS 3, it's just an afterthought.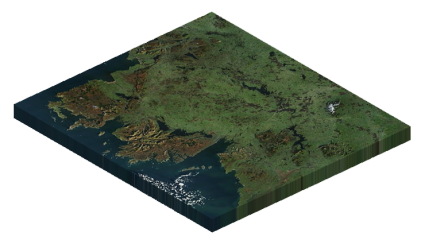 QGIS 3 relies on the semi-automatic classification plugin for remote sensing. Although it's a bit of a hit-and-miss, its strength is in coarse resolution imagery extraction and classification.
In search of an untapped plugin for segmentation or object detection, you'll be left empty-handed.
Whereas ArcGIS Pro provides "mean segment shift". It's rough and objects are not always meaningful. But hey, at least it's something to work with.
Overall, ArcGIS Pro has made large strides forward in remote sensing. One of the biggest improvements in ArcGIS Pro is "interactivity". What I mean by this is its image classification wizard.
It's an underrated addition that gives you a sneak preview and allows you to tweak parameters before you fully commit. Likewise, Esri adds AI and a deep learning framework so you can train neural network models.
8. Speed – The quickest software in the west
ArcGIS Pro is multi-threaded, meaning you can run processes and it's still responsive. The 64-bit parallel processing in ArcGIS Pro is for performance. As you pan through your maps, imagery loads responsively.
For example, AGOL base maps are especially fast-loading. Even opening projects, you'll notice it feels quicker.
Despite all these major improvements, QGIS 3 still outperformed in the majority of the speed tests we ran. But how could this be?
Developers built QGIS 3 from the ground up. Don't forget that there's no license to connect to either in open source.
Quickest software in the west.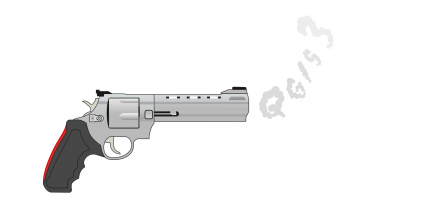 QGIS 3 is fast. QGIS 3 makes fast GIS software look not fast. Overall, you'll be floored by the quickness of QGIS 3.
Here are some of the speed tests we ran:
| Operation | ArcGIS Pro | QGIS 3 |
| --- | --- | --- |
| Buffer 16,000 points | 3.35 seconds | 1.40 seconds |
| Run Composite Bands | 1 minute, 38 seconds | 34 seconds (GDAL) |
| Inverse Distance Weighted Interpolation | 1 minute, 24 seconds | 1 minute, 12 seconds |
9. Tables – Editing, querying, and joins
QGIS 3 brings new interactive table editing tools. For example, date fields have calendars and booleans have checkboxes. Just in case you fat-finger anything on your keyboard, auto-filling remembers previously stored values.
Joins and relates have always been standard in QGIS. But now you can use composite foreign keys. This means you can create relationships that are linked with more than one attribute.
"Extent filtering" in ArcGIS Pro is an undervalued feature that filters only the rows by your current extent. Instead of long definition queries with several operators, you can stack up definition queries on top of each other. And similar to QGIS 3, popup calendars also come standard.
Otherwise, ArcGIS Pro introduces contingent values, which is sort of like IFTTT logic where one value is dependent on another. Incremental values are also much easier to perform in ArcGIS Pro.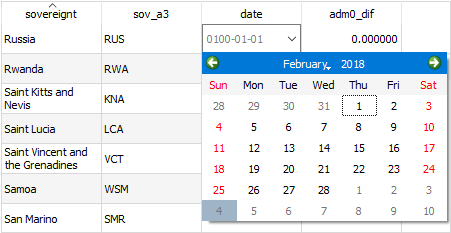 10. Statistics – You can't manage what you can't measure
How to lie with maps stats. Where does GIS come into play in statistics? I'll put it another way. Where doesn't GIS come into using statistics?
Think of the potential: geostatistics, zonal stats, regression, and any type of chart or graph on a map.
In QGIS, you can build basic charts with the "plots toolbox". For example, histograms, box, bar, and polar plots like this beauty below. Although kriging is available through SAGA GIS, it just doesn't feel as polished as ArcGIS Pro.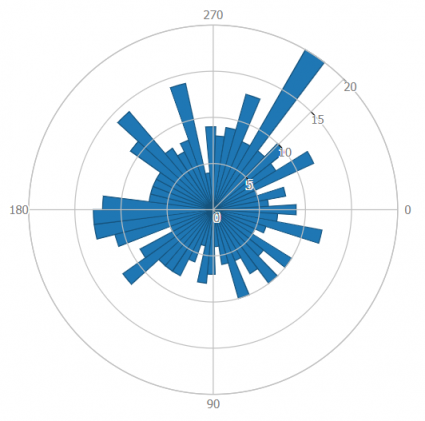 In ArcGIS Pro, it's the interactivity that steals the show. For instance, you click a point and see it on the scatter plot. New chart types like data clocks, temporal charts, and calendar heat maps make your stats stand out.
The geostatistical tools in ArcGIS Pro make you feel more immersed. Let me premise this by saying, we hate the idea of "wizards" of any kind. But the geostatistical wizard actually educates you on how to perform kriging properly. So once you build your model, you feel more confident in the output.
11. Raster Analysis – Master the raster
Despite an impressive 1500+ geoprocessing tool count, ArcGIS Pro will lock you out for the majority of them without a license. For example, zonal statistics, raster reclassification, and even map algebra require a Spatial Analyst license.
Several geoscientific and terrain analysis tools like ruggedness aren't standard in ArcGIS Pro. Instead, it's part of ArcHydro. Just open up in QGIS 3 and you can find them in GDAL and SAGA toolboxes like Least Cost Path.
When it comes to raster analysis, nothing is outstanding enough to lure you into using ArcGIS Pro. Meanwhile, QGIS 3 had the convenience that's worth its weight in gold. Because with reinforcements like GDAL, GRASS, and SAGA to back you up, QGIS 3 only outshines ArcGIS Pro.

12. Network Analysis – The connectivity enabler
It takes a while for a business to fully understand this… But every business is spatial in nature. Where are our customers? Where are our sales? And how can we better serve them? To answer any of these types of questions, it's best to use network analysis.
For any straightforward drive-time analysis, QGIS 3 can tackle this problem. By finding "service areas" with the OpenRouteService (ORS), you can learn about the "accessibility" of locations.
Although QGIS 3 has removed the Road Graph plugin, you can still access its tools from the network analysis toolbox. For example, some of the most popular are – the fastest route, service areas, and multiple shortest paths.
But there's really much more you can do in the polished set of network analysis tools in ArcGIS Pro. For instance, you can run location-allocation, OD cost matrix, and vehicle routing problems. Not only can you set travel modes like driving, walking, or truck, but you can also optimize any type of fleet for delivery, repair, or transit.
13. ETL – GIS on autopilot
Both ArcGIS Pro ModelBuilder and QGIS 3 Graphical Modeler get a fresh coat of paint. Extract, transform, and load (ETL). That's the name of the game.

Silently, one of the biggest upgrades in QGIS 3 is the graphical modeler, which allows you to string together inputs, algorithms, and outputs to automate almost anything. The feature filter algorithm is great for sending features to different ports, giving it an FME type of vibe.

ModelBuilder gets a lot of attention too in ArcGIS Pro, allowing you to group, lock, label, expand, and collapse model groups. Besides this, you get logical tools to branch models and schedule them at different times.
Whereas Tasks in ArcGIS Pro Tasks involve preset steps for a repeated business operation. Typically, they rely on the amount of user input for semi-automation.
14. Scripting – Put it in cruise control
Python libraries are code someone else has written to make life easier for the rest of us. We tap into those libraries, then suddenly gain functionality for almost everything like machine learning, reporting, and graphing.
ArcGIS Pro gets a big facelift with Python 3+Conda. On startup, you install, run, and update packages and their dependencies in the package manager. By default, third-party libraries like SciPy and Pandas are pre-installed.
ArcGIS Notebooks are built on top of Jupyter notebooks with the intention for data scientists to interactively code, edit, visualize, and share. There's also new functionality to add the ArcGIS API for Python to a Jupyter notebook. It's possible to use Jupyter Notebook for PyQGIS, but it's a bit tricky.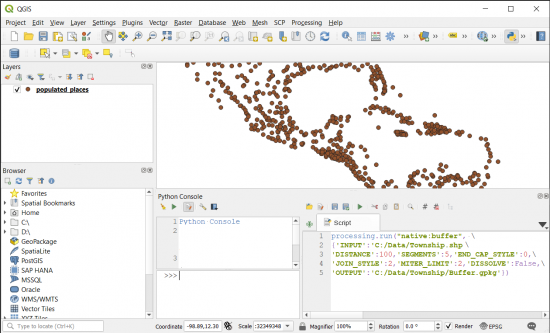 PyQGIS is the Python environment inside QGIS 3. When you export any graphical model as a PyQGIS script, it's like the equivalent of using a cheat code. Alternatively, just steal the Python code from the processing history and run it in the Python console. It's good to get something started.
Finally, QT Creator comes installed with QGIS 3. It's a separate application for building an interface for a plugin of your very own.
READ MORE: Free GIS Programming Tutorials: Learn How to Code
15. Labeling – A Master Class in labeling
QGIS 3 is teaching a Master Class for labeling because it's all about the details. For example, callouts with Manhattan lines are looking ultra-polished.
When you have overlapping labels, the traditional ArcGIS approach is to either try and fail using the Maplex Label Engine or convert to annotations altogether. Whereas their manual label placement in QGIS 3 is beneficial for keeping any map tidy.
Not to be confused with some of the functionality with ArcGIS Pro. The text and shape markers, map notes, and dictionaries for labeling are new features. But once you start working in QGIS 3, it better handles a lot of labeling issues than ArcGIS Pro.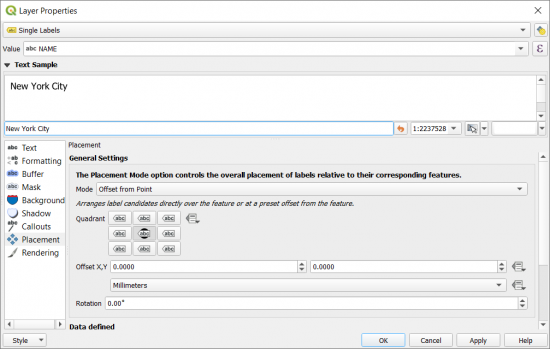 16. Map Automation – The paper map printing press
Map automation is about turning your GIS software into a paper map pumping machine. First, build a strip map for each extent in your mapbook. Then, pump out maps with the right rotation and scale.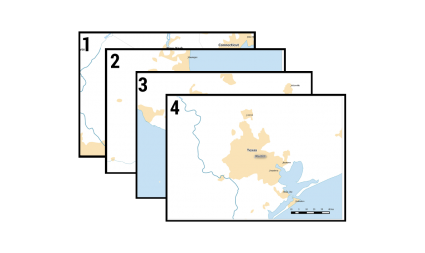 ArcGIS Pro rebrands Data Driven Pages as just Map Series. It meets its match with QGIS 3 Atlas. When we test the two, they both did their jobs equally well.
It's just more of a workaround to build your strip map in QGIS 3 because you have to download the Polystrip plugin. It deserves to be a tool natively in the Cartography toolbox.
17. Animation – Tick of the clock
It's through temporal data that maps can come alive. Glue viewers to their screens in awe and inspiration with map animations. As it turns out, you don't need much skill and practice to create a cinematic experience in either one.
We like the whole ArcGIS Pro experience better for animation. You can dig deep into each keyframe in the animation timeline pane. The hyper-realistic animated water fill symbol and shininess with a response to light gives a feeling of awe.
The new Temporal Controller is how you become an armchair animator in QGIS 3. Similar to ArcGIS Pro, you can go through each slice of time. A neat feature is accumulating data over time. This feature is now part of the core and performs relatively smoothly in QGIS 3.
18. Map Types
If you're tired of the same old maps and want to spice things up a bit, which GIS software should you pick?
Because there's no such thing as information overload in maps, it's only bad design and selecting the right map type for the job.
A while back, we estimated there are about 25 types of maps in the industry. We cut the list down to 20. While ArcGIS Pro can satisfy 19/20 map types, QGIS 3 also tackled 19/20.
| Map Type | ArcGIS Pro | QGIS 3 |
| --- | --- | --- |
| Animation | O | O |
| Cartograms (Density-Equalizing) | X | O |
| Choropleth | O | O |
| Contour | O | O |
| Dasymetric | O | O |
| Dot Map | O | O |
| Firefly | O | O |
| Graduated Symbol | O | O |
| Heat Map | O | O |
| Hexbin | O | O |
| Isochrone | O | O |
| Map Series (Atlas) | O | O |
| Radial Flow | O | O |
| Schematics | O | O |
| Space-time Cubes | O | X |
| Statistics | O | O |
| Surface | O | O |
| Vector Direction | O | O |
| Voronoi | O | O |
19. Topology – Become a Jedi editor
Even the most talented Jedi data editors can introduce digitizing errors like undershoots, dangles, and overlaps in their geometry. When it comes to topology errors, should you turn to ArcGIS Pro or QGIS 3? Your path, you must decide.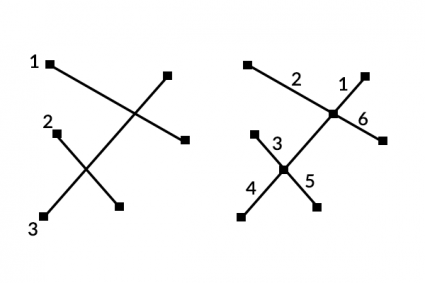 The Geometry Checker in QGIS 3 is a core plugin for validating geometry errors. As a top-notch topology tool, it has all the functionality you need like finding gaps, self-intersections, and slivers to keep data integrity.
Whereas ArcGIS Pro sticks to its same winning formula. But it adds the Data Reviewer, which is like having a topology checker on steroids. This system automates data quality control for high-quality data and error management.
20. Interoperability – It's in your DNA
Regardless of what they say about interoperability in GIS. There's nothing new. But there's always something different in formats and file types. So GIS software has to keep up with all technology and be interoperable.
Interoperability is in the DNA of QGIS 3. It's genetically tailored to consume almost GIS formats through geospatial natural selection.
FGDB, CAD, NetCDF, GPX, KMZ, and now QGIS has added mesh layer support, useful for scientific modeling. Even though you can still import MXDs, you can convert Esri "style files" to QGIS format.
ArcGIS Pro ramps up interoperability by adding native support for KML/KMZ directly in the map viewer. The same goes for CAD file formats like DGN, DWG, and DXF file formats. As Geopackage becomes the new standard in QGIS 3, ArcGIS Pro is playing catch-up to support GPKG.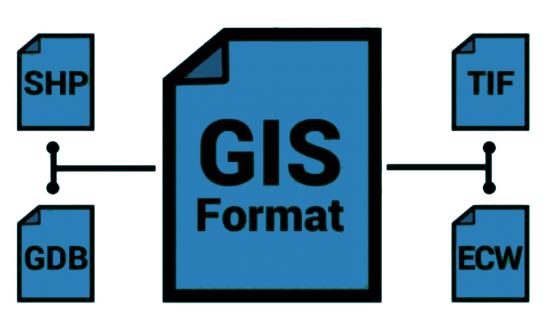 21. Geocoding – The great geocoding heist
In QGIS 3, geocoding is all in open source using the OSM Place Search plugin. OSM Place Search adds a panel with a search box. After you search for a location, it zooms to that address. Everything returned is OpenStreetMap (OSM) from the Open Database License.
If you want to geocode or reverse geocode an address in ArcGIS Pro, Esri charges 40 credits per 1,000 addresses based on the service you use. We said it before, but any credit system should come with a bottle of antacid.
The major selling point of ArcGIS Pro is that you can securely use it behind your firewall. If you want to take a different approach to geocode in ArcGIS Pro, LocateXT creates coordinates based on written text.
For any recreational user, QGIS 3 should suffice. There are just so many geocoders services available today that you should explore your options before you pay.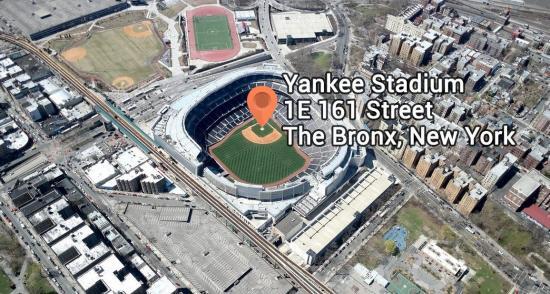 22. Symbology – Adding a fresh coat of paint
Cartography has always been a strength for QGIS and it still remains the case. For instance, it has improved color ramps, point clustering, and the option to save your favorite symbol. You can also override symbol patches in the legend through the style manager.
But when it comes to pure choice, ArcGIS Pro delivers a world-class set of symbols and color schemes.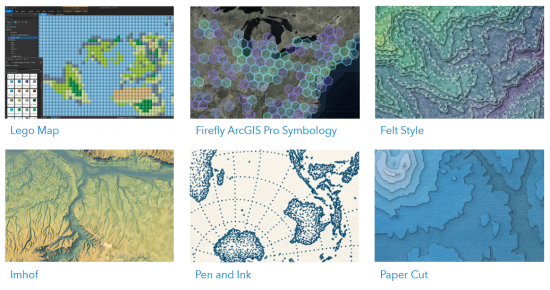 When you run a STYLX search in Portal, the style options are endless like watercolor, Lego, pirate, paper cut, felt, and pen ink. Of course, the necessary styles are here too like geology, public safety, and transportation.
Despite the new QGIS 3 style sharing platform, it still can't match what ArcGIS Pro starts you off with. Users just want to be able to select from pre-existing symbology without getting into building their own.

But if you're into building your own set of symbology, QGIS 3 is a supreme platform to do so. Once the style-sharing platform grows (because it's still in its infancy), this can help fill the void.
23. LiDAR – Let there be light detection and ranging
Introducing: LiDAR in QGIS 3. The point cloud development we've been waiting for quite some time.
Albeit, the LASTools plugin is still solid but it comes with a hefty price tag. So it's a nice departure to have a true open source option.

First, we like that you can drag and drop LAS and LAZ files. Unlike ArcGIS Pro, there's no need to transform to an intermediate format like LASD. As it's still in development, it still crashes a ton. For now, at least.
The point cloud visuals are impressive but it doesn't have much for LiDAR analysis just yet. If you need open source software, check out Whitebox GAT for that.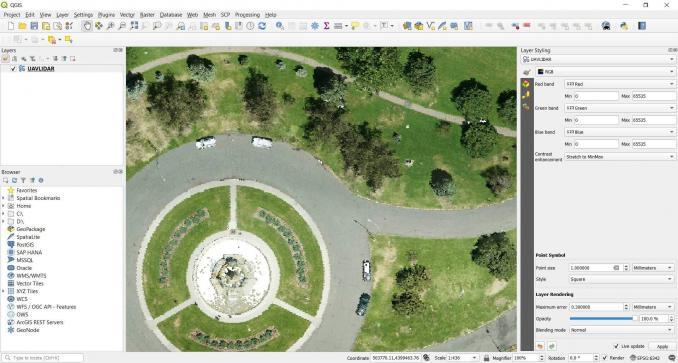 Another day, another proprietary format for Esri with LASD. But what can we say? The display is lightning fast. It doesn't crash.
And you can draw as a point cloud, contours, or a surface. The contextual tabs come in handy with capabilities for visibility, area, volume, height, and classification.
READ MORE: Top 6 Free LiDAR Data Sources
24. Map Elements – A cookbook of elements
Put your chef hat on. North arrows, scale bars, legends, keymaps, and neat lines… These are the ingredients you need for an impactful cartographic design. As it turns out, both ArcGIS Pro and QGIS 3 are master chefs in culinary mapping.
While QGIS 3 adds a brand new layout engine replacing print composer, ArcGIS Pro gives you a much-deserved spell checker and map template previews. Both offer refreshingly varied sets of designs that offer a mix of classic and modern styled map elements.
But there still seems to be a curious disconnect between map layouts (PAGX and QPT) or lack of them. Other than the few available on GitHub or Portal, a lot of users just have to build their own without much to work with.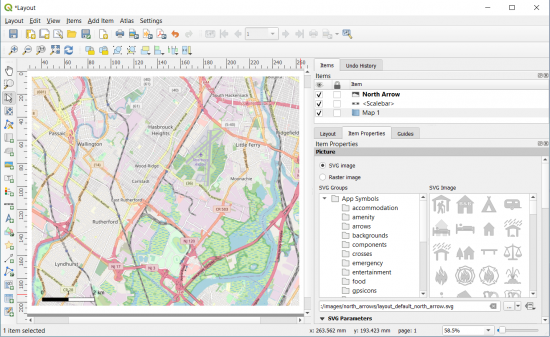 25. Metadata – Hot off the press
I know some people who have more fun moving cinder blocks than writing metadata. But you know what they say for metadata – "hindsight is 20/20". Whether it's the lineage, use limitations, or date of creation, metadata can save you some serious headaches.

In ArcGIS Pro, you edit metadata in the Catalog View (not the Pane). You'll notice a brand new, handy spell checking, and all typos have squiggly lines. Before you start editing metadata, you can set your styles such as FGDC, ISO, or just the default item description.
Overall, metadata gets a big overhaul with an internal formalized metadata schema. But QGIS 3 takes a bit of a different approach, in which it saves metadata in the project file. Depending on the file type, you can also be saved in a QML or SQLite. But catering to the different metadata styles had taken a bit of a backseat.
26. Database – Good things come in GeoPackages
QGIS 3 introduces the OGC GeoPackage (GPKG), which becomes the default file type. It's built on top of an SQLite container with a set of conventions for vectors, rasters, tiles, attributes, extensions, and imagery. When you work with a GeoPackage it's like the map is a database and the database is a map.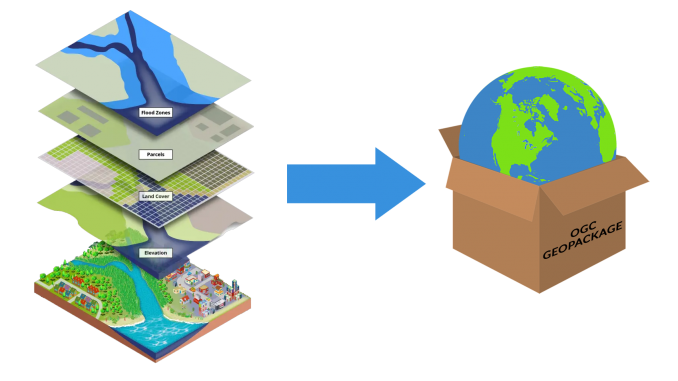 The file geodatabase (FGDB) format is still the backbone for ArcGIS Pro. It's a big storage container for everything like vectors, rasters, tables, and relationship classes. For stitching images, raster catalog and mosaic datasets are standard formats.
Both databases in QGIS 3 and ArcGIS Pro are transactional and have views and SQL support. But the FGDB is a proprietary format and it's difficult to write to. This is why the GeoPackage format has become a widely used open source standard in use today.
27. Web maps – Jaws in a web map
If you want to build a web map, perform field collection, or download authoritative data, Esri's cloud-based platform ArcGIS Online (AGOL) is for you. It's hard to compare QGIS 3 to Esri because AGOL is such a massive online platform.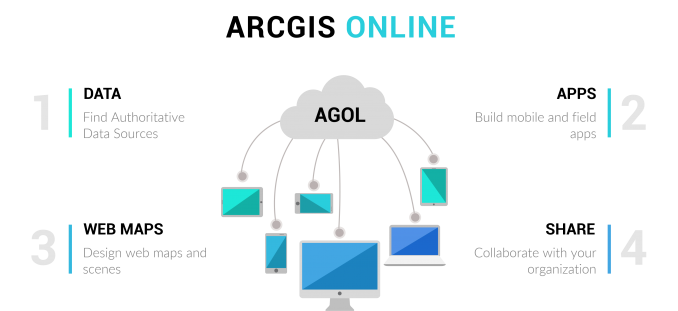 If QGIS 3 is a big fish, then AGOL is like Jaws in the world of web mapping. You can do everything in ArcGIS Pro and so much more…
We love the open source movement. We are even bigger fans of the underdog story. But Esri is light years ahead in the world of online mapping. You can't compare the two.
READ MORE: 5 Best Web Mapping Platforms – The Battle of Web GIS
Web Map Types
ArcGIS Pro
QGIS 3
Field Collection
Collector/Survey123 – Instead of just collecting data in the field, you can deploy and manage field staff in real-time using Workforce.
QField – Mobile data collection field app for Android with a 4.6-star rating.
Input.io – QGIS in your pocket. Simplify site visits by capturing field data on your mobile or tablet.
Web Mapping
LiDAR Web Maps – While LiDAR is just rolling out in the core QGIS 3 desktop application, Esri's building LiDAR point cloud web maps with customized geoprocessing widgets.
QGIS2Web – Create a web map using OpenLayers or Leaflet from your QGIS project.
QGIS Cloud – Publish your maps from QGIS Desktop without the need of owning your own server.
28. The reigning monarch of 999999
If ArcGIS Pro is the reigning monarch of 999999 errors, then QGIS 3 is the czar of crash reports. When testing, they both crashed a lot. :( QGIS Crashed. We are the bug finders and there's lots of them.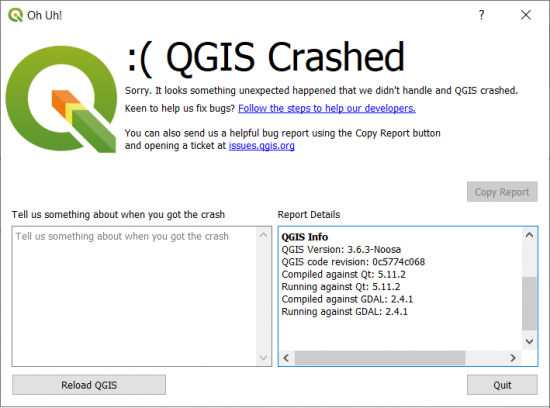 We saw it all… white screens of death, unresponsive geoprocessing, and the dreaded 999999 error. GIS isn't for the faint of heart.
Here are some errors we experienced:
Errors
ArcGIS Pro
QGIS 3
Types
• It froze when adding a legend
• 999999 error with the GeoAnalytics Desktop Tools
▪ It crashed when zooming out using the "World from Space" projection
▪ Constant crash reports for the new LiDAR display
I'm shocked. Shocked! Well… Not that shocked.
You're going to have equal bottlenecks with both. While QGIS seems a bit more responsive for your ordinary panning and zooming, ArcGIS Pro has fewer bottlenecks for LiDAR and data processing.
29. Cost – The price for GIS
Open source for Esri is like what garlic is for vampires. See what others can't. Pay what others don't. We said it before, and we'll say it again. "Licensed to geoprocess" sounds like a really bad movie. ArcGIS is the villain.
But open source skeptics say you'll pay a cost in time for what you can't do in open source. While this is partially true, QGIS 3 has tons of functionality. Frankly, some of it is equal to or better than what you can do in ArcGIS Pro like geoprocessing, cartography, and data management.
Let me get this straight: This is not a post on the evils of proprietary software versus the virtues of open source. Where do your GIS needs match the desired GIS software functionality? At this point of intersection is where only you, as a GIS professional, should decide.
READ MORE: 13 Free GIS Software Options: Map the World in Open Source
30. Extras – Plugins and extensions
GIS is the only technology that integrates different subjects with geography as a common framework. Think about hydrology, aviation, transportation, climate change, and smart cities. For any GIS application, Geography is always a common link.
ArcGIS Pro is versatile with everything from stereo models, oblique imagery, photogrammetry tools, full-motion video, space-time cubes, and real-time sensors. From aviation to maritime tools (air and sea)… If you can't dream it, you can't do it.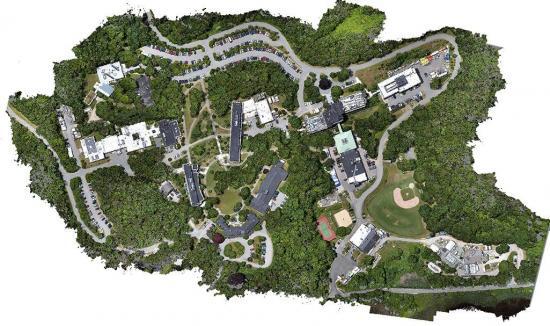 The innovation of QGIS 3 is why it succeeds in a big way. Something is satisfying about looking at the creativity in its 1000+ plugins.
Just a random plugin like Go2StreetView brings up a Google Street View of any location you click on a map. Smart, practical, and effective. Something you rarely see.
QuickMapServices finds base maps for any location you zoom in and out. At the very least, you can get OpenStreetMap wherever you are in the world.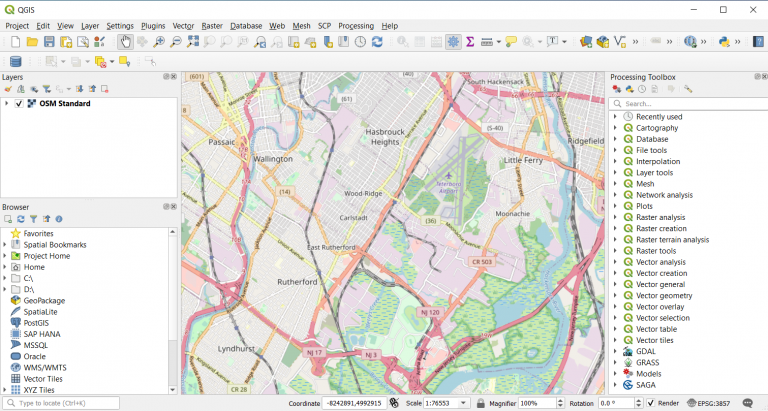 31. Imagery – Mosaics, georeferencing, and band combinations
Imagery gets a dedicated ribbon in ArcGIS Pro mostly to set and enhance its appearance. Whereas QGIS 3 handles imagery display in the layer properties as usual.

Both are equal for setting band combinations, resampling type, and stretch type. You can also change everything from blending modes to contrast enhancement too.
In ArcGIS Pro, auto georeferencing still doesn't work as intended. But the individual pixel editor is long overdue. Imagery mosaics, georeferencing, and contour production are basically equal in both.
32. File Structure – APRX vs QGZ
QGZ is the upgraded extension for QGIS 3 projects. Whereas APRX is for ArcGIS Pro projects, which contains maps, toolboxes, databases, folders, and even styles. Currently, it's not compatible with QGIS 3. But you can still convert MXDs from ArcGIS Desktop through MXD2QGS.
When you convert an MXD to APRX in ArcGIS Pro, it doesn't produce an exact carbon copy either. Unfortunately, it misses some neat lines and other objects. Keep in mind you can't go in reverse from APRX to MXD.
Connecting to root folders is easier and you can set all of your favorites. But the downside is that you still cannot connect to a root directory. By default, you have to connect to a sub-root directory.
A welcomed addition to ArcGIS Pro is the dark theme. It's nice for working in rooms with low ambient light and less battery consumption.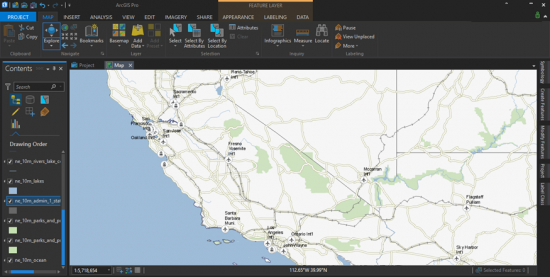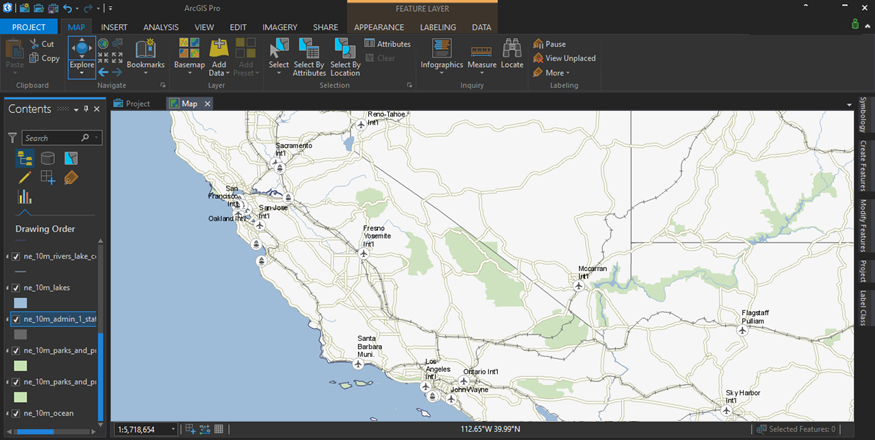 33. Community – Stay connected
As Steve Jobs said: you have to start with the customer experience and work backward to the technology. Steve Jobs understood that when you try to reverse-engineer the customer's need for the product, it's too easy to lose touch with reality.
How well do QGIS 3 and ArcGIS Pro understand the needs of their customers?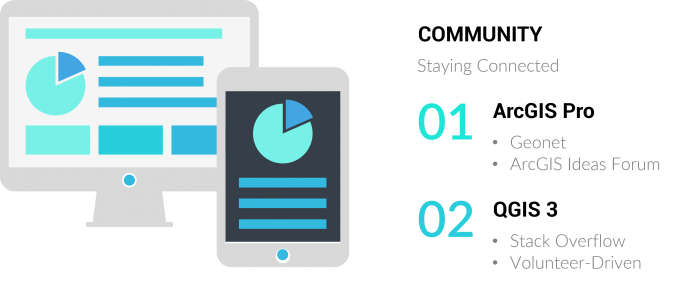 In ArcGIS Pro, you can suggest your ideas by posting them on the forum for Geonet ArcGIS Ideas. As the community votes it up or down, eventually, some features in the user wish list can become part of the product plan. Esri keeps track of the top-voted ideas and it's how they stay connected to the community.
QGIS is completely volunteer-driven and managed by a project steering committee (PSC). The development follows a road map and everything is documented in the visual changelog. Also, GIS Stack Exchange is the central community hub for QGIS users.
Check out its bug reports and QGIS idea space to get involved. Feedback and funding come from the community. This is why we always recommend supporting the world's largest and most ambitious open source GIS project. Make a donation today or get involved!
34. Emerging Technology – Being Future Proof
They say that once a new technology rolls over you… if you're not part of the steamroller, you're part of the road. In the world of GIS, who's the steamroller, and who's a part of the road?
GIS technology is moving at the speed of light. Here are just some of the areas which could be the next big thing.
Machine Learning
Spatial Data Science
IoT
Augmented/Virtual Reality
Big Data
Indoor Mapping
The future is for those who take it. These are some of the tools that ArcGIS Pro uses to stay current with emerging technology… Deep Learning Toolset, ArcGIS Velocity, AR Toolkit, ArcGIS Indoors, and GeoAnalytics Desktop Tools…
A bit late in the game QGIS 3 scores a big donut being future-proof in most categories.
35. Documentation – Solve the puzzle
Think of GIS as a puzzle. You can't complete a puzzle without having all the pieces. Otherwise, it can feel like walking a mile with a shoe on the other foot.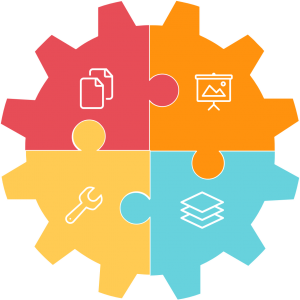 The QGIS 3 user manual gets enhanced help documentation for each tool. But don't forget that QGIS 3 is not just its own toolbox. It also consists of GDAL, SAGA GIS, and GRASS GIS. One of the consequences is sparse documentation, especially for SAGA GIS.
Whereas in ArcGIS Pro, the help documentation is thorough. Because a lot of students start with Esri in school, it's like riding a bike. Once learned Esri, never forgotten.
Plus, Esri has always been big on training (free or paid). Just check out one of any Esri MOOCs and you'll see why.
Conclusion
Two battling giants. Head-to-head in a GIS showdown. Some features are just a tightrope walk between the two.
50+ years strong. Esri employs 4,000 staff globally. It's so big that people confuse it for the whole field of GIS. But it's not about the power of money. Because Esri understands the connection between people and the planet. Esri is about making the world a better place to live.
For QGIS's 20+ yards of development, some said the journey was impossible. Yet here it stands. A classic underdog story that is driven by volunteers dedicated to building what many consider the top open source GIS software. QGIS 3 is an impressive release. But still, it has work to do.
We hoped that we could shine a bit of light.
Now, we want to turn it over to you. Who's in your corner? Is it the unsung hero of open source (QGIS 3)? Or do you take comfort in Esri ArcGIS Pro?
Maybe, you've just forgotten it all and stay with the good ol' trusted ArcGIS Desktop and QGIS 2. Please let us know by leaving a quick comment below. We'd love to hear from you!