10 Transportation Maps: Planes, Trains & Automobiles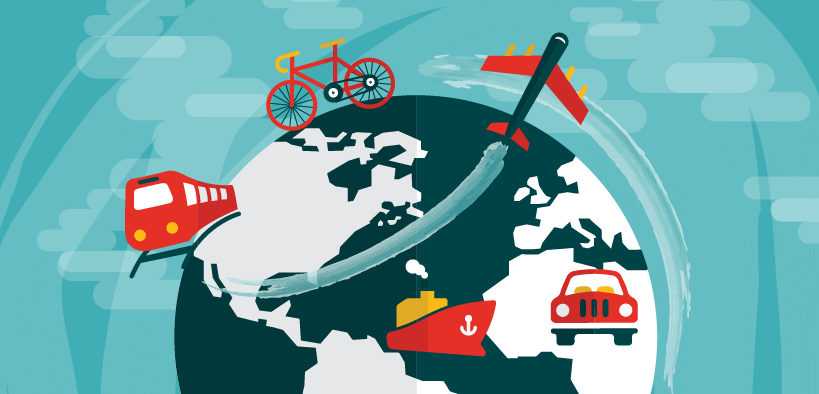 A List of Global Transportation Maps
Every day, we travel by car, bicycle, bus, train, and airplane. But how do we know where all our traveling takes place?
That's why we've put together this list of 10 global transportation maps to show the world how we travel.
Some transportation maps show real-time traffic. Others show unique ways to see transportation.
So, whether it's planes, trains, or automobiles, you'll love this list of global transportation maps. Let's get started.
1. Flight Radar 24 – Live Air Traffic
Flight Radar 24 basically turns your computer into an air traffic radar. You can see airplanes in real-time along with aircraft names, speeds, altitudes, latitudes, and longitude. This in itself is interesting. But the next 2 features made my jaw practically hit the floor.
Have you ever dreamed of being a pilot? Flight Radar 24's cockpit view gives you a first-person view in the pilot seat. First, pick any plane. Then, pick any cockpit. Finally, immerse yourself in an in-flight view as a pilot.
First, point your phone to the sky. Then, check your phone for the closest airplanes above you. But you can only do this within the pro version of the app.
2. Marine Traffic – Live Ships Maps

The Marine Traffic map is based on the Automatic Identification System (AIS). AIS stores the GPS position and speed of cargo, passengers, and a variety of vessels. Marine ports are also positioned on the map.
The Marine Traffic map started as an academic project to collect data in several fields of research. This project has evolved into an open, collaborative network. In terms of marine transportation maps, Marine Traffic is one of the best in the business.
3. Waze: Live Traffic Map
If you're not familiar with Waze, it is the largest community of drivers on the planet. Drivers share real-time traffic information and road alerts with each other. This helps people save time and money on their commute.
The Waze interface is a first-person interface. But you can see all Wazers live with the Waze Drivers Map. Zoom in to your city and see who is sharing real-time traffic data.
4. Strava's Global Heatmap
Cyclists are really heating up Strava's cycling heat map. They say that Strava's heat map contains 160 million rides and runs. This is equal to 375 billion data points!
When it comes to transportation maps, everyone has their favorite map. This might be a cyclist's favorite one because they can get a glimpse of what routes their peers are taking.
5. Roads Kill Map
It's frightening to learn how the global road death toll is at about 1.24 million per year. Even more frightening is that it will become the fifth leading cause of death, leapfrogging past HIV/AIDS in the developing world.
Sweden ranked safest for road fatalities at a rate of 3 deaths per 100,000 people. Who had the highest rate of road fatalities? The Dominican Republic at 41.7 deaths per 100,000 people. Check out the Roads Kill Map for more in-depth information.
6. Railroads: A Staple of Growth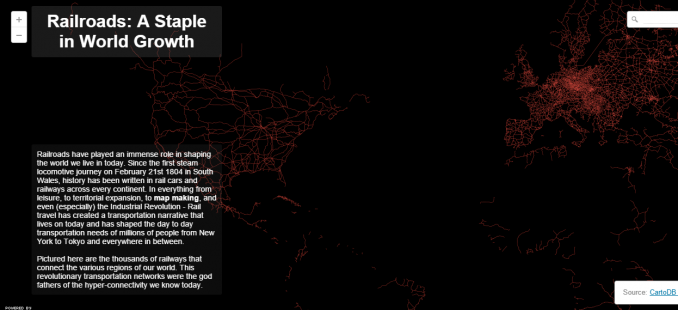 In 1804, the first steam locomotive journey took place in Wales. Now, railways are shaping transportation systems from cargo to passenger trains.
Just how much of an impact has the railway made? The Railroads map shows how much railway systems connect cities, countries, and continents together. Transportation maps like this highlight railway usage in the world.
7. Global Crossroads: World's Busiest Airports
I've always thought Heathrow Airport was the busiest in the world. Esri's story map World's 25 Busiest Airports Map has proven me wrong. In fact, Hartsfield-Jackson Atlanta International Airport takes top honors. Then, next is followed by Beijing. Finally, after this, it's London Heathrow.
Surf the busiest airports one by one. Spy on them with aerial and satellite imagery. This story map gives you analytics and scale of the busiest airports in the world with ease. More than 1.4 billion passengers departed, landed, or connected through these top 25 airports.
8. Open Sea Map
We're getting a weird OpenStreetMap vibe from this map. It makes sense because OpenSeaMap is a sub-project of OpenStreetMap and uses its database.
In 2009, OpenSeaMap set sail on a journey to freely accessible navigation information. OpenSeaMap gives sailors a perspective of nearby ships on the ocean. Not only that, it provides tourist information as well.
9. World Airports Voronoi
This one is a bit different in terms of transportation maps on this list. The World Airports Voronoi Diagram shows proximity information for all airports in the world.
Where is the most remote airport? Mataveri Airport. This airport is the main point of entry for Easter Island. Gum-gum.
10. Global Trading Ports
The global economy is stitched together by giant ports. Containers of goods and raw materials are hauled every day for consumers.
But just which ports are they coming from? The Esri Global Trading Ports map portrays the most pivotal ports on the globe. By volume, Shanghai is the largest port in the world. Singapore is a close second.
Planes, Trains, and Automobiles
Everyone has their favorite map. We've listed our favorites in this list of global transportation maps.
You now have a better understanding of the different options of transportation maps. This gives you the ability to make sense of your surroundings. Then, you can discover new paths.
Cyclists, drivers, pilots, and sailors navigate to destinations daily.
From bike paths, and traffic ways to railways, this is the ultimate list of real-time and analytical transportation maps on the planet.