Landsat File Naming Convention – Scene Identifiers
Have you ever wondered what all the letters and numbers mean in a Landsat scene? It probably looks like this – LC80390222013076EDC00.
But what does that mean?
After downloading a Landsat file from the USGS Earth Explorer, there's surprisingly a lot of information you can get from just the file name.
Just looking at the naming convention, you can get the satellite, sensor, location, date, and more. In this article, we explain the naming convention that Landsat uses.
LXS PPPRRR YYYYDDD GSIVV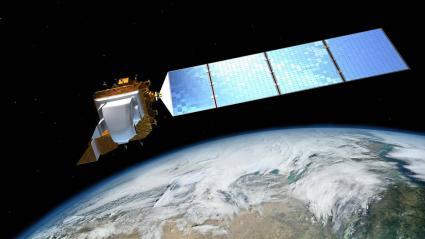 A Landsat file can be separated into blocks of text. These blocks tell you what, where, when, and how the satellite data was collected.
The first three letters give you information on what type of satellite and sensor.
L = Landsat
X = Sensor
C = OLI & TIRS
O = OLI only
T = IRS only
E = ETM+
T = TM
M = MSS
S = Satellite
8 = Landsat-8
7 = Landsat-7
5 = Landsat-5
4 = Landsat-4
3 = Landsat-3
2 = Landsat-2
1 = Landsat-1
LXS PPPRRR YYYYDDD GSIVV
The following six letters tell you where the swath is on Earth. Landsat, like many other satellites, uses the Worldwide Reference System (WRS) for cataloging satellite data.
There is a WRS path which is the ascending or descending path. The WRS row sectionalizes WRS by rows.
PPP = WRS path
Ascending or descending path of the satellite
RRR = WRS row
The north-south row that sectionalizes WRS
LXS PPPRRR YYYYDDD GSIVV
These seven letters tell you when the swath was acquired using the Julian calendar. This means that you are essentially counting the number of days starting on January 1.
For example, a day like February 15 would have a Julian calendar value of 046. There are 31 days in January and add the total in February. (31+15=46)
YYYY = Year
DDD = Julian day of the year
The count of days from the start of the year
LXS PPPRRR YYYYDDD GSIVV
The last five letters in Landsat indicate how the data was received from one of its ground stations.
There is an international cooperative network of all active ground stations operated by the US and International Cooperator (IC). Each ground station plays a role in the downlink and distribution of Landsat data.
GSI = Ground station identifier
Data capture facilities to obtain transmitted satellite data
VV = Archive version number
Landsat Naming Convention Examples
These examples break down a Landsat file using the same steps as above.
LC8 039022 2013076 EDC00
Landsat-8 OLI and TIRS
WRS Path: 039; WRS Row: 022
Date: March 17, 2013
Receiving station and archive number
LM1 017039 1976031 AAA01 (Landsat 1 MSS)
Landsat-1 MSS
WRS Path: 017; WRS Row: 039
Date: January 31, 1976
North American receiving station and archive number
Landsat File Names
You can intuitively gather valuable information simply by looking at the file name.
The Landsat file name structure gives you the what, where, when, and how the data was captured.
Test out your knowledge by downloading data from the USGS Earth Explorer.
Or find out more about the satellites part of the Landsat program.
References
World Referencing System – Image Courtesy of NASA