Cuba Map – Roads and Cities

Download
This Cuba map (Republic of Cuba) shows major cities, towns, and highways. For visual reference, elevation and satellite imagery helps get familiar with the island country of Cuba.
You are free to use our Cuba map for educational and commercial uses. Attribution is required. How to attribute?
About the map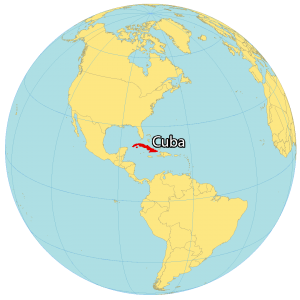 Cuba is a country in Central America at the intersection of the Caribbean Sea, the Gulf of Mexico, and the Atlantic Ocean. It consists of the island of Cuba, Isla de la Juventud, and various smaller archipelagos. Cuba is situated near the Bahamas, Haiti, and the Cayman Islands.
The size of Cuba is 109,884 square kilometers (42,426 sq mi) which is almost identical in size to Guatemala. Also, this makes it the largest island in all of the Caribbean and the eighth-largest island country in the world. Havana is the capital and largest city in Cuba and is known for being a commercial hub and port city.

Cuba in Google Maps
IMAGERY
Cuba Satellite Map
Tropical rainforests, reefs, and wetlands are all defining characteristics of Cuba. The local climate is tropical because of its location south of the Tropic of Cancer. Some of its archipelagos include Sabana and Camaguey in the north.
Whereas Archipelago de la Reina is situated in the south.  Its two major rivers are the Cauto and Toa.  Not only is the Cauto River the longest river in Cuba, but it's also the longest navigable river in the Caribbean.
HILLSHADE
Cuba Elevation Map
Cuba's terrain is mostly flat in the northwest. Then, it transitions to mountains in the southeast. There are three major mountain chains in Cuba. First, Sierra de los Organos is in northwest Cuba and is part of the Guaniguanico Cordillera.
Second, the Escambray Mountains are in the central region of Cuba. Finally, the Sierra Maestra is located in Southeast Cuba and contains the highest mountains in Cuba. Specifically, Pico Turquino is the highest peak in the Sierra Maestra at 1,974 meters (6,476 ft) in height.