Pennsylvania Lakes and Rivers Map
Pennsylvania Maps
Pennsylvania Cities
About the map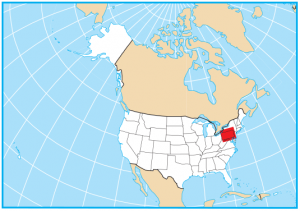 This map shows major rivers, reservoirs, and lakes of Pennsylvania like Raystown Lake. In general, rivers in Pennsylvania flow into the Atlantic Ocean, Gulf of Mexico, and Great Lakes.
Some of the major rivers in Pennsylvania are the Allegheny River, Delaware River, and Susquehanna River. In fact, it's the Delaware River that separates the states of New Jersey and New York.
Not including Lake Erie, Pymatuning Lake, Allegheny Reservoir, and Raystown Lake are the largest lakes in Pennsylvania. By far, Pymatuning Lake is the largest lake and covers 17,000+ acres.
Pennsylvania lakes, rivers and reservoirs
Lakes and reservoirs
Chesapeake Bay
Delaware Bay
Pymatuning Reservoir
Lake Wallenpaupack
Allegheny Reservoir
Raystown Lake
Tionesta Lake
Shenango Reservoir
Raystown Branch
Lake Erie
Rivers, creeks and streams
Allegheny River
Delaware River
Susquehanna River
Ohio River
Monongahela River
Schuylkill River
Clarion River
Conemaugh River
Juniata River
Lehigh River
Beaver River
Kiskiminetas River
Youghiogheny River
Conemaugh River
Conodoguinet Creek
Conewago Creek
Swatara Creek
Lackawanna River
Lackawaxen River
Loyalsock Creek
Penns Creek
Pine Creek
Allegheny River
Mahoning Creek
Redbank Creek
French Creek
A USA map with states and cities that colorizes all 50 states in the United States of America. It includes selected major, minor and capital cities.
Pennsylvania Maps
Pennsylvania Cities
Free US Maps
Select a state to view its map