St. Paul Neighborhood Map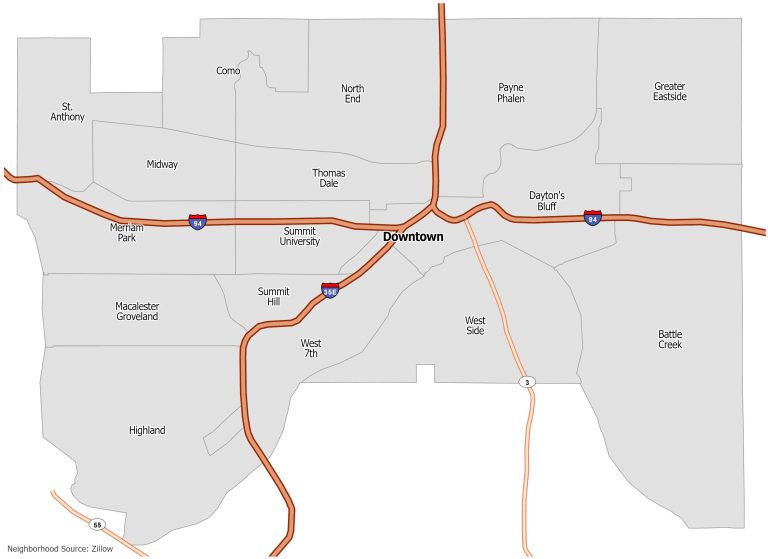 St Paul map collection
Neighborhoods in St. Paul
This St. Paul, Minnesota neighborhood map is your guide to exploring the communities that make up the capital city of Minnesota. As you journey through this map, you'll discover the distinctive character of each area that contributes to St. Paul's unique identity.
Downtown St. Paul
The heart of the city, Downtown St. Paul is a bustling hub of business, culture, and entertainment. From historic landmarks like the State Capitol to the dynamic dining and arts scene along West 7th Street, this neighborhood offers a blend of old-world charm and modern vibrancy.
Summit University
Known for its Victorian architecture and tree-lined streets, Summit University exudes elegance. Home to the famous Summit Avenue, this neighborhood showcases grand mansions and is rich in history, providing a glimpse into the city's past.
Cathedral Hill
Nestled around the awe-inspiring Cathedral of Saint Paul, this neighborhood is a harmonious blend of historic ambiance and trendy energy. Quaint boutiques, cozy cafes, and classic brownstone homes define this area, making it a favorite spot for residents and visitors alike.
Macalester-Groveland
With a strong sense of community and a mix of family-friendly charm, Macalester-Groveland is characterized by its tree-canopied streets and well-preserved residences. The presence of Macalester College adds a youthful flair to this neighborhood, enhancing its cultural and intellectual vibrancy.
Lowertown
Formerly an industrial area, Lowertown has transformed into an artsy enclave bursting with creativity. Its converted warehouses house galleries, studios, and vibrant eateries, creating an arts and culture district that hums with excitement day and night.
Merriam Park
Offering a suburban feel within the city, Merriam Park is cherished for its peaceful atmosphere and spacious parks. The neighborhood strikes a balance between relaxed residential areas and convenient access to local shops and restaurants.
Payne-Phalen
Diverse and evolving, Payne-Phalen boasts a strong sense of community and cultural diversity. This neighborhood's mix of housing options, from historic homes to new developments, reflects its inclusive and forward-looking spirit.
Highland Park
Embracing a suburban ambiance with urban conveniences, Highland Park is known for its family-friendly environment and excellent schools. The Highland Village shopping district and the scenic views from Crosby Farm Regional Park contribute to its appeal as a comfortable and scenic neighborhood.
These are just a few examples of the many unique neighborhoods that contribute to the dynamic and lively character of St. Paul. But there's a lot more that makes St. Paul such an exciting place to explore. So get out and experience local cuisine, the winter carnival, and the Cathedral of Saint Paul for yourself.
St. Paul map collection