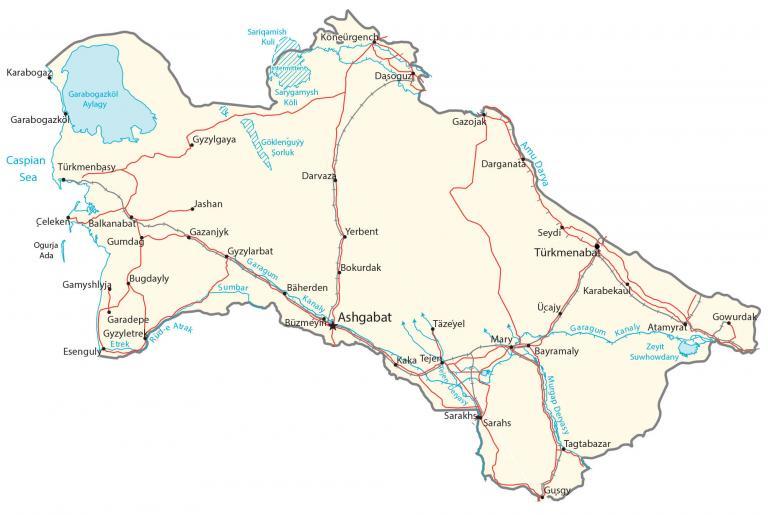 Download
This Turkmenistan reference map displays major cities, towns, roads, lakes, and rivers. It includes a physical map, satellite imagery, and a provincial map of Turkmenistan.
You are free to use our Turkmenistan map for educational and commercial uses. Attribution is required. How to attribute?
About the map
Turkmenistan is located in Central Asia, next to the Caspian Sea which is the world's largest inland body of water. It borders Kazakhstan to the north, Uzbekistan to the northeast, Afghanistan to the southeast, and Iran to the southwest. Its coastline along the Caspian Sea measures 1,768 kilometers (1,100 mi) in length.
It's known for its gas reserves, underdevelopment, carpets, and horses. Additionally, it's recognized as the "crossroads of civilizations" because the historic silk road runs through Turkmenistan. Ashgabat is the capital and largest city. Other major cities are Türkmenabat, Daşoguz, and Mary.

Turkmenistan in Google Maps
IMAGERY
Turkmenistan Satellite Map
Turkmenistan is mostly flat sandy dunes and deserts. The country occupies an area of 488,100 square kilometers (188,500 sq mi) and is the second-largest country in Central Asia. In comparison, it's larger than the state of California but smaller than Afghanistan.
It lies between 35°N and 42.5°N latitude so the climate has mostly cold desert and semi-desert conditions. Turkmenistan's largest natural inland lake is Lake Sarygamysh with high levels of salinity. Whereas its longest and most important river is the Amu Darya with a total length of 2,540 kilometers (1,580 mi).
PHYSICAL
Turkmenistan Physical Map
The majority of Turkmenistan is the Karakum Desert in the western and central low-lying region of the country. The remaining area is mostly plateau in the eastern section of Turkmenistan.
There are mountains in the south (Turkmen-Khorasan Mountain Range), along its border with Iran. But its highest peak is Gora Ayrybaba along its border with Uzbekistan, standing 3,138 meters (10,295 ft) high. This peak is part of the Köýtendag Range and Pamir-Alay parent range.
ADMINISTRATION
Turkmenistan Regions Map
Regions are the first-level administrative units in Turkmenistan that are divided geographically and administratively. Currently, there are 5 regions in Turkmenistan. Then, its second-level administrative unit is districts.