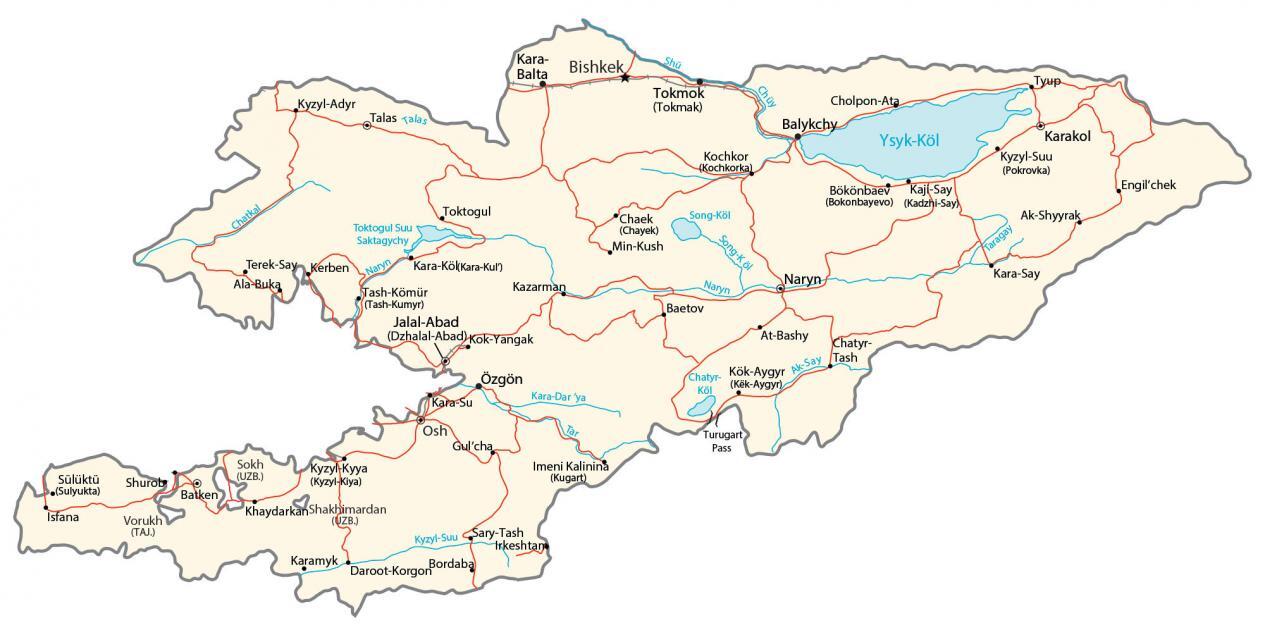 Download
This map of Kyrgyzstan contains cities, towns, lakes, rivers, highways, and roads. Satellite imagery and a physical map show the topography like the Tien Shan Mountains and Issyk-Kul Lake.
About the map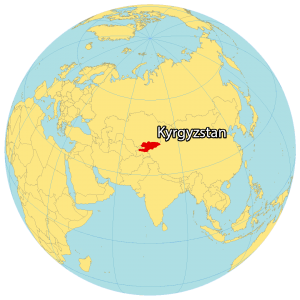 Kyrgyzstan is a landlocked country located in Central Asia. It borders Uzbekistan to the west, Tajikistan to the south, China to the east, and Kazakhstan to the north. It's the smallest country out of the five newly independent Central Asian nations. Bishkek is the capital and largest city of Kyrgyzstan. Other major cities are Osh, Jalal-Abad, and Karakol.
Kyrgyzstan's terrain is mostly mountainous, with the Tian Shan and Pamir mountain ranges forming the majority of the country's borders. Lake Issyk-Kul is the largest lake in Kyrgyzstan and the second-largest mountain lake in the world after Titicaca between Peru and Bolivia.

Kyrgyzstan in Google Maps
You are free to use our Kyrgyzstan map for educational and commercial uses. Attribution is required. How to attribute?
IMAGERY
Kyrgyzstan Satellite Map
Kyrgyzstan occupies an area of 199,951 square kilometers (77,202 sq mi), which is similar to the area of Belarus. The climate is continental with cold winters and warm summers. The country contains the seventh deepest lake in the world, Issyk-Kul Lake. This endorheic lake is in the Northern Tian Shan mountains in Eastern Kyrgyzstan. Kyrgyzstan's longest river is the Chu River.
PHYSICAL
Kyrgyzstan Physical Map
Kyrgyzstan consists of mostly mountainous terrain. Its most prominent mountain range is the Tien Shan Mountains, which cover over 80% of the country. This mountain range includes the Jengish Chokusu peak. At 7,439 m (24,406 ft) above sea level, it's Kyrgyzstan's highest peak. Whereas its lowest point is in the Kara Darya at 132 meters (433 ft) above sea level.
World Atlas
Visit our world atlas and explore all the continents and countries of the world. Get a blueprint of the world with political, satellite, and topographic maps.