ArcGIS Workforce: How To Simplify Fieldwork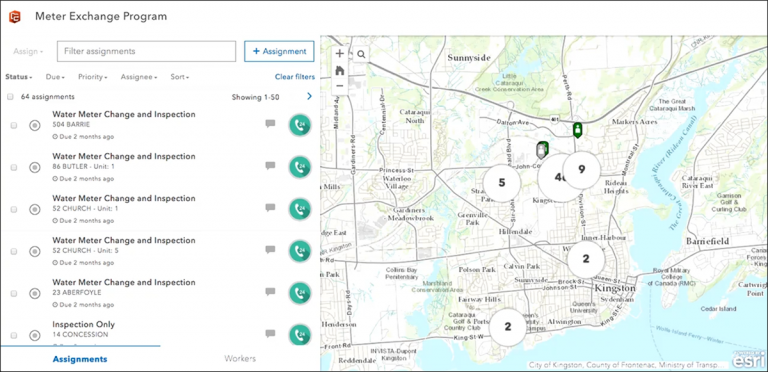 ArcGIS Workforce
ArcGIS Workforce is a web-based, cross-platform application that is designed to simplify fieldwork.
The main purpose is to be able to dispatch work to mobile field workers and then assign them tasks.
As such, it enables both dispatchers and field workers to perform their duties cohesively through the ArcGIS Workforce application.
There are thousands of organizations deploying ArcGIS Workforce in industries such as utilities, transportation, construction, and logistics.
Types of Roles
The main idea of ArcGIS Workforce is that there are two types of users:
Dispatchers: Dispatchers typically work in the office, often on a desktop machine.
Field workers: Field workers are out in the field performing data collection or any type of work order, often on a mobile device or tablet.
Dispatcher creates assignments:
Select the type of work from a list of options.
Assign it to a user.
Set a date and priority.
Field workers receive assignments:
Once the dispatcher creates an assignment, it will appear in the field staff queue of work.
From here, the field staff can set the progress of any task such as "in progress".
Both dispatchers and field personnel seamlessly work together via ArcGIS Workforce through the cloud.
GPS Tracking
The dispatcher can view the GPS location of field staff through the app. This can help allocate work to the closest staff and overall improve efficiency.
ArcGIS Workforce also has the capability to set up notifications if new assignments are within a certain distance. This uses your current GPS location based on all pending tasks that are available.
As a field worker, you can also sort records by distance to go to the closest job. But it's also possible for field workers to enter their status if they are on break.
ArcGIS Workforce
ArcGIS Workforce maximizes efficiency and is a great way to manage your field workers. By facilitating communication between office dispatchers and the workforce, it helps save time.
Plus, it also reduces the number of times workers can go to the closest job.
If you want to work with ArcGIS Workforce, you must be part of an ArcGIS organization to use the app. If you are using ArcGIS Online, you can access it through the app launcher.
Have you ever used ArcGIS Workforce? Did you like it or not? Please give us your comments below.