Download open source LiDAR software
Free LiDAR software can be a bit like finding Bigfoot…
Mysterious in nature. Fuzzy sightings. Some people may even think it's folklore.
But to your surprise, open source LiDAR software does exist. And unlike the Sasquatch, we have proven that it exists.
It all starts with my number one "go-to" geospatial analysis toolbox.
Let there be light detection and ranging.
1. QGIS 3
#1 LiDAR software for 3D point cloud viewing
4.5 stars

Introducing: LiDAR in QGIS 3. The point cloud visuals are impressive as you can now natively zoom, pan, and fly around in a 3D environment.
First, we like that you can drag and drop LAS and LAZ files. There's no need to transform to an intermediate format because QGIS 3 can handle the raw point cloud format.
There are options to symbolize point clouds based on class, height, and RGB attributes. But it doesn't have much for LiDAR analysis just yet.
2. Whitebox GAT
#1 LiDAR software for analysis and point cloud manipulation
4.5 stars
WhiteBox GAT (Geospatial Analysis Tools) has outstanding LIDAR tools! For an open source toolbox, it deserves much more attention than it currently gets.
As you can see, it puts a lot of emphasis on its LiDAR tools. Here's some of the stuff you can do: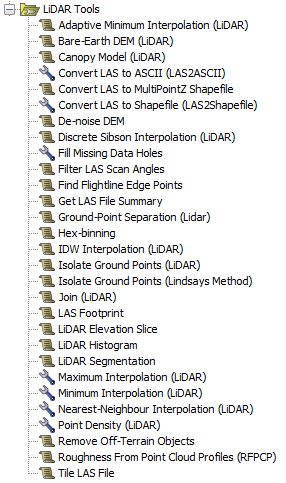 Create Bare-Earth DEM or canopy models
Convert LAS to ASCII, shapefile, or multipoint
Adaptive Minimum Interpolation or IDW
LiDAR histogram, summaries
Hex-binning, LAS footprint, point density
It all starts by dropping your LAS file into the map. The display is intuitive as there is a range of display options including – elevation (z), intensity, class, scan angle, and GPS time. However, it does not have any 3D viewing capabilities (yet).
When you run a tool, check that you have all the necessary inputs. It can be a bit finicky in this regard. During a processing operation, the progress displays in the bottom right corner to know how much longer you have to wait.
After the process finishes running, the output will be added to your map. You can check it in the "Layers" tab in your table of contents. The layout is like any typical GIS software except that your tools, layers, and features are in the same panel.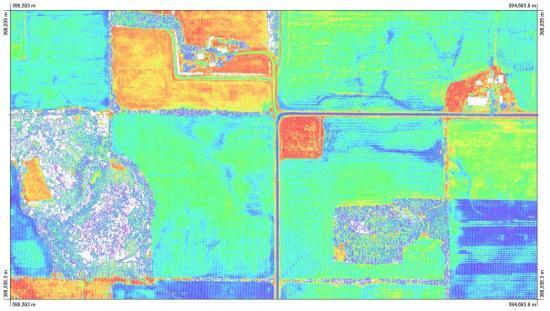 WhiteboxGAT Review | Download Whitebox GAT
3. Fugro Viewer
#1 freeware LiDAR software for ease of use and 3D viewing
3.5 stars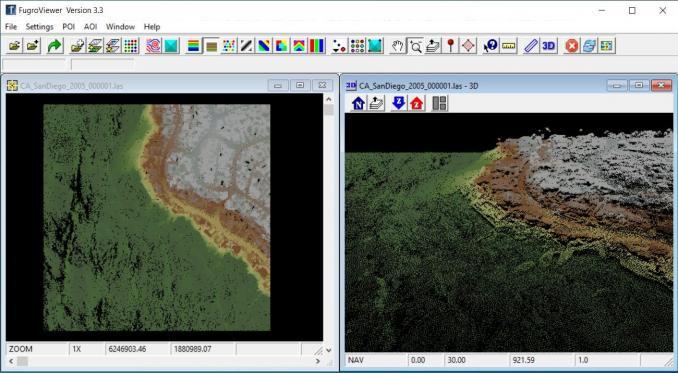 This LiDAR freeware package is something you can just pick up and go with. It's the type of software that you point and click to make things happen. For example, you can do the following with the Fugro Viewer:
Displays contours or TIN shaded relief
View point cloud data by elevation, classification, etc.
Build two-dimensional profiles and measure distances
Create side-by-side viewports in 3D and 2D
When you download this software, just keep in mind that this LiDAR viewer is freeware. The strings attached are that the license ends and you will have to renew it.
So enjoy it when it lasts. For viewing purposes, we've rated it as the highest because of its unique 3D capabilities. I personally like the point-and-click options.
4. Plas.io
#1 web-based LiDAR viewer with neat visualization utilities
3.0 stars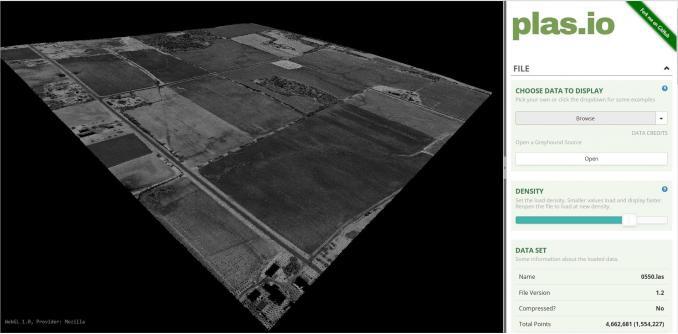 How about viewing LiDAR data in a browser? Is this possible? Plas.io is the only browser-based LiDAR viewer to consume point cloud data (LAS or LAZ).
Some of its highlights include:
Exaggerating vertical heights (z-values)
Choosing an attribute to display such as height, classification, or RGB
Functional implementation of the ASPRS LAS format
When you add a LAS file, visualization is smooth leveraging WebGL. As you switch your camera angle, you can choose perspective, orthographic, or a top-down view.
PRO TIP: Test out the inundation utility at the bottom of the right panel. As you turn up the water levels in the slider, the display shows where inundation occurs.
5. SAGA GIS (System for Automated Geoscientific Analyses)
2.0 stars
SAGA GIS is not a point cloud data specialist. But if you have LiDAR data, SAGA GIS can import them into the application. Further, you can update its color ramp, and change the value you want to display your LiDAR data.
It does not have a thorough list of LiDAR tools. Albeit, they're not organized very well. For instance, you cannot natively transform a LAS file into a 3D view.
Instead, you have to convert it into a grid format. Once you have it in this format, it's this raster format where possibilities are endless in SAGA GIS.
SAGA GIS (System for Automated Geoscientific Analyses) | Download SAGA GIS
6. GRASS: Geographic Resources Analysis Support System
2.0 stars
v.in.lidar is how to convert a LAS file into a GRASS vector. You can filter LiDAR points, create contours, and generate DEMs. Next time you see a LAS file, see what GRASS can do with it.
It's the setup that kills me for GRASS GIS. I just want to get out and run. But when you start the application, there are a million parameters you have to set up on the start screen.
Listen, I love GRASS GIS as much as the next guy. The tools are impressive, but they can be a bit clunky at times as we've shown in our review for GRASS GIS.
GRASS GIS – Geographic Resources Analysis Support System Review | Download GRASS GIS
Best Free LiDAR Software and Viewers
From viewers to desktop applications, these are the best free LiDAR software tools.
And if you're looking for some data just to work with, try out our free LiDAR data sources and UAV imagery.
Or maybe you're just looking to find out what LiDAR is? Then, check out our Guide to Light Detection and Ranging (LiDAR).
Thanks for reading, and of course please give us your thoughts in our comment section below.