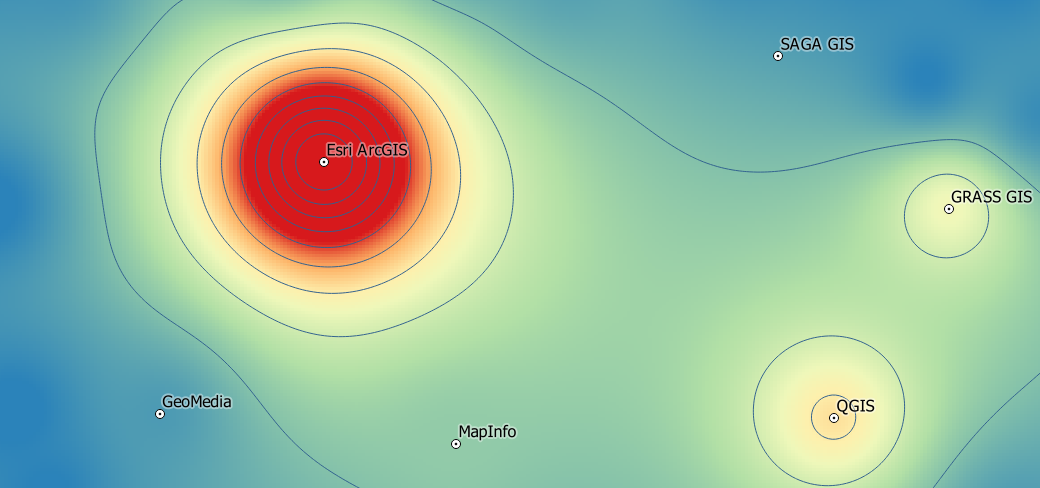 Mapping Out the GIS Software Landscape
ArcGIS, QGIS, GRASS GIS, SuperGIS, SAGA GIS, JUMP GIS…
The GIS software options out there seem endless.
Don't worry. Because today, you get a sneak peek at the top GIS software packages the industry is adopting.
We've tested best to worst… And here they are:
READ MORE: 13 Free GIS Software Options: Map the World in Open Source
Ranking Criteria
We didn't rank GIS software with just one or two factors. Instead, we used a range of criteria by testing out each GIS software package. It considers the following:
ANALYSIS: Vector/raster tools, temporal, geostatistics, network analysis, and scripting.
CARTOGRAPHY: Map types, coordinate systems, map layouts/elements, labeling/annotation, 3D capabilities, animation, map automation, and symbology.
EDITING: Table manipulation, creating/modifying features, geocoding, topology fixing, conflation, interoperability, metadata editing, and catalog/browser.
IMAGERY: Image classification, LiDAR integration, remote sensing tools, georeferencing, and photogrammetry.
INNOVATION: Machine learning, AI, IoT, indoor mapping, web mapping integration, and data science capabilities.
SUPPORT: Community/forums and documentation.
We also took into account the whole user interface, speed, and the number of errors we encountered when running the application.
1. ArcGIS Pro
4.9 stars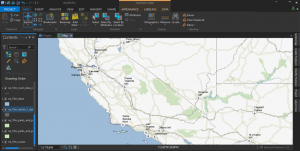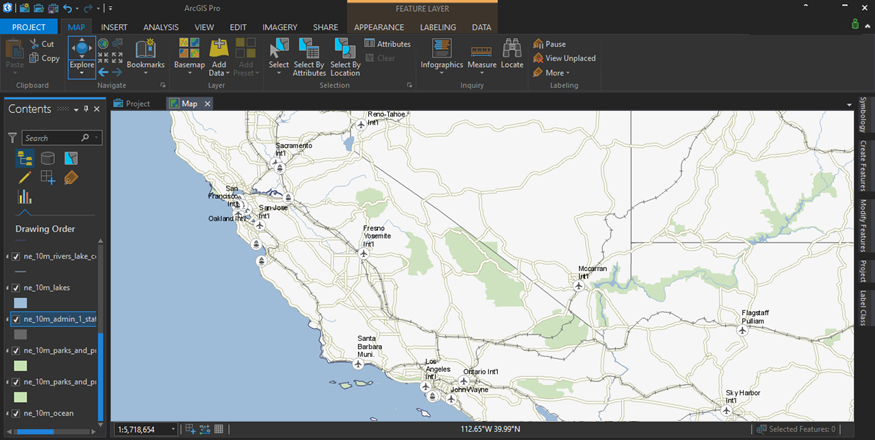 ArcGIS Pro modernizes GIS with a ribbon interface, 64-bit processing, and 3D integration. It's a massive overhaul with a focus on quickness, ingenuity, and cartography. Even though ArcGIS Pro is a big machine with lots of moving parts, it earns the top spot.
#1 GIS software for analysis, cartography, and editing
REVIEW: 17 Reasons to Map Like a Pro with Esri ArcGIS Pro
2. QGIS 3
4.8 stars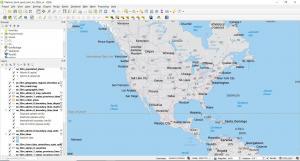 Open source flows in the DNA of QGIS 3. It's been genetically tailored to break the mold of commercial GIS with equally superior cartography, editing, and analysis tools. It's not only a great choice because 3D is native as part of QGIS 3. But QGIS plugins still give you the power to analyze with almost endless capabilities.
#1 open source GIS software for all-around capabilities
REVIEW: The Hidden Powers of QGIS 3
COMPARISON: 35 Differences Between ArcGIS Pro and QGIS 3
3. ArcGIS Desktop
4.8 stars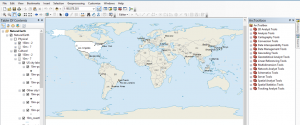 ArcGIS Desktop is cutting edge in GIS. It raises the bar to the next level by doing what other GIS software can't. Its success is that it's expandable. From field apps to modeling and scripting, ArcGIS Desktop is a powerhouse for all things GIS.
#1 non-ribbon commercial GIS software (support until March 2026)
REVIEW: ArcGIS Review: Is ArcMap the Best GIS Software?
4. Hexagon Geomedia
4.3 stars
Hexagon GeoMedia has 40+ years of history. But lately, it's taken a bit of a slide. Nevertheless, Geomedia is still solid as GIS software. Especially, when you pair it up with ERDAS Imagine, you get arguably the best suite in remote sensing.
#1 GIS software with a powerful remote sensing suite of tools (from ERDAS Imagine)
REVIEW: Hexagon Geomedia Review: 9 Powerful Features
5. MapInfo Professional
4.2 stars
At its core, MapInfo Professional is all about locational intelligence. And just like GeoMedia, it's been a tale of shrinking market share from its rivals. But don't get fooled. MapInfo Professional is still a well-rounded GIS software suite with more of a business decision-making focus.
#1 GIS software with a focus on business and location intelligence
REVIEW: MapInfo Professional by Precisely
6. FME® Feature Manipulation Engine
4.1 stars
Feature Manipulation Engine (FME®) isn't a full-fledged GIS package. Instead, it wrangles and slays your data like a Jedi. It's extremely powerful and has a surprisingly active community. In fact, its yearly World Tour is a blast to attend. But just don't use FME® for making maps.
REVIEW: FME Software – Feature Manipulation Engine
7. Global Mapper
4.0 stars
Global Mapper is like a "Swiss army knife" in GIS analysis. It's straightforward to get started. But at the same time, Global Mapper has an incredible amount of flexibility. For example, it has a powerful display for LiDAR and elevation, all in a 64-bit application.
#1 GIS software for terrain and elevation functionality
REVIEW: Global Mapper Software by Blue Marble
8. QGIS 2
4.0 stars
QGIS 2 was one of the largest community efforts and open source progress in the history of GIS. And because it was community-driven, it became wildly innovative and inventive. Even though QGIS 2 is completely open source, it still rivals the best. But now, full support has shifted to QGIS 3.
#1 open source GIS software (currently unsupported for QGIS 3)
REVIEW: QGIS 2 Review (Quantum GIS)
9. Cadcorp
4.0 stars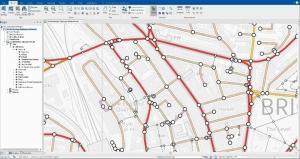 Cadcorp integrates both GIS with CAD into a single application. In a near flawless way, it adds rich functionality for mapping and styling. It adds several features ribbon interface, interoperability, and developer tools. But when you combine it with server and cloud tools, the lesser-known Cadcorp shines on a couple of levels.
10. GRASS GIS
3.9 stars
GRASS GIS is one of those suites that let you geoprocess until the night falls. It's a loaded gun with sophisticated tools. It's so powerful that you can unleash GRASS GIS in QGIS as a separate toolbox. But its clunky interface and stubborn map projection rules hold it back.
#1 open source GIS software for innovative geoprocessing tools.
REVIEW: GRASS GIS – Geographic Resources Analysis Support System
11. WhiteBox GAT
3.8 stars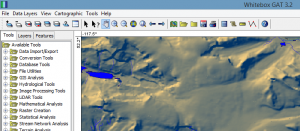 WhiteBox GAT is the diamond in the rough. If you need terrain and hydrological analysis, then it's a superb choice. The LiDAR support is out-of-this-world. But Whitebox GAT also has 360+ plugin tools. It deserves a higher ranking. But it's just not strong in mapping, editing, and data management.
#1 open source GIS software for LiDAR, terrain, and hydrography analysis.
REVIEW: WhiteBox GAT – Geospatial Analysis Toolbox
12. gvSIG
3.7 stars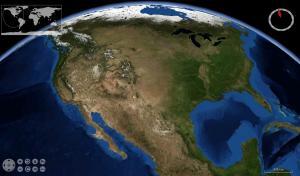 If you eat, sleep and breathe GIS, gvSIG is free and open source GIS software. Its features may surprise you. For example, it has a field app, 3D capabilities and a desktop application. But it's light on documentation. Especially, anything in English.
#1 open source GIS software for integration of field apps, web mapping, and desktop capabilities.
REVIEW: gvSIG Software Review: Desktop, 3D and Mobile GIS
13. GE Smallworld
3.6 stars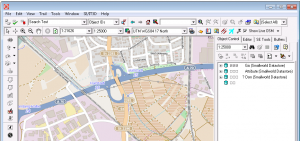 If you're in utilities, then GE Smallworld is for you. When GE acquired SmallWorld, it rose as the top GIS software for utility companies. The key is its robust data model which allows various geometry properties per object.
#1 GIS software for network asset management
REVIEW: Smallworld by General Electric (GE)
14. Manifold GIS
3.5 stars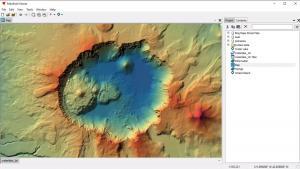 Manifold System is something you can just pick up and get accustomed to quickly. Its highlights are its intuitive interface, programmability, and 64-bit processing. Manifold GIS has a solid set of tools. But without the high price tag.
#1 GIS software for speed
REVIEW: Manifold GIS Systems: Software Review
15. Maptitude
3.5 stars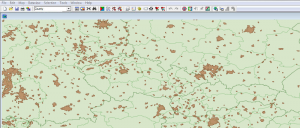 Maptitude stands out as one of the more affordable one-stop shop GIS platforms on the market. While it's true that Maptitude is a low-cost, professional GIS, you might want to look elsewhere for higher-level analysis.
#1 commercial GIS software for cost and business intelligence
REVIEW: Maptitude From Caliper – GIS Software Review
16. TatukGIS
3.5 stars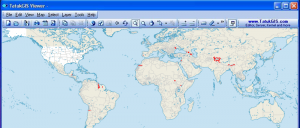 TatukGIS is straightforward and well-rounded. Its leading features include its state-of-the-art editing, format support, and scripting environment. Fun fact: The origin of TatukGIS is based on Tatuk Lake in British Columbia, Canada.
#1 commercial and cross-platform GIS on Windows, Linux, and macOS servers
17. AutoCAD Map 3D
3.4 stars
If you started using Autodesk products, then AutoCAD Map 3D has the same look to it so it makes you feel comfortable. Basically, AutoCAD Map bridges the gap between CAD and GIS. You get map layouts, data management, and editing capabilities. By linking CAD and GIS, you get the best of both worlds.
#1 commercial GIS software that integrates Autodesk capabilities
REVIEW: AutoCAD Map 3D by Autodesk: GIS and CAD Fusion
18. Golden Software Surfer
3.4 stars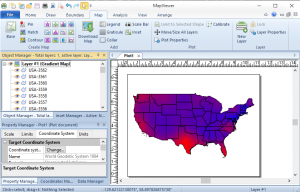 Surfer is part of the Golden Software suite. Alongside Strater, Voxler, and Grapher, you get a nice mix of 3D, analysis, and editing capabilities. But its key feature is how you can produce professional quality thematic maps.
#1 commercial GIS software for 3D geotechnical analysis and mapping
REVIEW: Surfer by Golden Software
19. ILWIS
3.4 stars
The 80s are making a comeback. As part of it, ILWIS is still embracing the era. But if you need remote sensing tools, it's a decent place to look. There are also 3D visualizations and stereo imaging. Despite its desperate need for a makeover, ILWIS is versatile in specific niches.
#1 open source GIS software for diverse image processing tools
REVIEW: ILWIS – Integrated Land and Water Information Management
20. SAGA GIS
3.4 stars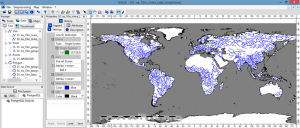 The name of the game for SAGA GIS is geoscience. If you go down this rabbit hole, you may get lost. Its documentation lacks so much that you don't even know the input and output. But it has some of the rarest tools you'll ever find in GIS software.
#1 open source GIS software for scientific and geotechnical analysis
REVIEW: SAGA GIS (System for Automated Geoscientific Analyses)
21. GeoDa
3.4 stars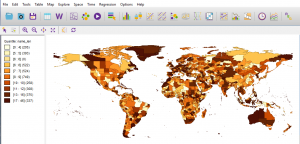 GeoDa is a specialist in statistical tools and analysis. As you work in this open source GIS software, you explore spatial statistics. Through state-of-the-art geo-visualizations and geo-simulations, it's the ultimate tool for spatial modeling.
#1 statistical open source GIS software for spatial modeling and geovisualizations
REVIEW: GeoDa Software – Data Exploration at its Finest
22. Bentley Map
3.2 stars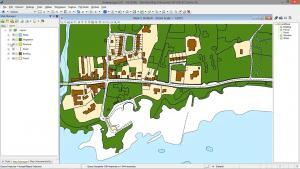 Bentley Map combines the power of CAD with the strengths of traditional GIS. For example, it offers robust inter-operability, overlay tools and high quality cartographical output. It's not only for 2D. But you can perform GIS analysis in 3D too.
#1 CAD/GIS software with a focus on 2D/3D infrastructure
REVIEW: Bentley Map by Bentley Systems
23. IDRISI TerrSet
3.1 stars
IDRISI by Clark Labs is mostly for raster analysis and image processing. For example, it's equipped with 300+ analysis tools. But IDRISI also focuses on Earth modeling too. For example, it has modules for land change, biodiversity modeling and climate change.
#1 GIS software for Earth modeling and land change
REVIEW: IDRISI TerrSet By Clark Laboratories
24. TNT GIS
2.6 stars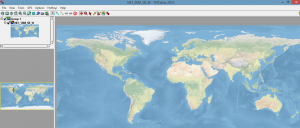 TNTview, TNTedit, TNTmips, and TNTscript are part of the MicroImages GIS software family. At the basic level, TNTview is an open viewer. As you move up the license levels, each one adds extra capabilities. Overall, it's a decent option for all-around mapping, analysis, and editing.
#1 GIS software for basic GIS editing, mapping, and analysis
25 MapWindow
2.6 stars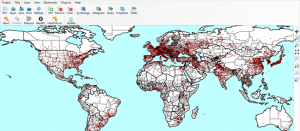 MapWindow is an open source project. While it does about 90% of what GIS users need, it specializes in hydrology. It still struggles with some of the basics. But it's a decent volunteer effort.
#1 open source GIS software for hydrology analysis with HydroDesktop
26. uDig
2.5 stars
Volunteers worldwide work on this open source desktop application. Most of the focus for uDig is on database viewing and editing. Even today, updates continue to roll in. But the interface really just needs a fresh coat of paint.
#1 open source GIS software for specific biodiversity and forest management tools
REVIEW: uDig GIS Software Review
27. Jump GIS
2.4 stars
You've got two tickets to the OpenJump show. Would you go? In short, Jump GIS is good at doing the basics. It started as a tool for data conflation. Then, it grew into a modest size open source project. Despite its light functionality, developers still support the project.
#1 open source GIS software for assisting with conflation
REVIEW: OpenJUMP GIS Software Review
28. FalconView
2.1 stars
FalconView is a flight simulator so it's unfair to compare in this list of GIS software. If you want to do fly-throughs, Georgia Tech built it for this purpose. Otherwise, you can render features in 3D like LiDAR and elevation.
#1 open source GIS software for flight simulation and spatial data integration
REVIEW: FalconView by Georgia Tech
29. OrbisGIS
1.9 stars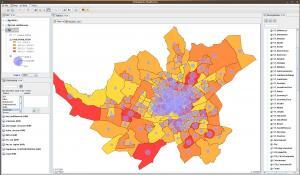 OrbisGIS is still a work-in-progress. It's now released as a cross-platform open source GIS software package. Specifically, OrbisGIS is designed by and for research.
#1 open source GIS software as a newcomer
30 Diva GIS
1.5 stars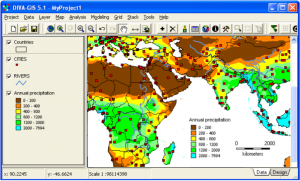 Diva GIS is an open source GIS software package that's simple and lightweight. Biologists use it for mapping biological richness and diversity distribution. It's functional. But there's not a lot here for mapping and functionality.
#1 open source GIS software for biology and data packaging
Mapping out the GIS software landscape
If you're in the geospatial industry, your choice in GIS software is critical.
We've mapped out the GIS software landscape for you.
You have 30 options to choose from. What did you pick?
We'd love to hear from you so please leave us a comment below.
Changelog
2022/04/28 – Cadcorp jumped from #12 to #9. QGIS 2 fell from #4 to #8. gvSIG fell from #9 to #12.