Mauritania Map and Satellite Image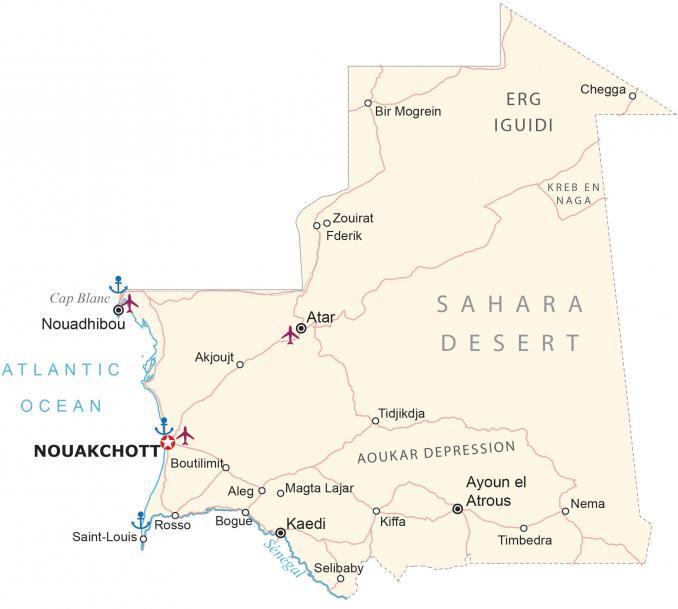 Download
This Mauritania map displays cities, towns, water, and roads. It includes satellite imagery and an elevation map that highlights everything from the Sahara Desert to the Richat Structure.
You are free to use our Mauritania map for educational and commercial uses. Attribution is required. How to attribute?
About the map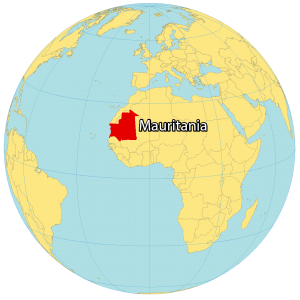 Mauritania is a country located in Northwest Africa. It borders Western Sahara to the northwest, Algeria to the northeast, Mali to the east and southeast, and Senegal to the southwest.
Its coastline with the Atlantic Ocean is approximately 700 kilometers (435 miles) in length. The country is known for its mining resources, history of slavery, and desert-filled landscape.
The population of Mauritania is approximately 4.4 million. Nouakchott is the most populous and is the capital city of Mauritania.

Mauritania in Google Maps
IMAGERY
Mauritania Satellite Map
At 1.03 million square kilometers (400,000 sq mi), Mauritania is the 28th largest in the world and the 11th largest in Africa. The Sahara Desert covers roughly three-fourths of Mauritania. One of its most notable features is the Richat Structure in the west-central region of the country.
It's nicknamed the "Eye of Africa" because of its circular shape that can even be seen from space. Otherwise, Mauritania contains just marginal arable land and forest cover. Along the Senegal River to the south are patches of tropical forest. Its climate is hot and dry and subject to desertification. Overall, the country received very little rainfall during the year.
HILLSHADE
Mauritania Elevation Map
Mauritania has generally flat terrain mixed with rocky plateaus and escarpments. In general, elevation gradually decreases from the northeast to the coastal lowlands of the Atlantic Ocean. Its most fertile area is the valley formed by the Senegal River to the south.
Next, it transitions into vast sand plains with rocky outcrops. Finally, the northern region is characterized by the Sahara Desert, occupying roughly three-quarters of the land area. The central-west region contains more of its rugged terrain and mountainous plateaus. At 915 m (3,002 ft), Mount Ijill is Mauritania's highest peak.