Tanzania Map – Cities and Parks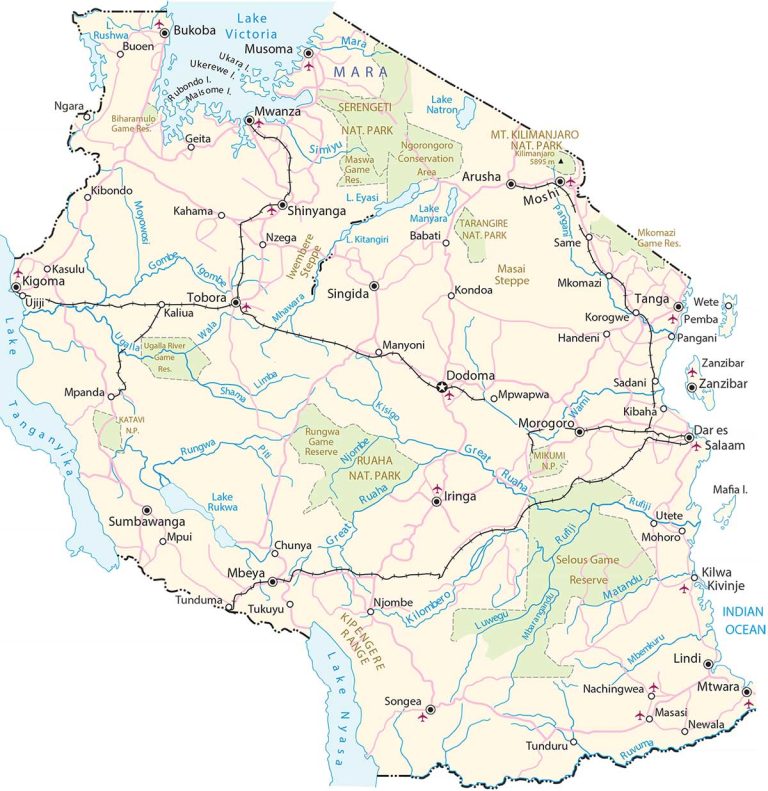 Download
This reference map of Tanzania displays the iconic country known for Mount Kilimanjaro, the Serengeti, and Lake Victoria. It includes satellite imagery and an elevation map to view its mountains, valleys, plains, and plateaus.
You are free to use our Tanzania map for educational and commercial uses. Attribution is required. How to attribute?
About the map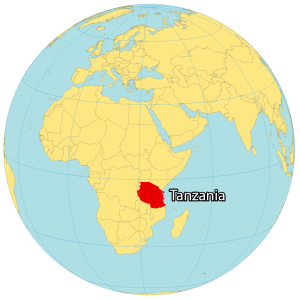 Tanzania is located in eastern Africa, along the Indian Ocean. The country is filled with memorable sites like Mount Kilimanjaro, the source of the Nile, the Serengeti, and Africa's largest lake, Lake Victoria.
Also, it's known for its wilderness, safaris, and Big Five game animals including the elephant, lion, leopard, buffalo, and rhino. It borders 8 African countries including Uganda, Kenya, Rwanda, Burundi, the Democratic Republic of Congo, Zambia, Malawi, and Mozambique.
The capital city is Dodoma, although the largest city and commercial hub is Dar es Salaam. Other major cities are Mwanza, Zanzibar, and Arusha. The geography of Tanzania is varied, with a central plateau and is bordered by mountains, including the Usambara and Uluguru ranges.

Tanzania in Google Maps
SATELLITE IMAGERY
Tanzania Satellite Map
Tanzania is part of the African Great Lakes region (Rift Valley Lakes). Lake Victoria is Africa's largest lake, the second-largest freshwater lake by area, and a source of the Nile. Also, Tanzania is home to the world's second-deepest lake, which is Lake Tanganyika in the west. Finally, Lake Nyasa (Lake Malawi) is 350 miles in length found in southwest Tanzania.
Overall, the Serengeti Plain spans the northern region of Tanzania and is home to the second-largest terrestrial mammal migration in the world. It's the site of around 1.5 million wildebeest migrations, which makes it one of the Seven Natural Wonders of Africa and a natural travel wonder of the world.
PHYSICAL MAP
Tanzania Elevation Map
One of the most iconic landmarks in Tanzania is Mount Kilimanjaro. Not only is it the highest point in Africa, but it's also only one of three mountain ranges with glaciers at the peak. Mount Kilimanjaro and Mount Meru stand in the northeast of Tanzania and both are inactive volcanoes. The terrain of Tanzania is diverse and is a mix of valleys, plateaus, plains, and mountains.
At the center of Tanzania is a large plateau with grassland and arable land to the north and south. Otherwise, the Ngorongoro Crater is a World Heritage Site in the Arusha Region to the north. Overall, Tanzania lies just below the equator with a hot and humid climate with two separate rainy seasons.