This map of the State of Palestine contains cities, towns, highways, lakes, and roads. Satellite imagery and an elevation map display both the Gaza Strip and West Bank regions.
You are free to use our State of Palestine map for educational and commercial uses. Attribution is required. How to attribute?
About the map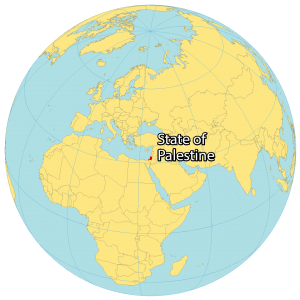 The State of Palestine consists of two separate regions – the Gaza Strip and West Bank. Both regions are mostly surrounded by Israel. But the Gaza Strip borders Egypt to the west and West Bank is next to Jordan to the east, separated by the Jordan River.
Overall, the State of Palestine does not have a capital city and its legal status is in question from a wide variety of viewpoints. Its major populated places include Gaza, East Jerusalem, Khan Yunis, Ramallah, and Jericho.

State of Palestine in Google Maps
IMAGERY
State of Palestine Satellite Map
Altogether, the State of Palestine occupies an area of 6,020 square kilometers (2,320 sq mi). While the Gaza Strip has an area of 365 square kilometers (141 sq mi), the West Bank region is 15.5 times larger at 5,655 square kilometers (2,183 sq mi).
Its largest body of water is the Dead Sea situated in the southeast corner of the West Bank. The Jordan River flows along its border separating the State of Palestine from Jordan to the east.
HILLSHADE
State of Palestine Elevation Map
The physical geography of the Gaza Strip and West Bank regions are different in several ways. While the Gaza Strip is a coastal region along the Mediterranean Sea, West Bank is a landlocked territory also near the Mediterranean Sea.
The Gaza Strip is a flat coastal plain. Whereas the Judean Hills lie in the central region and Jordan Valley shapes its eastern region. The Dead Sea is to the southeast of the West Bank and it's the lowest body of water on Earth's surface.