Map of Israel – Cities and Roads
This map of Israel (State of Israel) shows cities, towns, highways, lakes, and rivers. Satellite imagery and an elevation map reveal the topography of Israel like Mount Hermon in the north.
You are free to use our Israel map for educational and commercial uses. Attribution is required. How to attribute?
About the map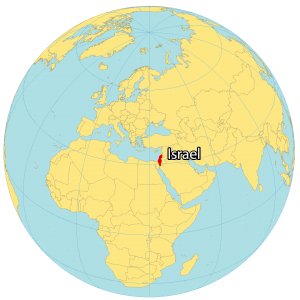 Israel is a country in the Middle East on the Mediterranean Sea and the Red Sea. It borders Lebanon to the north, Syria to the northeast, Jordan to the east, Palestine (West Bank and the Gaza Strip) to the east and west, and Egypt to the southwest.
Israel is known for its Jewish country, its conflicts between Israel and Palestine, as well as the Dead Sea. Jerusalem is the capital and largest city of Israel. But the city of Tel Aviv is also an economic and technological center.

Israel in Google Maps
IMAGERY
Isreal Satellite Map
Israel has an area of 22,145 square kilometers (8550 sq mi), which is slightly larger than Kuwait in area. But it's shaped narrow and is elongated in the north-south direction. Israel features a wide range of landscapes.
For example, the Negev Desert lies in the south. Whereas the Jezreel Valley is known for its fertile soils within the interior. Forests cover just 7% of Israel and its largest freshwater lake is Lake Tiberias.
HILLSHADE
Israel Elevation Map
While the southern region of Israel is mostly desert, the north is rugged and mountainous. For instance, its mountains include Galilee, Carmel, and Golan in the north. But its highest peak is Mount Hermon, next to Lebanon and Syria. The shores of the Mediterranean Sea are low coastal plain, where most of Israel's population is situated.