FME Software – Feature Manipulation Engine (Review)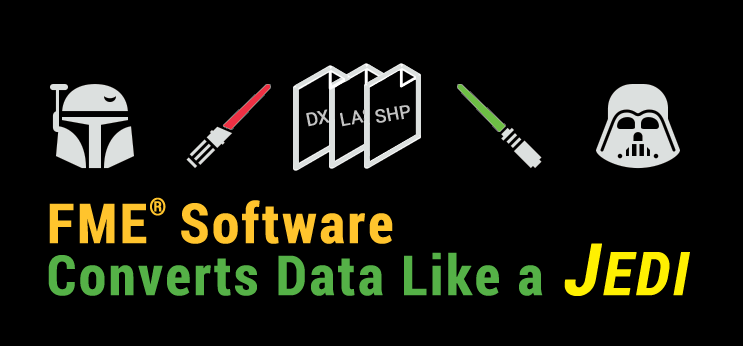 FME software is your GIS data conversion factory. You load a format in. It churns out another. As requested. It's as simple as that.
But the cool thing about FME software is that you can do some pretty serious automated analysis too in the form of FME workbenches (FMW).
Although its strong point isn't cartography, you can view almost any type of file using the FME Data Inspector. Anyways, let's get down to business.
Pros/Cons of Feature Manipulation Engine (FME)
Here are some of the advantages and disadvantages of using FME compared to other GIS software applications.
FME Software Ratings
Ranked #6 from 30 GIS Software
Spatial Extract, Transform, Load (ETL)
You don't have to be a Jedi data conversion master to know the 3 basic FME software translation processes.
The answer is Spatial ETL:
Extract data from a data source.
Transform it to another format.
Load it to its final destination.
Those are the basics of how FME software works. In addition, you can use this functionality in ArcGIS with the data interoperability toolset. In this article, we are going to examine spatial ETL with a simple example to start.
… And remember that if you're interested in data pipelines, make sure to check out these 10 online data engineer courses.
Build Workbenches to Automate Conversion
How amazing would it be if you could transform data like the flick of a switch?
With FME software workbenches, you can.
Here's a simple example:

This workbench loads a spreadsheet. This is called a reader.
The transformer takes those coordinates and converts them to a shapefile. The last process is the writer for the output workspace.
Now that you've taken the training wheels off, it's time to maneuver yourself into LiDAR translation.
FME Software Delivers the XYZs for LiDAR
As simple as ABC, FME software delivers the XYZs from a LAS file.
Slice and dice LiDAR data without mercy.
Call out the class codes and filter by bare ground. Without any misclassified points, these bare Earth points form the basis of a Digital Elevation Model.


The above example reads a LAS file. It splits and classifies the LiDAR points. Using only the ground points, it builds a DEM raster as a GeoTIFF output.
Next LAS file you have, recycle this workbench and build elevation surfaces. It's also handy for spotting errors through automation.
FME Software Data Inspector
It's not true that FME software only does file conversion.
It's loaded with a viewer known as FME Data Inspector.
The neat thing is that it can handle LiDAR, Autodesk, NETCDF, PostGIS, tabular data, and a lot more. And it can bring these files to life in a 2D or 3D Viewer. This is impressive, especially using LiDAR.
Add any raw LAS file to the viewer and you can scope out the lay of the land in 3D. The 3D view is a pretty neat feature. But you'll need to make use of all your mouse buttons.
There are filter options for attribute tables. Load background maps from Esri AGOL, Stamen Maps, and other sources. It even has anaglyphic viewing for stereo images.
The versatility in consuming data is its strong point.
A Spatial Data Transformer That Works
Data conversion can be tricky.
But with FME software it doesn't have to be.
Translate over 355 data formats including CAD, BIM, GIS, LiDAR, web formats, and more.
But the reason why it's so powerful is that you can do it with ease.
SAFE software had built a gem with this one. Best of its kind.
Get Started in FME Software
By integrating tools like Feature Manipulation Engine (FME), you can turn any processing task into an automated workflow.
The best part: no coding is required.
The staff at FME are very generous with evaluation licenses so all you have to do is ask for one.
If you want to automate, learn GIS for free through FME's webinars, training videos, and demos.