IDRISI TerrSet By Clark Laboratories
IDRISI TerrSet is primarily for remote sensing and image processing. With over 300 analysis tools, IDRISI TerrSet is as reliable as they come. But there's also a big focus on modeling the Earth such as in land use and climate change.
We have it ranked #23 in our list of GIS software. Let's explore the advantages and disadvantages of IDRISI TerrSet.
Pros/Cons of IDRISI TerrSet
Here are some of the advantages and disadvantages of using IDRISI TerrSet compared to other GIS software applications.
IDRISI Ratings
Ranked #23 from 30 GIS Software
Advantages
Modules
There's been a major shift in IDRISI to modeling land patterns and systems on Earth. IDRISI includes modeling capabilities that allow you to perform complex spatial modeling and simulation. This is particularly useful for environmental and ecological studies.
For example, IDRISI TerrSet has several modules for this purpose:
Land change modeler
Habitat and biodiversity modeler
Earth trends modeler
Climate change modeler
Ecosystems modeler
Raster Processing
If you want to analyze raster data, TerrSet is a low-cost option. For example, it has modules for image processing and classification. Unlike most other GIS software, you can segment images and use OBIA classification.
IDRISI offers a variety of tools for raster data analysis, including spatial modeling, image processing, and terrain analysis. It supports basic and advanced operations like classification, interpolation, and overlay analysis.
Visualization
Raster visualization shines in IDRISI TerrSet. It's not only in 2D. But you can render 3D visualization. If you want to see how things change in time, there are time series animations as well.
In addition to its visualization capabilities, IDRISI supports a wide range of raster data formats. Overall, it's compatible with various data sources and formats commonly used in GIS and remote sensing.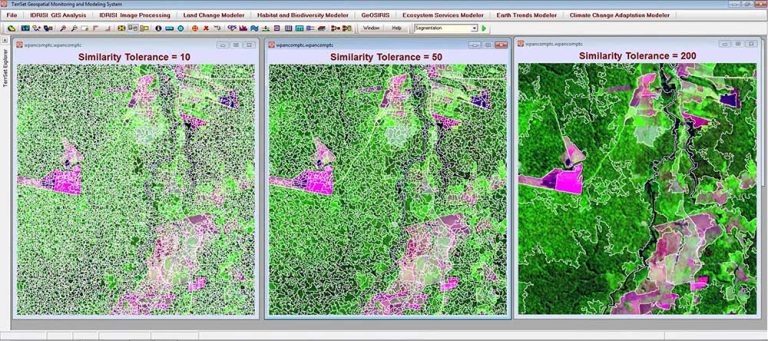 Disadvantages
User Community
The documentation is on the slim side for TerrSet. The level of community support and available documentation for IDRISI may vary compared to more widely used GIS software like ArcGIS or QGIS.
There is an official IDRISI community forum. But activity on this forum is low or inactive in comparison to other GIS software providers. If you want to share your problems with other users, you'll be hard-pressed to get any clear answers.
Vector Tools
Because TerrSet is mostly for raster data, it's sparse in traditional vector operations. In fact, most tools are aimed at raster analysis. For example, tools are for cost distance, surface analysis, and spatial statistics.
IDRISI also provides tools for conducting spatial statistics and geostatistical analysis. This can be extremely valuable for researchers and analysts dealing with spatial data with statistical backgrounds.
Cartography
If you want to build a professional map product, it lacks support for advanced map layouts. There is also minimal choice in symbology and labeling options.
Although IDRISI is a capable GIS software package, the focus is on raster data processing and analysis. Its toolset makes it suitable for various applications, particularly in the fields of environmental science, geography, and remote sensing.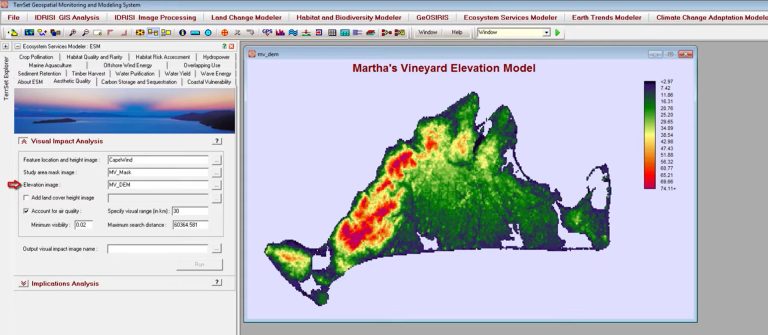 Summary: IDRISI TerrSet by Clark Laboratories
Since 1987, IDRISI has delivered remote sensing and image processing as an inexpensive option for analysis.
Universities around the world structure their courses around it.
And with good reason. Especially, if you want to model advanced systems on Earth.
It has vector operations. But it lacks variety. Not only this, cartography choices are at a bare minimum.
We highly suggest it for raster modeling. But as full-fledged GIS software, you should look elsewhere.