Download
This map of Malaysia contains major cities, towns, highways, lakes, and rivers. Satellite imagery and an elevation map show the topography and islands of Malaysia.
About the map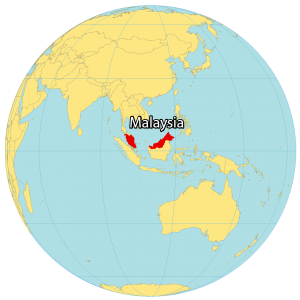 Malaysia is a country located in the heart of Southeastern Asia with its two regions separated by the South China Sea. It shares a border with 3 other countries including Indonesia, Thailand, and Brunei. The country consists of two major land areas.
First, the western portion is Peninsula Malaysia, which is part of the Malay Peninsula. Secondly, East Malaysia mostly contains the northern part of Borneo.
The country is also made up of 878 islands such as Banggi Island, Betruit Island, and Langkawi. Malaysia is known for its sandy beaches, mountains, rainforests, friendly people, and Kuala Lumpur, the capital and largest city of Malaysia.

Malaysia in Google Maps
You are free to use our Malaysia map for educational and commercial uses. Attribution is required. How to attribute?
IMAGERY
Malaysia Satellite Map
Malaysia occupies an area of 330,803 square kilometers (127,724 sq mi). This makes it slightly smaller than Cambodia but larger than the Philippines. Malaysia lies near the equator and is hot and humid throughout the year.
Although deforestation is an environmental concern, forests cover 58.2% of Malaysia. For example, swamps, mangroves, and tropical rainforests occupy Malaysia like the Borneo Lowland Rainforests. While its longest river is the Rajang River, its largest natural lake is Bera Lake and its largest man-made lake is Kenyir Lake.
HILLSHADE
Malaysia Elevation Map
Malaysia is rugged and mountainous throughout most of the country. For example, the west of Malaysia contains both the Titiwangsa Mountains and Tenasserim Hills in the interior. Whereas the Crocker Range lies separates the west and east coast of Sabah in East Malaysia.
At 13,435 ft (4,095 m), Mount Kinabalu is Malaysia's highest peak. Overall, it's the 20th tallest mountain in the world and the 3rd highest peak on an island. Whereas Malaysia's lowest point is the Indian Ocean at 0 m sea level.