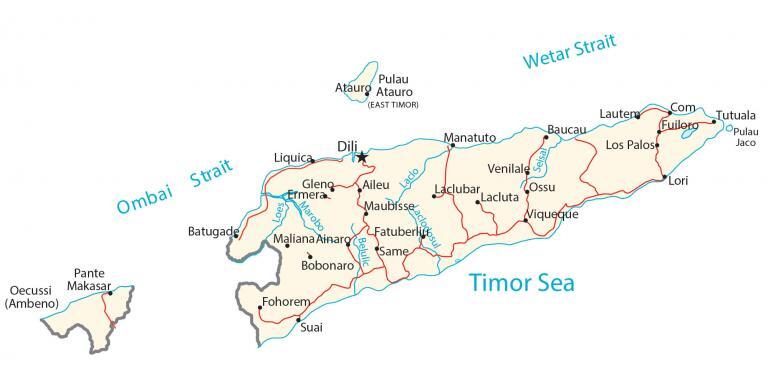 Download
This map of East Timor (Timor-Leste) features a reference map, satellite imagery, and a physical map. It includes everything from its interior plateau to its cities, highways, lakes, and rivers.
East Timor map collection
You are free to use our East Timor map for educational and commercial uses. Attribution is required. How to attribute?
About the map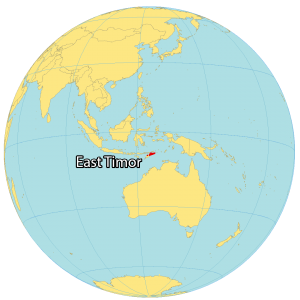 East Timor (Timor-Leste) is a small country in southeastern Asia. It occupies the eastern half of the island of Timor as part of the Indonesian archipelago. Dili is the capital and largest city in East Timor, located in the north.
East Timor also includes the islands of Pulau Atauro and Pulau Jaco in the north and east parts of the country. But it also contains the exclave of Oecussi to the west.
East Timor is the only country that's a part of Asia to be completely located in the Southern Hemisphere. It's located east of Indonesia and northwest of Australia, between the Timor Sea, Savu Sea, and the Banda Sea.

East Timor in Google Maps
SATELLITE IMAGERY
East Timor Satellite Map
East Timor occupies an area of 15,007 square kilometers (5,794 sq mi), which makes it slightly smaller than the Fiji Islands. The country is mostly humid with moderate rainfall because it lies between 8° and 10°S latitudes (below the equator). East Timor has a number of rivers and lakes.
Although the lake area fluctuates, Lake Ira Lalaro is considered the largest lake on the island of Timor anywhere between 10 to 55 square kilometers. Furthermore, it's an important bird habitat and is part of Mount Paitchau Important Bird Area. Next, rivers like the Lois and Northern Laclo Rivers that flow from the central mountains to the ocean are the most significant in East Timor.
PHYSICAL MAP
East Timor Physical Map
The terrain in East Timor is mostly rugged mountains and diverse geographic features. At 2,986 m (9,797 ft), its highest peak is Foho Tatamailau (Mount Ramelau) in the central region of East Timor.
The interior of the country has a high plateau with the Ramelau Range, which is the most prominent topographic feature in the country. Also, it consists of a mix of savannah forests, dry grasslands, and dense rainforests. From its rugged hills to its steep mountains, East Timor provides a landscape for a cascade of waterfalls and patches of coastal lagoons.