Map of Thailand – Cities and Roads

Download
This map of Thailand (Formerly Sian) displays major cities, towns, highways, roads, rivers, lakes, and islands. It includes a reference map, satellite imagery, a physical map, and a provincial map of Thailand.
You are free to use our Thailand map for educational and commercial uses. Attribution is required. How to attribute?
About the map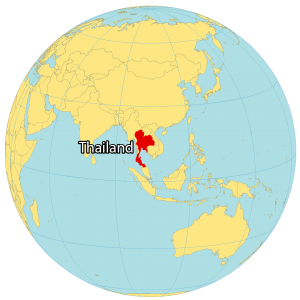 Thailand is in the heart of Southeastern Asia, along the Gulf of Thailand. It borders four Asian countries including Myanmar to the west, Laos to the north, Cambodia to the east, and Malaysia to the south.
The country was originally known as Siam until its name changed in 1939 to Thailand (Land of the Free). There are 35,000 temples throughout Thailand and it's one of the most visited countries in the world with 16 million visitors each year.
The capital and largest city of Thailand is Bangkok. Other major cities are Samut Prakan, Mueang Nonthaburi, and Udon Thani. The country can be divided into four main geographical regions: the central plains, the Khorat Plateau, the mountains and hills of the north and northeast, and the peninsula.

Thailand in Google Maps
IMAGERY
Thailand Satellite Map
Thailand is situated at the center of the Indochinese Peninsula. Altogether, it occupies an area of 513,120 square kilometers (198,120 sq mi). In comparison, it's larger than Japan but smaller than France. It lies between 6°N to 20°N latitude so its climate is tropical with warm, rainy, and monsoon seasons.
Thailand is a major hub for tourists, with over 2000 miles of coastline for pristine beaches and travel. There are also over 1400 islands, most of which are uninhabited without a human settlement. Forests cover 31-37% of the land area in Thailand and it's home to one-tenth of the world's animal species.
HILLSHADE
Thailand Elevation Map
The three most prominent regions in Thailand are the plains in the central region, the plateau (Khorat Plateau) in the east, and its surrounding mountains. Specifically, the Dawna Range and Thai Highlands lie in the northwest along its border with Myanmar.
Secondly, the Phetchabun Mountains run north-south in the central region of Laos. Finally, the Khorat Plateau and Dangrek Mountains both lie in the east. At 2,565 meters (8,415 ft), Doi Inthanon is the highest peak in Thailand, standing in the northwest part of the Shan Hills.
ADMINISTRATION
Thailand Provincial Map
Provinces are the first-level administrative units in Thailand. Currently, there are 76 provinces in Thailand. But there is also 1 special administrative area, which is the capital city of Bangkok. A governor leads each province and is elected within the province.