This map of the Philippines contains cities, towns, roads, gulfs, seas, and islands. Satellite imagery and an elevation map show the rugged terrain and topography of the Philippines.
You are free to use our Philippines map for educational and commercial uses. Attribution is required. How to attribute?
About the map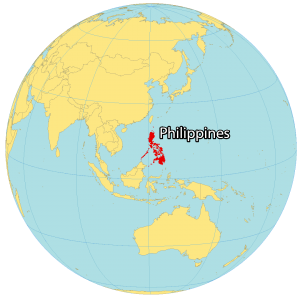 The Philippines consists of about 7,640 islands in the Pacific Ocean, which makes it 8th on the list of countries with the most islands. But its three main geographic regions are Luzon, Visayas, and Mindanao.
The Philippines is located near Malaysia to the southwest, Vietnam to the west, Hong Kong to the northwest, Taiwan to the north, and Indonesia to the south.
It's situated between the South China Sea to the west, the Philippines Sea to the east, and the Celebes Sea to the south. Manila is the capital city of the Philippines but its largest city is Quezon City.

Philippines in Google Maps
IMAGERY
Philippines Satellite Map
Altogether, the Philippines occupies an area of 300,000 square kilometers (120,000 sq mi). In comparison, this is close to the size of Italy or Ecuador. Some of the common landscapes in the Philippines are its mangroves, large coastal lowland areas, beaches, mountains, north-flowing rivers, and lakes. The Philippines is subject to constant earthquakes and seismic activity.
But it also lies within the "Typhoon Belt" region with an average of 20 typhoons every year. Luzon, Visayas, and Mindanao are the three main regions. Luzon is in the north. Not only is it the largest island, but it's the most populous. The Visayas Islands contain several hundreds of islands. But its seven main islands are Bohol, Cebu, Leyte, Masbate, Negros, Panay, and Samar. Finally, Mindanao contains the second-largest island.
HILLSHADE
Philippines Elevation Map
The country of the Philippines is situated within the Pacific "Ring of Fire" so they are covered with north-south mountain ranges and active volcanoes. For example, the three main mountain chains of Luzon are the Sierra Madre, Cordillera Central, and the Zambales Mountains. Whereas the main mountain ranges on Mindanao are Apo–Talomo and Pantaron Mountain Ranges.
Other mountain ranges are Kalatungan, Kitanglad, and Central Panay Mountain Range. At 2,954 meters (9,692 ft), Mount Apo in south-central Mindanao is the highest peak in the Philippines. Whereas its lowest point is the Galathea Depth at 10,540 meters deep.