Download
This Singapore map collection contains a reference map, satellite imagery, and a physical map. Each map of Singapore displays its highways, roads, neighborhoods, islands, and airports.
About the map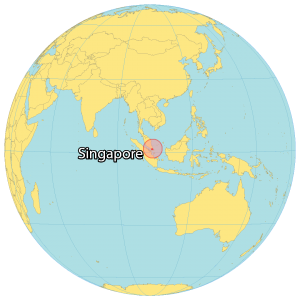 Singapore is an island country located in Southeastern Asia between the Indian Ocean and the South China Sea. The country occupies an area of just 728.6 square kilometers (281.3 sq mi), about 4 times larger than Washington, DC. Despite its small area, it's still the world's largest city-state. To the north, the Johore Strait separates Singapore from Malaysia.
Whereas to the south, it's the Singapore Strait that separates it from Indonesia. Singapore is known for its multiculturalism, cleanliness, nature, safety, tourism, and technology. The population in Singapore is concentrated in the center, with pockets along the southern coast. It also has the third-highest population density in the world, after Monaco and Macau. Because the country is a city-state, the capital of Singapore is Singapore.

Singapore in Google Maps
You are free to use our Singapore map for educational and commercial uses. Attribution is required. How to attribute?
IMAGERY
Singapore Satellite Map
Singapore consists of one main island of Ujong (Singapore Island) and 63 islands of islets in the south and east, some expanded from land reclamation. For example, it includes the islands of Jurong, Tekong, and Bukom. Sentosa Island is off the southern coast and location of the famous Merlion statue, half-lion, and half-fish.
Although urbanization has resulted in the loss of its natural forests, Singapore maintains greenness in its nature reserves, such as the Bukit Timah Nature Reserve and the Sungei Buloh Wetland Reserve. Singapore lies slightly above the equator at 1°N so its climate is tropical rainforest. Singapore Changi Airport is located to the southeast of the island.
PHYSICAL
Singapore Physical Map
The terrain in Singapore is generally low-lying with a gentle central plateau. The east is characterized by its flatlands. Whereas the west has low-lying and rolling land. Its smaller islands consist of coastal beaches and low-lying areas.
At 163.63 m (537 ft), Bukit Timah Hill it's the highest natural point, located on a ridge near the center of Singapore Island. Although it has several reservoirs, Singapore has no major natural lakes. But the Singapore River is its most notable river which flows 3.2 kilometers until it terminates into the Marina Reservoir in the southern part of Singapore.