Map of Vietnam – Cities and Roads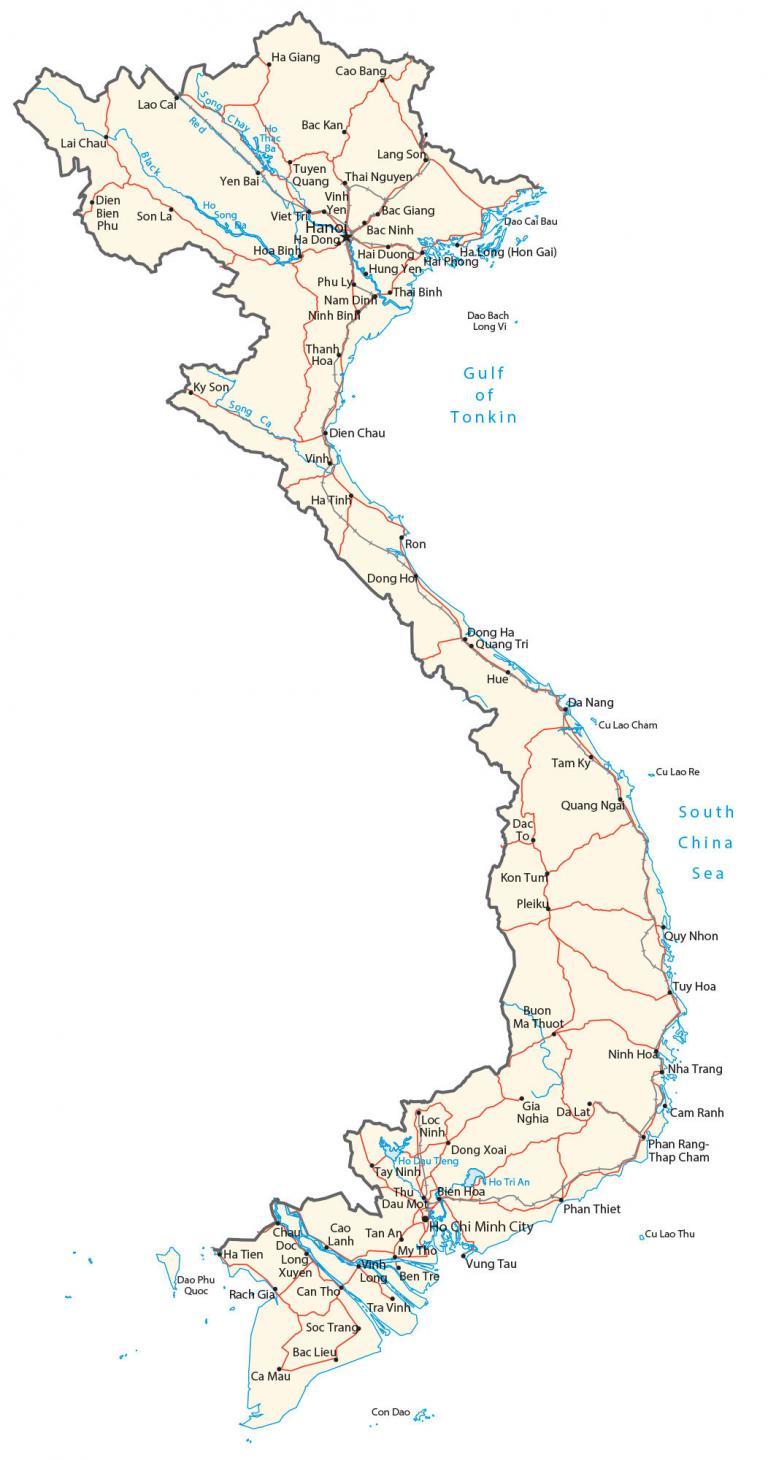 Download
This reference map of Vietnam contains cities, towns, islands, lakes, rivers, highways, and roads. Satellite imagery and elevation display its unique topography like Fansipan and its long, narrow coastline.
You are free to use our Vietnam map for educational and commercial uses. Attribution is required. How to attribute?
About the map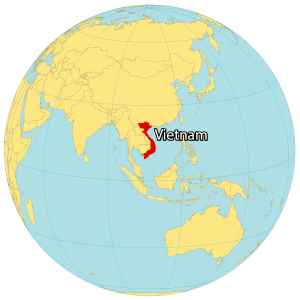 Vietnam is in southeastern Asia, along the South China Sea, the Gulf of Tonkin, and the Gulf of Thailand. It borders just three countries in Asia including China to the north, as well as Laos and Cambodia to the west.
Despite having a size of about New Mexico, it's the 14th most populous country in the world. Additionally, it has one of the highest population densities in the world with more than 300 people per square kilometer.
The country is also known for the Vietnam War which lasted 20 years. During the war, over 3,000,000 Vietnamese and 60,000 Americans lost their lives. The capital city of Vietnam is Hanoi but its largest city is Ho Chi Minh City. Other major cities are Da Nang, Haiphong, and Bien Hoa.

Vietnam in Google Maps
SATELLITE IMAGERY
Vietnam Satellite Map
Vietnam occupies a total area of 331,699 square kilometers (128,070 sq mi). In comparison, it's larger than Malaysia but smaller than Japan. Within the Indochinese Peninsula (comprising Vietnam, Laos, and Cambodia), Vietnam's coastline stretches for 3,260 kilometers (2,030 mi) along the South China Sea.
Near its coastline, it contains several islands like Phu Quoc, Con Dao, Cham, and Tho Chu Islands. Whereas its disputed islands are the Paracel Islands (Hoang Sa) administered by China as well as the Spratly Islands (Truong Sa) are disputed by China (PRC) and Taiwan (ROC).
Overall, the country is a mix of different landscapes like waterfalls, sand dunes, tropical rainforests, sandy beaches, and caves. In fact, it's home to the world's largest cave, Hang Son Doong.
PHYSICAL MAP
Vietnam Physical Map
Vietnam is mostly highlands, with mountains in the far north and northwest. At 3,147 meters (10,326 ft), Fansipan is the highest mountain in not only Vietnam but also all of the Indochinese Peninsula.
This is why the mountain is also nicknamed "the Roof of Indochina". Vietnam's other mountainous region is the Annamite Range, which straddles its western border with Laos and Cambodia. Overall, it's a long and narrow country with coastal plains often unsuitable for crop production.
POLITICAL MAP
Vietnam Provincial Map
Provinces are the first-level administrative units in Vietnam that are divided geographically and administratively. Currently, there are 58 provinces in Vietnam. Provinces are split up into districts, which are the second-level administrative unit in Vietnam. This is followed by communes, which are the finest level of administrative units in Vietnam.