Zimbabwe Map – Cities and Roads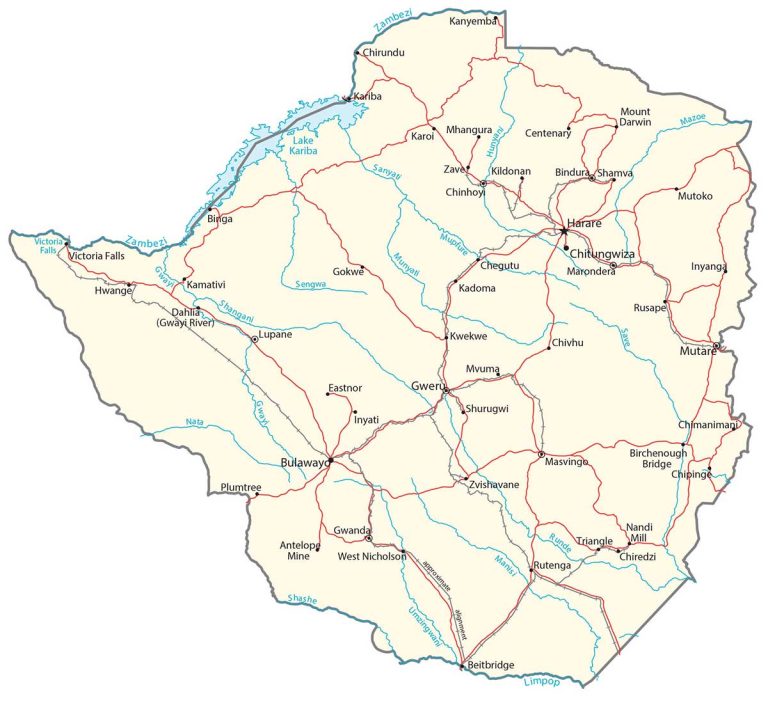 Download
This map collection of Zimbabwe features a reference map, satellite imagery, and an elevation map. It also highlights Zimbabwe's cities, towns, lakes, rivers, highways, and roads.
You are free to use our Zimbabwe map for educational and commercial uses. Attribution is required. How to attribute?
About the map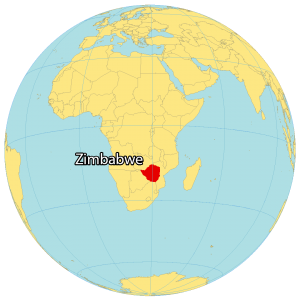 Zimbabwe is a landlocked country in Southern Africa, between South Africa to the south (along the Limpopo River) and Zambia to the north (along the Zambezi River). It also borders Mozambique to the east, and Botswana to the west.
The country is known for its dramatic landscapes, wildlife reserves, safaris, and the world's largest waterfall, Victoria Falls. The capital and largest city in Zimbabwe is Harare. Other major cities are Bulawayo, Chitungwiza, and Mutare.

Zimbabwe in Google Maps
SATELLITE IMAGERY
Zimbabwe Satellite Map
Zimbabwe occupies a total area of 390,757 square kilometers (150,872 sq mi). In comparison, it's smaller than Morocco but larger than the Republic of Congo. The country lies in the southern hemisphere between latitudes 15°S and 23°S so its climate is mostly temperate and subtropical.
Zimbabwe is home to two World Heritage Sites – Victoria Falls and Mana Pools. First, Victoria Falls is the world's largest waterfall in the sheer volume of water falling and is situated directly on the border between Zambia and Zimbabwe. Secondly, Mana Pools National Park is a wetland area during the rainy season and attracts large animals in search of water.
PHYSICAL MAP
Zimbabwe Physical Map
Zimbabwe is a diverse mix of rolling hills, plains, escarpments, plateaus, and mountain ranges. Although the majority of Zimbabwe is in an elevated position, its highest region is the Eastern Highlands. At 2,592 meters (8,504 ft), Mount Nyangani is the highest peak in Zimbabwe within Nyanga National Park.
Zimbabwe's central region is mostly plateaus and hills with elevations ranging from 1,000 to 1,600 meters. Specifically, the Mafungabusa Plateau, Matobo Hills, and Chizarira Hills are located in the interior of Zimbabwe. Also notable is Lake Kariba which is also on the Zambia-Zimbabwe border. This artificial lake is the world's largest reservoir by volume, storing over 180 cubic kilometers of water.