Zambia Map – Cities and Roads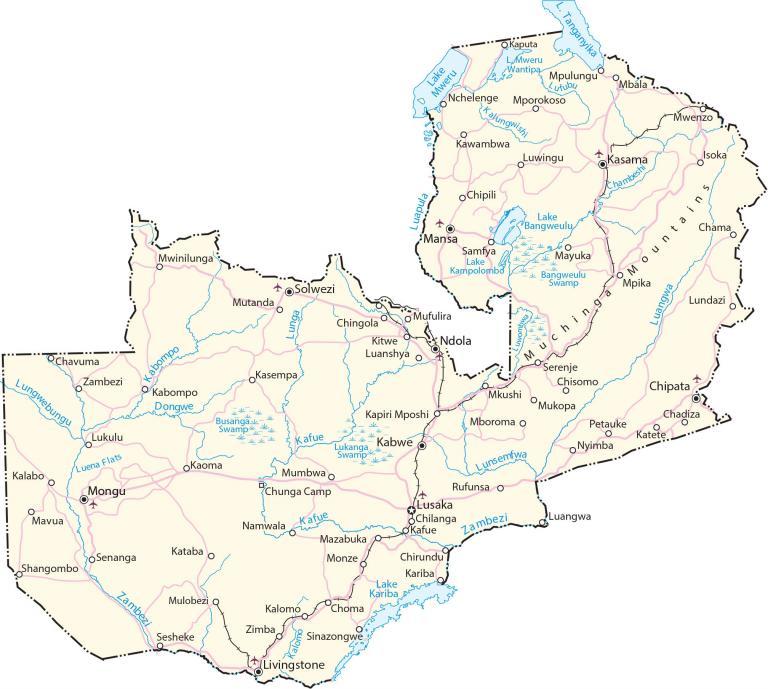 Download
This map of Zambia shows cities, towns, highways, roads, lakes, and rivers. Satellite imagery and an elevation map highlight its terrain like the Muchinga Mountains.
You are free to use our Zambia map for educational and commercial uses. Attribution is required. How to attribute?
About the map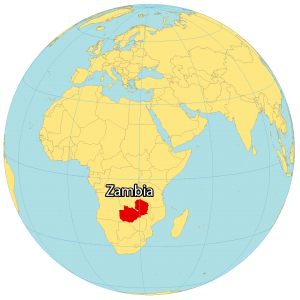 Zambia is located in the divide between Central and Eastern Africa. The country is known for its dramatic landscapes, safaris, Big Five wildlife reserves, and the world's largest waterfall, Victoria Falls. The country's name is derived from the Zambezi River, which forms its southern boundary.
Zambia borders the Democratic Republic of the Congo to the north, Tanzania to the northeast, Malawi to the east, Mozambique to the southeast, Zimbabwe and Botswana to the south, Namibia to the southwest, and Angola to the west. Lusaka is the capital and largest city of Zambia. Other major cities are Kitwe, Ndola, and Kabwe.

Zambia in Google Maps
SATELLITE IMAGERY
Zambia Satellite Map
Zambia occupies an area of 752,618 square kilometers (290,587 sq mi). In comparison, it's smaller than Mozambique and larger than South Sudan. The country lies between the latitudes 10°S and 18°S in the southern hemisphere so its climate is mostly temperate and tropical.
At 1,576 kilometers (979 mi) long, the Kafue River is the longest river in Zambia which Zambians use for hydroelectricity and irrigation. Otherwise, the artificial lake, Lake Kariba, is situated on the Zambia-Zimbabwe border and is the world's largest reservoir by volume, storing over 180 cubic kilometers of water.
PHYSICAL MAP
Zambia Elevation Map
Zambia is a landlocked country made up of plateaus and some hills and mountains. For example, the Muchinga Mountains lie in the northwest of Zambia and stretch in a northeast direction towards Tanzania.
At 2,339 m (7,674 ft) above sea level, its highest peak is Mafinga Central in the Mafinga Hills on the border of Zambia and Malawi. Another prominent area is the Kafue Flats, which is an area of swamps and lagoons periodically flooded by the Kafue River. This region of shallow floodplains is situated within and to the southeast of Zambia's Kafue National Park.