Map of Venezuela – Cities and Roads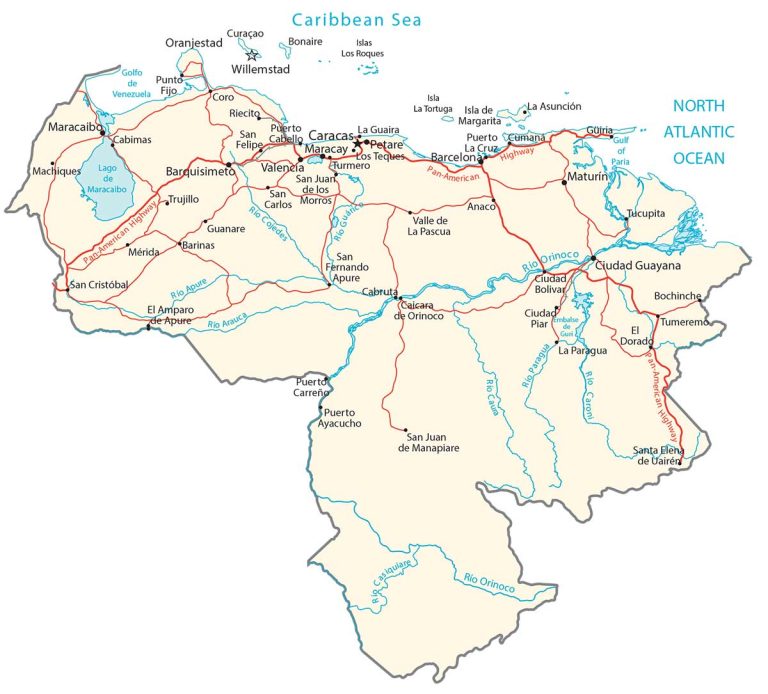 Download
A map of Venezuela that shows cities, towns, highways, roads, lakes, and rivers. It includes satellite imagery and an elevation map that highlight everything from the Andes Mountains to the Maracaibo Lowlands.
You are free to use our Venezuela map for educational and commercial uses. Attribution is required. How to attribute?
About the map
Venezuela is located in the northern region of South America along the Caribbean Sea. It borders 3 other countries including Guyana to the east, Brazil to the south, and Colombia to the west. Its northern coast contains island resorts like the Isla de Margarita and the Los Roques archipelago.
Venezuela had the most proven oil reserves in the world, larger than Saudi Arabia or Canada. Additionally, it has the second-biggest natural gas reserves in the Western Hemisphere. Caracas is the capital and largest city of Venezuela. Other major cities are Maracaibo, Maracay, and Valencia with each of them exceeding 1 million people.

Venezuela in Google Maps
IMAGERY
Venezuela Satellite Map
Venezuela occupies an area of 916,445 square kilometers (353,841 sq mi) and is the sixth-largest country in South America. In comparison, it's larger than Chile but smaller than Bolivia. Venezuela also has a territorial dispute with Guyana for land to the west of the Essequibo River.
Although Lake Maracaibo is Venezuela's largest lake, aquatic life is under threat from oil pollution. National parks cover more than 20% of Venezuela. Specifically, the region southeast of the Orinoco River (Guayana Region) contains parks like Canaima, which is home to the highest waterfall in the world, Angel Falls. Most of Venezuela's tributaries enter its most significant river, the Orinoco River, like the Caroní River.
PHYSICAL
Venezuela Physical Map
The most prominent features in Venezuela are the Andes Mountains in the west and Maracaibo Lowlands in the northwest. Otherwise, the llanos grassy plain dominates the central region with the Guiana Highlands and the geological wonder Tepuis table-top mountains in the southeast.
At 4,978 meters (16,332 ft), Pico Bolivar is Venezuela's highest peak. Its parent range, the Sierra Nevada part of the Andes, stretches to the northeast along its western border with Colombia. This mountain peak holds the world's longest & highest cable car in the nation.