NASA Earth Observatory GIS Data
Global Environment and Climate Data
Since 1999, NASA Earth Observatory has kept a close eye on the environment and global climate change.
If there's a fire burning in California, you can see it for yourself from space.
NASA's impressive A-train fleet investigates Earth every day.
And on the NASA Earth Observatory, the leading experts reveal their massive collection of Earth science data. More on this later.
NASA Earth Observatory Global Maps
You can't see carbon monoxide with the naked eye. But sophisticated satellites like Terra can detect this invisible gas.
And turns out that carbon monoxide is linked to other Earth phenomena like wildfires. When you compare them side-by-side, you can see how these phenomena correlate.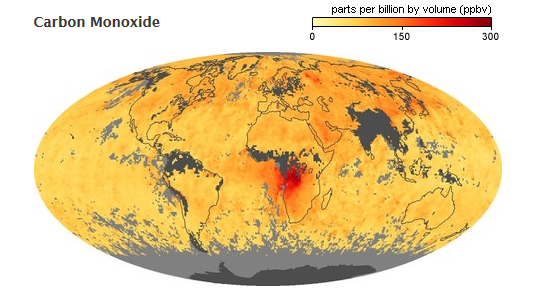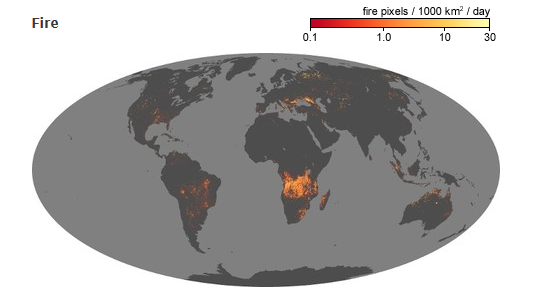 How does Earth's climate change month-by-month? NASA Earth Observatory tracks aerosol, temperature, vegetation weather patterns, and trace gases like carbon monoxide.
The best part?
All of NASA's global maps are animated to see how the environment and climate vary on Earth. For more than a decade, you can see for yourself how much our planet changes yearly.
So how can you download NASA Earth Observatory data?
NASA Earth Observatory Data
If you want to get your hands on NASA's atmosphere, energy, land, life, and ocean data, it's available on NASA Earth Observations (NEO).
For example, if you want to download bathymetry data click the "ocean" category. From here, find the ocean bathymetry (GEBCO) data set.
One of the best parts is all the formats you can download. For example, you can download GeoTIFF, JPEG, PNG, CSV, or Google Earth.
If you want to compare wildfires by country, there are free GIS software options to visualize, manage and analyze raster data. For example, analytical tools such as zonal statistics can estimate a mean or total value per country.
We've Barely Scratched the Surface
Since 1999, the NASA Earth Observatory has gathered a wealth of information on our environment and climate.
The best part is how NASA makes it easily understandable for the public to consume.
By signing up for their free newsletter, you get the latest images captured by NASA of global events.
It's Earth in your inbox – I highly recommend it.