About the map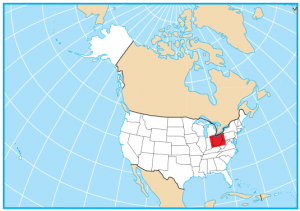 In this map, you will find major rivers, reservoirs and lakes of Ohio like Grand Lake. In general, rivers in Ohio flow into the Gulf of Mexico and the Great Lakes.
As you may guess, the Ohio River is of great importance for the state of Ohio. Not only is it 981-mile long river, but it also serves as the southern boundary between West Virginia and Kentucky.
On the north side, Ohio's coast is Lake Erie, which is the 4th largest in North America. For size, the largest lakes in Ohio are Pymatuning Lake, Grand Lake and Mosquito Creek Lake.
Ohio lakes, rivers and reservoirs
Lakes and reservoirs
Grand Lake
Pymatuning Reservoir
Mohawk Reservoir
William H Harsha Lake
Indian Lake
Mosquito Creek Lake
Piedmont Lake
Senecaville Lake
Rivers and streams
Scioto River
Lake Erie
Ohio River
Muskingum River
Cuyahoga River
Maumee River
Great Miami River
Hocking River
Sandusky River
Little Miami River
Tuscarawas River
St Marys River
Blanchard River
Auglaize River
Olentangy River
Grand River
Killbuck Creek
Big Walnut Creek
Licking River
Raccoon Creek
Paint Creek
Big Darby Creek
Mahoning River
Mad River
References
Free US Maps
Select a state to view its map
Still looking for a real map?
National Geographic
carries a full range of Country Maps, US Maps, World Maps, Regional Maps, Historical Maps and Celestial Maps.