Map of Denmark – Cities and Roads
This map of Denmark shows major cities, bays, and seas. It includes a satellite and elevation map of Denmark to see its terrain which is mostly low and flat with gently rolling plains.
You are free to use our Denmark map for educational and commercial uses. Attribution is required. How to attribute?
About the map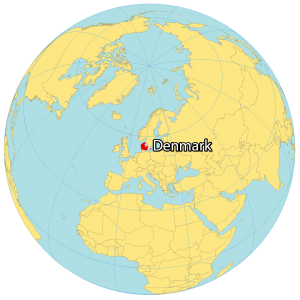 Denmark is a Nordic country located in Northern Europe. It's located in northern Europe bordering the Baltic Sea and the North Sea. It borders just one country, which is Germany situated directly to the south.
In the northeast, Sweden is located across the Kattegat Sea, which separates it from the Scandinavian border. The capital and largest city of Denmark is Copenhagen situated on the island of Zealand.
The country consists of the Jutland peninsula and several islands, including Zealand, Funen, and Bornholm. Denmark has a total land area of approximately 42,000 square kilometers and a population of over 5 million people.

Denmark in Google Maps
IMAGERY
Denmark Satellite Map
The two main islands of Denmark are Jutland and Zealand.  First, the Jutland Peninsula is the mainland region of Denmark stretching northward to Scandinavia. Whereas Zealand is the smaller of the two main islands but holds the capital city of Copenhagen.
The rest of Denmark is the Danish Archipelago, which consists of a group of more than 400 islands. Seventy of the islands are inhabited, with the remainder completely empty of human settlements.
HILLSHADE
Denmark Elevation Map
The terrain in Denmark is mostly low and flat with gently rolling plains. Its flat terrain is the main reason why it has one of the highest percentages of land suitable for growing crops than any other country in the world. At just 171 meters, Denmark's highest point is Møllehøj hill. This point is part of the Ejerbjerge Hills in the Eastern region of the Jutland Peninsula.
ADMINISTRATION
Denmark Regions Map
The five major regions of Denmark are North Denmark, Central Denmark, South Denmark, Zealand, and the Capital Region. While regions are the first-level administration unit in Denmark, municipalities are the second-level unit. Even though Denmark also has provinces, they are mainly for statistical and census information.