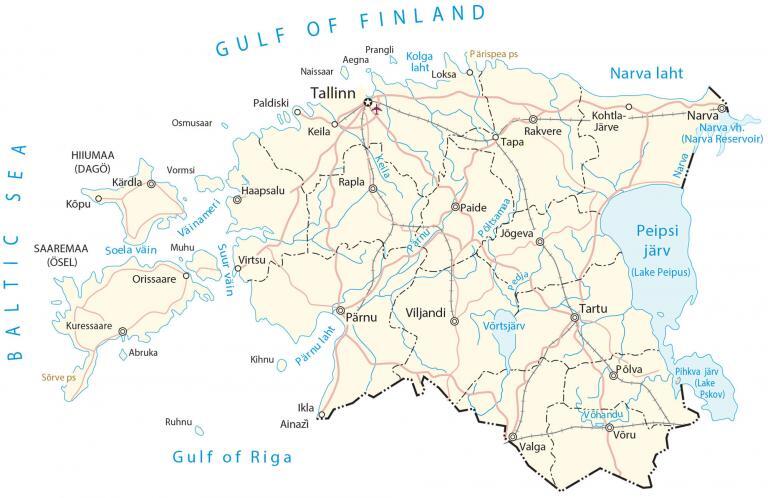 Download
This map of Estonia contains major cities, rivers, lakes, airports, and highways. It also features a satellite and elevation map showing topographic features like its upland regions and its unique transboundary lakes.
You are free to use our Estonia map for educational and commercial uses. Attribution is required. How to attribute?
About the map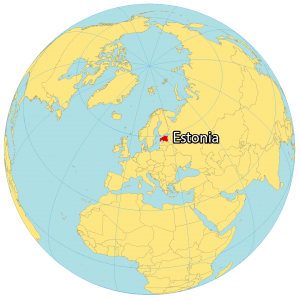 Estonia is located in Northern Europe along the coast of the Baltic Sea and the Gulf of Riga. It borders just two countries including Latvia to the south and Russia to the east. It's also separated by the Gulf of Finland with Scandinavia (Finland and Sweden) to the north.
Estonia is a country in Northern Europe and is one of the Baltic countries. Tallinn is the capital and largest city in Estonia, just along the Gulf of Finland in the north. But Tartu has also been considered the cultural capital as well.
Estonia consists of several islands on the west coast. Specifically, Saaremaa and Hiiumaa are the two largest islands. But also Muhu, Vormsi, and Naissaar are smaller islands also off mainland Estonia. The geography of Estonia is diverse, with forests covering about half of the country and over 2,300 islands dotting its coastline.

Estonia in Google Maps
IMAGERY
Estonia Satellite Map
Estonia occupies an area of 45,227 square kilometers (17,462 sq mi), which is similar in size to Denmark and Slovakia. Two of Estonia's key features to reconfigure are its transboundary lakes and relatively low-lying terrain. First, Lake Peipus is the largest transboundary lake in all of Europe separating Estonia from Russia. Lake Vortsjarv is Estonia's second-largest lake with an area of 270 square kilometers. Estonia's longest rivers include the Võhandu, Pärna, and Põltsamaa. Forests cover more than 50% of Estonia making it one of the greenest countries in Europe.
HILLSHADE
Estonia Elevation Map
The terrain in Estonia is mostly flat lowlands in the north. But as you move to the south, it's hilly with several mountains in the southeast. Specifically, Suur Munamagi or "Big Egg Mountain" is Estonia's highest point at 318 meters in height above sea level. From north to south, Estonia consists of three relatively low upland regions. First, the Pandivere Upland is a large hilly area in Northern Estonia. Next, the Otepää Upland is a mid-sized hilly area of higher elevation in Southern Estonia. Finally, the Haanja Upland is the most elevated region in Estonia and shares a border with Latvia.
World Atlas
Visit our world atlas and explore all the continents and countries of the world. Get a blueprint of the world with political, satellite, and topographic maps.