Map of Lithuania – Cities and Roads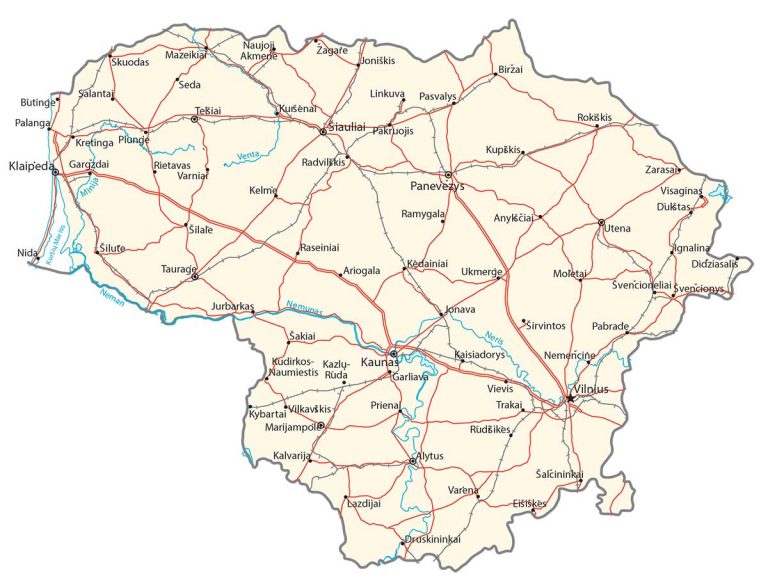 Download
This map of Lithuania features its major cities, towns, roads, lakes, and rivers. Satellite imagery and an elevation map display its low-lying topography and its highland areas.
You are free to use our Lithuania map for educational and commercial uses. Attribution is required. How to attribute?
About the map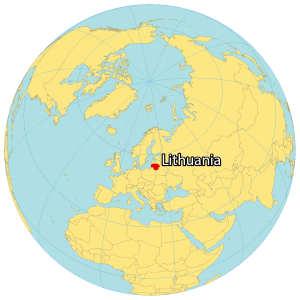 Lithuania is located in Eastern Europe along the Baltic Sea. It borders several European countries including Latvia to the north, Belarus to the east and south, Poland to the south, and Russia to the southwest.
Its coastline along the Baltic Sea is 92 kilometers (57 mi) in length. Vilnius is the capital and largest city in Lithuania. Other populated cities include Kaunas, Klaipeda, and Siauliai.
Lithuania is known for its nature like storks, national parks, and having one of the oldest languages. Although it's still contested, geographers often consider Lithuania to be positioned in the geographical center of Europe.

Lithuania in Google Maps
IMAGERY
Lithuania Satellite Map
Lithuania occupies an area of 65,300 square kilometers (25,200 sq mi). In comparison, this makes it larger than Belgium, Denmark, or Latvia. The country lies between 53.5°N and 56°N latitude so the climate is mostly temperate. But it's mostly maritime and wet, transitioning to continental within the interior.
The land is highly fertile, with small lakes scattered around the country. For example, its largest lake is Lake Drūkšiai at 44.8 square kilometers (17.3 sq mi). Whereas its longest river is the Nemunas at 917 km (570 mi) in length. Although estimates vary, forests cover anywhere from 33 to 37% of the total land area. At about the same percentage, its land is set aside for agricultural production.
PHYSICAL
Lithuania Physical Map
The terrain is mostly lowlands, with some hilly areas. Lithuania consists of three main geographic regions. First, the Baltic Highlands span the eastern region. Secondly, it transitions to the Middle Lithuanian Lowlands within the interior.
But the west is mostly characterized by the Samogitia Highlands in the northwest. Within the Medininkai Highlands to the southeast, it's the location of Aukštojas Hill. At 294 m (965 ft), this is the highest point in Lithuania. Whereas its lowest point is the Baltic Sea at 0 meters sea level.