This United Kingdom map shows the four countries – England, Scotland, Wales, and Northern Ireland. It includes a satellite and elevation map of the United Kingdom that shows its topography and highest peak.
You are free to use our United Kingdom map for educational and commercial uses. Attribution is required. How to attribute?
About the map
The United Kingdom is an island in western Europe and part of the British Isles archipelago. It's located northwest of France and east of Ireland. Great Britain consists of the countries of England, Scotland, and Wales.
The United Kingdom includes Northern Ireland and many smaller nearby islands. Their total areas can be divided into England 53%, Scotland 32%, Wales 9%, and Northern Ireland 6%. It's situated in the Atlantic Ocean with the Irish Sea and Inner Seas on the west, and the North Sea on the east coast.

United Kingdom in Google Maps
IMAGERY
United Kingdom Satellite Map
The United Kingdom occupies an area of 242,495 square kilometers (93,628 sq mi). In size, this is less than the total area of Michigan but larger than Romania. London is the capital and largest city of the United Kingdom with about 9 million people. This is the location where the Royal Observatory, Greenwich, is the defining point of the Prime Meridian. The Thames River flows through southern England into London. It's the longest river in England at 215 miles. But River Severn is the longest river in all of the United Kingdom.
HILLSHADE
United Kingdom Elevation Map
The terrain in the United Kingdom is mostly rugged hills and low mountains. Then, it transitions to rolling plains in the east and southeast. The highest point in the United Kingdom is the Ben Nevis summit, which stands 1,345 meters in height above sea level. This mountain peak is located in the Scottish Highlands, a sparsely populated area in the northwest of the United Kingdom. Whereas the Cambrian Mountains are a series of mountain ranges located in the southern region of Wales.
ADMINISTRATION
United Kingdom Countries Map
The four constituent countries of England, Scotland, Wales, and Northern Ireland collectively form the United Kingdom. Although each has a degree of autonomy, there can be controversy as the self-identified countries within a country (sovereign state) of the United Kingdom. But each administrative unit has also been described as a province, territory, or region.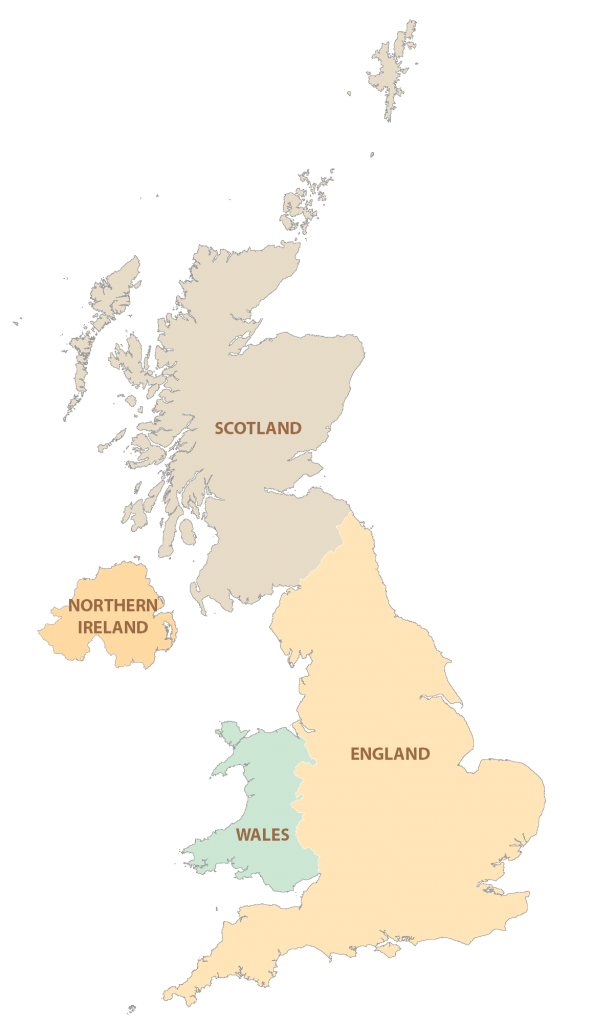 World Atlas
Visit our world atlas and explore all the continents and countries of the world. Get a blueprint of the world with political, satellite, and topographic maps.