This map of Finland highlights its vast swaths of lakes in the Finnish Lake Region and to the north. It includes an elevation and satellite map that shows topographic features like its highest peak and rolling plains.
You are free to use our Finland map for educational and commercial uses. Attribution is required. How to attribute?
About the map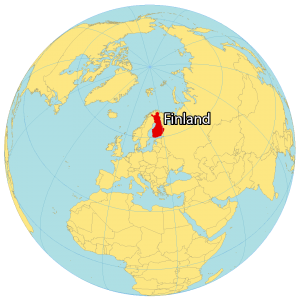 Finland is located in Northern Europe, along the Baltic Sea and the Gulf of Bothnia. It's a part of Scandinavia with Sweden and Norway to the west. The Gulf of Finland separates it from Estonia by a distance of 80 kilometers (50 mi) between Helsinki and Tallinn.
Additionally, it shares a land border with Russia to the east over 1,300 kilometers (808 mi) long. The capital of Finland is Helsinki and is the northernmost national capital of any European nation.
Some of the things that Finland can boast about are that it's the happiest country in the world, has the cleanest air, and has the world's best education system. It's also home to the one and only Santa Claus, who resides in Lapland, Finland.

Finland in Google Maps
SATELLITE IMAGERY
Finland Satellite Map
Finland refers to itself as "the land of thousands of lakes" with over 188,000 lakes scattered across the country. Specifically, the Finnish Lake Region situated in the southeast contains a large number of them. Next, Lapland is a sparsely populated region in the north of Finland and is home to a subarctic wilderness.
Forests cover over 70% of Finland, which makes it one of the greenest countries in the world. In the southwest, Aland is an autonomous region with over 6,500 islands. But only about 60 islands are inhabited.
PHYSICAL MAP
Finland Elevation Map
The terrain of Finland is mostly flat and rolling plains. At 1,316 m (4,318 ft), Mount Halti or "Haltiatunturi" is Finland's highest mountain peak. This mountain peak shares its border with Norway and is part of the only mountain chain in Finland, the Haltia. Most of Halti is part of Finland. But the highest peak is part of Norway.
POLITICAL MAP
Finland Regions Map
There are nineteen regions in Finland, which are the first-level administrative unit in the country. Each region consists of second-level units, known as municipalities. The main role of regions is for regional planning in cooperation with municipalities in Finland. However, the island region of Åland consists of mostly Finland Swedes, and its governance has more independence in comparison to other regions in Finland.