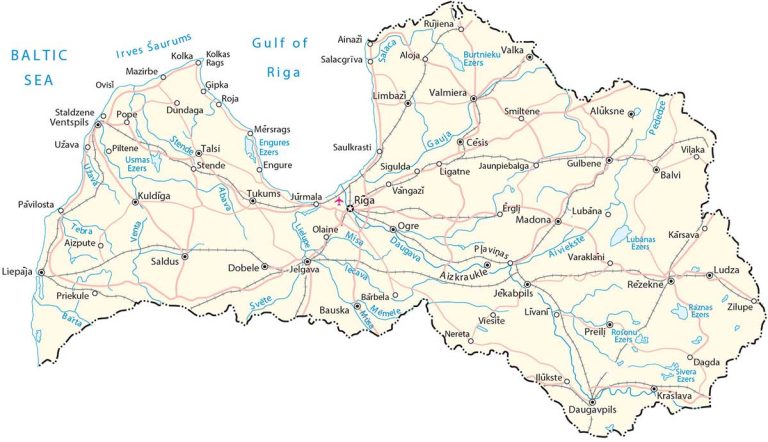 Download
This map of Latvia features its major cities, rivers, and highways. The satellite and elevation maps highlight Latvia's upland areas and its vast swaths of forests covering a large portion of the country.
You are free to use our Latvia map for educational and commercial uses. Attribution is required. How to attribute?
About the map
Latvia is a country shaped like a bow tie, located in eastern Europe. It borders four countries including Estonia to the north, Belarus to the southeast, Lithuania to the south, and Russia to the east.
Latvia is situated along the coast of the Baltic Sea and the Gulf of Riga. Riga is the capital and the largest city at the confluence of the Daugava River and the Gulf of Riga.
The country occupies an area of 64,589 square kilometers (24,938 sq mi), almost identical in size to its neighbor, Lithuania. Latvia has a population of 1.9 million people and its official language is Latvian.

Latvia in Google Maps
SATELLITE IMAGERY
Latvia Satellite Map
Forests cover approximately 42% of Latvia but some estimates have it as high as 52%. Latvia consists of three main regions. First, the Kurzeme is an upland region in the west. Secondly, the Vidzeme in the heartland, which includes its highest peak, Gaiziņkalns. Finally, Latgale is another upland region covered in forest and filled with historical significance. The Zemgale Plains are also another notable region in Latvia, which is mostly flat with some valleys.
PHYSICAL MAP
Latvia Elevation Map
The terrain in Latvia is flat and mostly low-lying plains. Even though it's flat and fertile, it's also very wet with a maritime climate. In the east of Latvia, the terrain is more rugged and hilly.
Its highest point is the Gaising (Gaiziņkalns) which is just 312 meters above sea level. Whereas its lowest point is in the Baltic Sea. As already mentioned, its three main upland regions are the Kurzeme, Vidzeme, and Latgale.