This map of the Republic of Ireland displays major cities, highways, lakes, rivers, and airports. A satellite and elevation map highlights the unique topography in Ireland including its various mountain ranges.
You are free to use our Republic of Ireland map for educational and commercial uses. Attribution is required. How to attribute?
About the map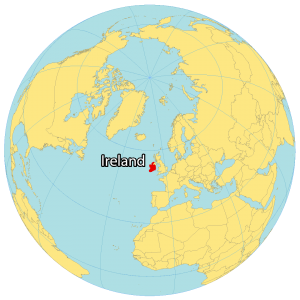 The Republic of Ireland is part of an island in Western Europe with Northern Ireland, which is part of the United Kingdom. It's located along the Irish Sea to the east, the Celtic Sea to the south, and is enveloped by the North Atlantic Ocean to the west.
St. George's Channel separates Ireland from Wales, which is also part of the United Kingdom. Dublin is the capital of Ireland, with 40% of the country's entire population living within 100 kilometers of the city. Other major cities include Belfast, Cork, and Limerick.

Republic of Ireland in Google Maps
IMAGERY
Republic of Ireland Satellite Map
Ireland occupies an area of 84,421 square kilometers (32,595 sq mi), which is similar in size to the Czech Republic or Georgia (in Europe). One key feature in the Republic of Ireland is the Shannon River which flows 161 miles in a southerly direction to the North Atlantic Ocean. Not only is it the longest river in Ireland, but it's also the longest in all of the United Kingdom.
Along the Shannon River, there are three main lakes that flow within its path. First, the uppermost is Lough Allen near the source of the Shannon River. Next, Lough Ree is the middle and second-largest lake. Finally, Lough Derg is the southernmost of the three major lakes on the Shannon River and the third-largest largest in Ireland.
HILLSHADE
Republic of Ireland Elevation Map
The terrain in the Republic of Ireland is mostly flat. But it becomes more hilly along the west coast. For example, the Nephin Mountains, Twelve Pins, and MacGillycuddy's Reeks are all situated on the west coast of Ireland.
Specifically, the Carrauntoohil is the highest mountain in the Republic of Ireland at 1,041 meters in height and is part of the MacGillycuddy's Reeks. On the east coast, the most prominent mountain range is the Wicklow Mountains, which contain the largest continuous upland region in the country.
ADMINISTRATION
Republic of Ireland County Map
While the Republic of Ireland is made up of 26 counties, Northern Ireland is made up of 6 counties – not shown on the map. The largest county in terms of size is Cork in the south, followed by Galway. The county of Dublin is the most populous and more than doubles the second-largest county of Antrim.