Edmonton Map
We're going to share with you a map of Edmonton. This map collection is perfect for tourists who want to know where all the interesting places are.
It includes a road map, things to do, and an interactive map of the city. Each map will help you navigate your way around the city and find places you didn't know exist!
From tourist attractions to shopping districts, Edmonton is for exploring. Print out these handy maps and have them by your side on your journey to the capital city of Alberta.
Jump To: Interactive Map | Printable Road Map | 10 Things to Do | Reference Map
Edmonton map collection
Interactive Map of Edmonton
Use our map to find any important details on your trip to Edmonton, Alberta. You can find the latest information including transportation and shopping districts. No matter what you're doing in Edmonton, this map has all the most up-to-date sights you need to explore.
Edmonton Road Map
Get directions, find your way around, and discover all the hidden gems that Edmonton has to offer. Use our road map of Edmonton to see the city and stay in touch. We've built this highway map of the city so it will help you get around without getting lost.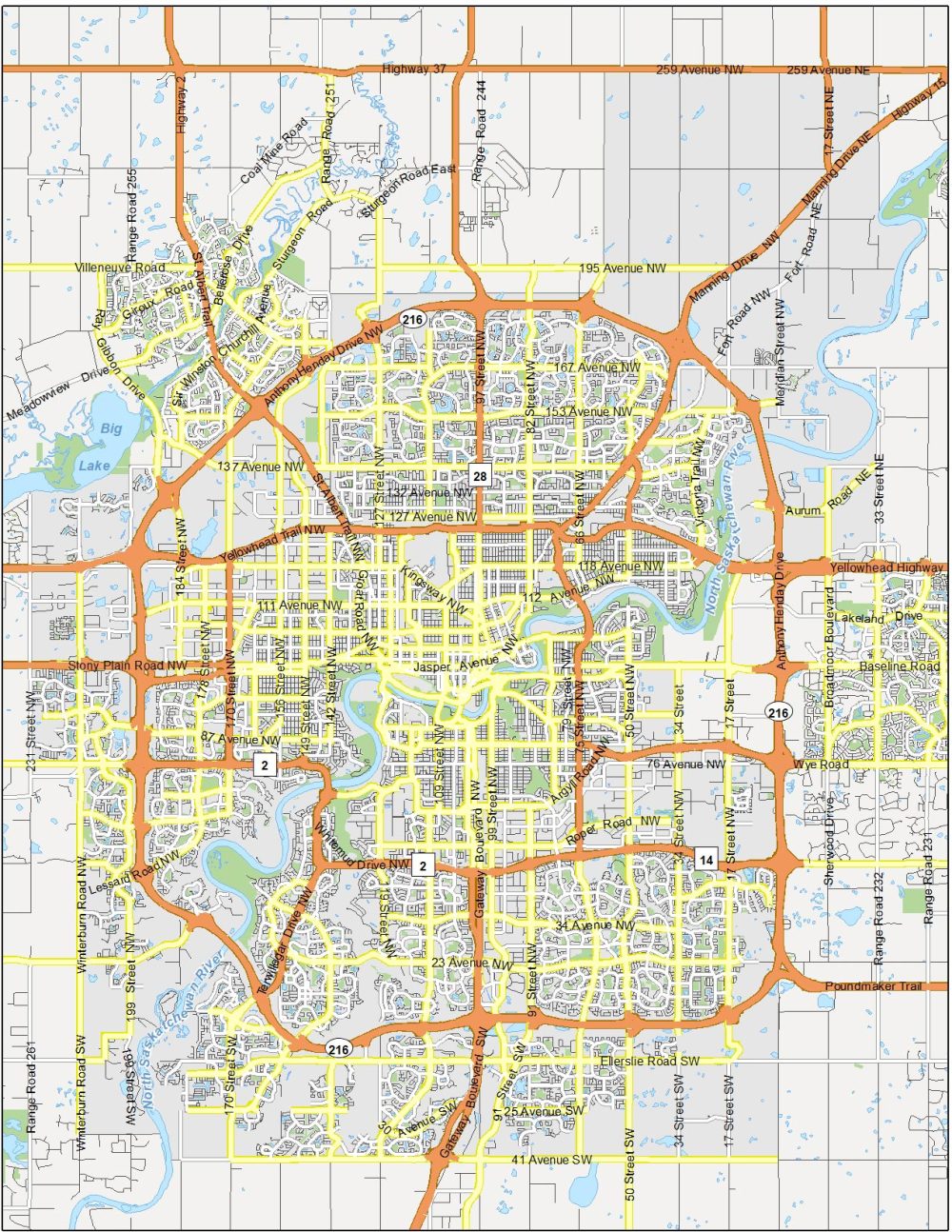 Highways: 2, 14, 15, 16 28, 37, 216, Yellowhead Hwy, Queen Elizabeth II Highway, Sherwood Park Freeway
Major Roads: 100 Avenue, 170 Street, 259 Avenue, 259 Avenue, 66 Street, 75 Street, 82 Avenue, 97 Street, Anthony Henday Drive, Argyll Road, Calgary Trail, Fort Road, Gateway Blvd, Manning Drive, Mark Messier Trail, St. Albert Trail, Stony Plain Road, Terwillegar Drive, Wayne Gretzky Drive, Whitemud Drive
10 Things To Do in Edmonton
This Map of Edmonton, Alberta, Canada is an essential tool for anyone in the city. From the West Edmonton Mall to Old Strathcona's Farmer's Market, this city is absolutely loaded with fun activities for the family. With detailed roads and attractions, it has everything you need for your next adventure.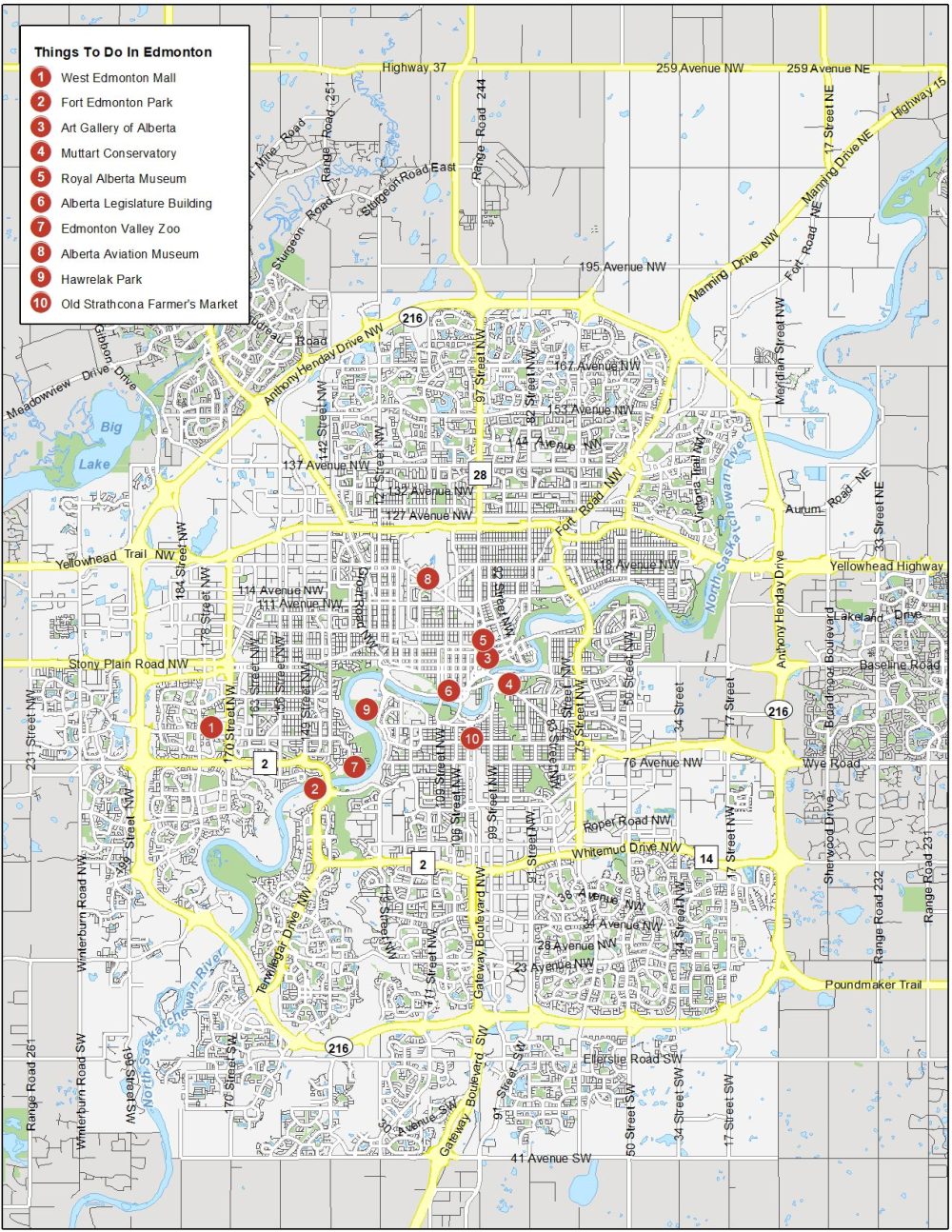 Edmonton is the capital city in the Province of Alberta and is the second most populous city (after Calgary). Here's a list of the top 10 things that we think are most important in the city to check out.
West Edmonton Mall
Fort Edmonton Park
Art Gallery of Alberta
Muttart Conservatory
Royal Alberta Museum
Alberta Legislature Building
Edmonton Valley Zoo
Alberta Aviation Museum
Hawrelak Park
Old Strathcona Farmer's Market
Edmonton Reference Map
The map of Edmonton provides details for all of the major areas of Edmonton. Whether you're visiting the downtown core, the west end, or Aspen Gardens, you'll be able to find what you're looking to explore in the city's surrounding areas.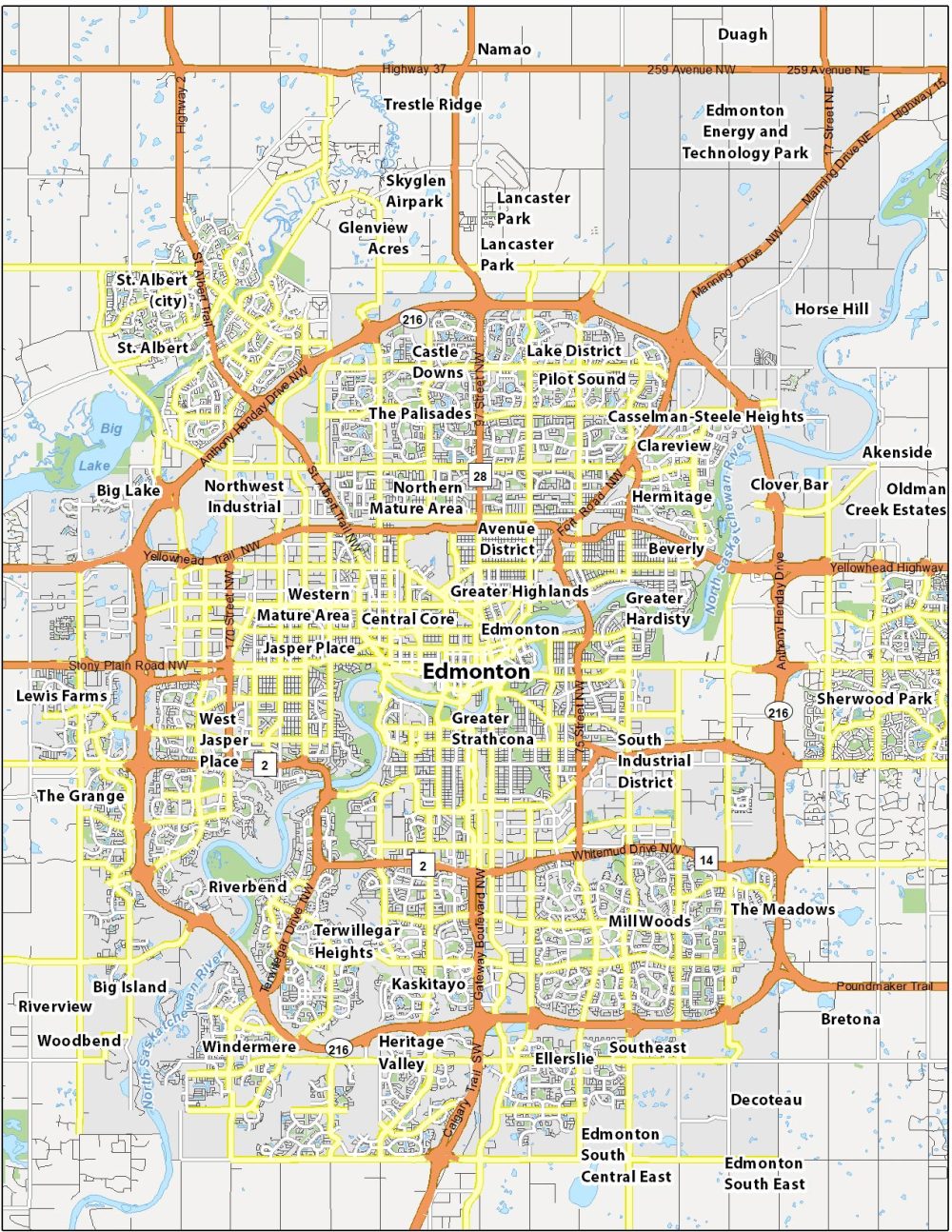 Airports: Edmonton International Airport
Water Features: North Saskatchewan River, Big Lake
Communities: Big Island, Decoteau, The Meadows, Mill Woods, Heritage Valley, Lewis Farms, West Jasper Place, Castle Downs, The Palisades, Casselman-Steele Heights, Clareview, Hermitage, Big Lake, Northwest Industrial, Jasper Place, Southeast, Windermere, Central Core, Ellerslie, The Grange, Riverview, Lake District, Pilot Sound, Horse Hill, Beverly, South Industrial District, Clover Bar, Greater Hardisty, Avenue District, Greater Highlands, Greater Strathcona, Kaskitayo, Terwillegar Heights, Riverbend
Canadian city map collection