Ottawa Map – Ontario, Canada
Our Ottawa map collection includes 3 printable maps and an interactive Google map. Each one allows you to explore the capital city of Canada in different ways.
Ottawa is a thriving metropolis with a rich history. But it's also a city with tons of parks and a vibrant arts scene.
Each map in our collection can help you learn more about its attractions, its neighborhoods, and the important highways/roads.
Jump To: Interactive Map | Printable Road Map | 10 Things to Do | Reference Map
Ottawa map collection
Interactive Map of Ottawa
Ottawa is a growing city… In order to familiarize yourself, use this interactive map to pan, zoom, and select points of interest. You'll get all the latest information and it's a great way to learn about Ottawa and anything you need to know.
Ottawa Road Map
This road map of Ottawa shows you major highways and roads to make your trip more convenient. Find your favorite spot or check out an Ottawa Senators game. With our detailed map of Ottawa, you can explore the city and see the city at a glance. Print it out and start traveling around Ottawa.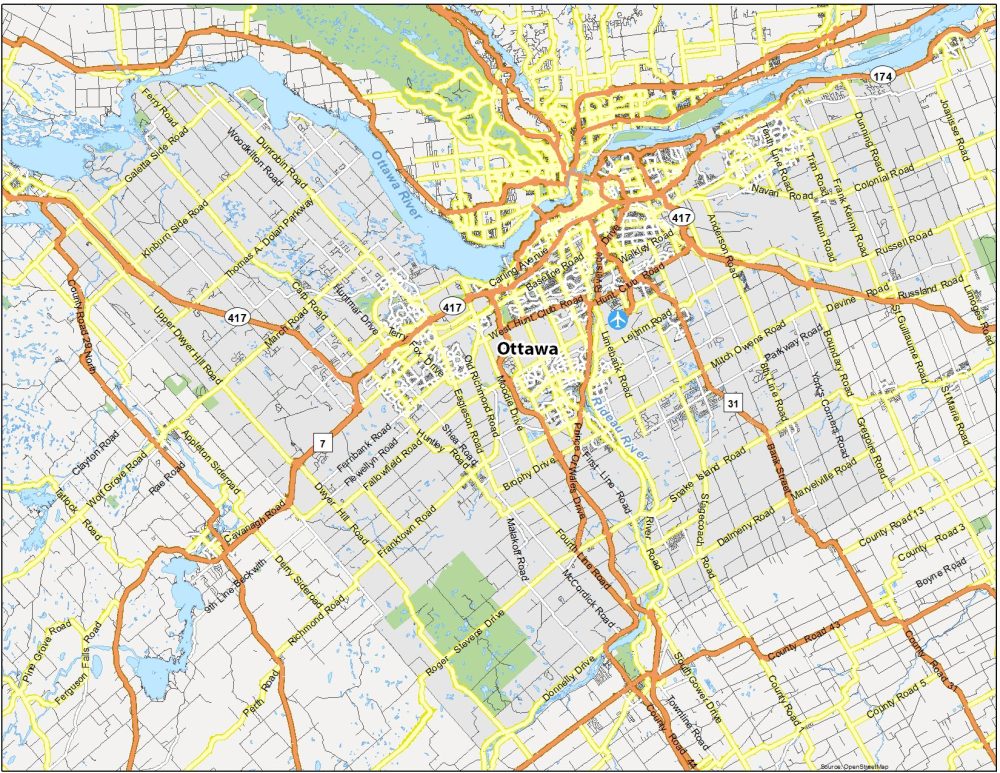 Highways: 7, 31, 416, 417,
Parkways: Aviation Parkway, Sir-George-Étienne-Cartier Parkway, Vanier Parkway
Major Roads: Bank Street, Bearbrook Road, Beechwood Avenue, Bronson Avenue, Champlain Bridge, County Road 31, County Road 44, Donnelly Drive, Fourth Line Road, Hunt Club Road, Island Park Drive, King Edward Avenue, Macdonald-Cartier Bridge, Merlyn Wilson Road, Montréal Road, Murray Street, Nicholas Street, Pont Champlain Bridge, Pont du Portage, Portage Bridge, Prince Of Wales Drive, Princess Avenue, Rideau Street, Riverside Drive, St. Joseph Boulevard, St. Patrick Street, Sussex Drive, Waller Street, Wellington Street, West Hunt Club Road
10 Things To Do in Ottawa
Ottawa is the capital of Canada so it's no surprise that we've ranked Parliament Hill as the #1 sight to see. In fact, everything on our list of things to do is concentrated near Wellington Street. This includes everything from the Rideau Canal to the National Gallery of Canada and Notre Dame Cathedral Basilica on Sussex Drive.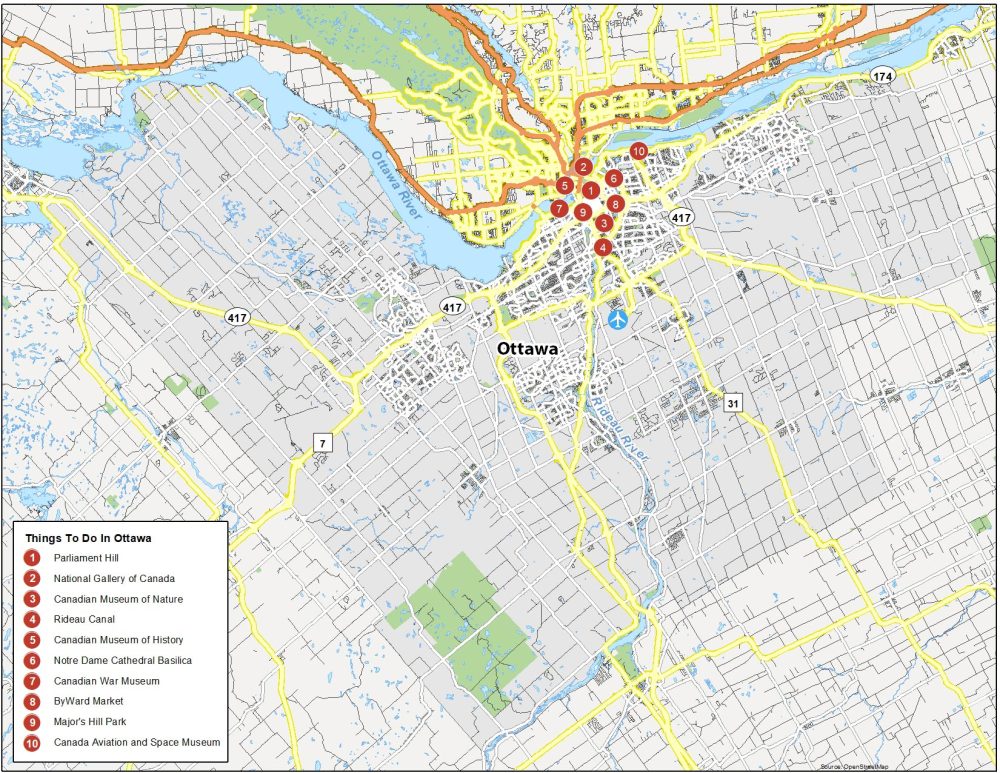 Ottawa is a major city in the province of Ontario and it's the capital city of Canada. It's less populated than Toronto but has more people than Hamilton. Ottawa has a lot of fun things to do for all ages. But here are our top recommendations:
Parliament Hill
National Gallery of Canada
Canadian Museum of Nature
Rideau Canal
Canadian Museum of History
Notre Dame Cathedral Basilica
Canadian War Museum
ByWard Market
Major's Hill Park
Canada Aviation and Space Museum
Ottawa Reference Map
The map below illustrates the various neighborhoods and districts in Ottawa. One of the most popular neighborhoods is Sandy Hill, conveniently located next to downtown Ottawa. Similarly, Alta Vista is also just a stone's throw away from the core of the city and is known for its coziness. Finally, other key neighborhoods are Westboro, Kanata, and Glebe.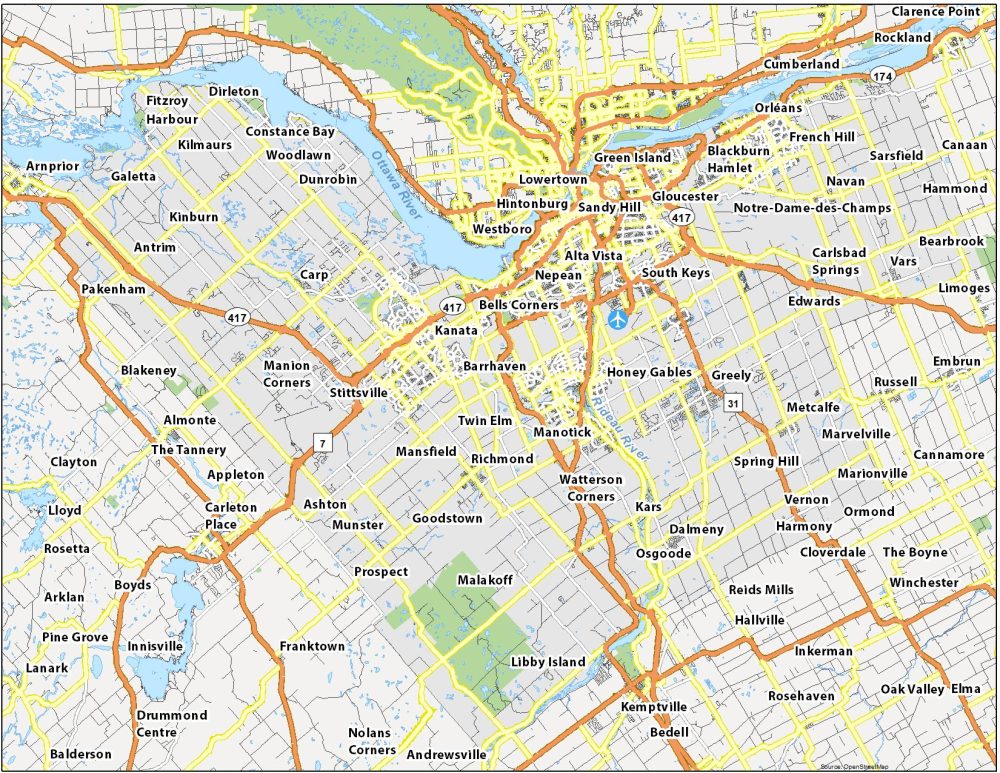 Airports: Ottawa International Airport (YOW)
Rivers: Ottawa River, Rideau Canal
Communities: Sandy Hill, Centretown, Lowertown, Edwards, Bells Corners, Richmond, Kars, Manotick, South Keys, North Gower, Marionville, Carp, Galetta, Dirleton, Dunrobin, Woodlawn, Constance Bay, Alta Vista, Reids Mills, Reeve Craig, Dalmeny, Osgoode, Long Island, Nicolls Island, Goodstown, Twin Elm, Mansfield, Malakoff, Kenmore, Vernon, Metcalfe, Spring Hill, Riverside South, Westboro, Stittsville, Kanata, Carlsbad Springs, Greely, Ashton, Munster, Orléans, Sarsfield, Kinburn, Navan, Hintonburg, Rockcliffe Park
Canadian city map collection