Map of Alberta – Cities and Roads
A reference map of Alberta that features major cities, roads, highways, rivers, and lakes. An elevation and satellite map of Alberta highlights its diverse topography like the Great Plains and the Rocky Mountains.
You are free to use our map of Alberta for educational and commercial uses. Attribution is required. How to attribute?
About the map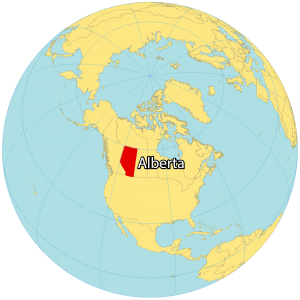 Alberta is a province in Western Canada and is known for being the oil and gas hub of Canada. Besides that, it is also known for cattle ranching as well. Alberta borders British Columbia to the west, Saskatchewan to the east, the Northwest Territories to the north, and Montana to the south.
Although it's known as a prairie province, the Canadian Rockies still occupy most of the western region. The two largest cities in Alberta are Edmonton and Calgary. Even though Edmonton is the capital of Alberta, Calgary is the most populous. Besides these two major cities, Red Deer, Lethbridge, and Medicine Hat are all close to 100,000 in population.

Alberta in Google Maps
IMAGERY
Alberta Satellite Map
Altogether, Alberta occupies a total area of 661,848 square kilometers (255,541 sq mi). In comparison, it's larger than Saskatchewan but smaller than British Columbia. Overall, it's the sixth-largest province or territory and the fourth most populous.
Alberta has six UNESCO World Heritage Sites including the Canadian Rocky Mountain Parks, Dinosaur Provincial Park, the Head-Smashed-In Buffalo Jump, Waterton-Glacier International Peace Park, Wood Buffalo National Park, and Writing-on-Stone Provincial Park.
It's also known for its ski resorts such as Banff, Jasper, and Lake Louise. Additionally, Drumheller is known for its fossils and for being the dinosaur capital of the world.
HILLSHADE
Alberta Elevation Map
The province of Alberta has a diverse range of landscapes including plains, rolling hills, and mountains. Its most prominent feature is the Canadian Rocky Mountains, which are situated in the west of Alberta. This is the most elevated region in Alberta with several of the province's highest peaks.
At 3,747 meters (12,293 ft), Mount Columbia is the highest peak in Alberta, within Jasper National Park. Then, it transitions into vast forests and Great Plains in the east. The population is sparse in Northern Alberta but it has several hills and mountain features. For example, it includes Caribou Mountains, Birch Mountains, and Buffalo Head Hills.
Canadian Provinces
Canadian Territories