Montreal Map – Quebec, Canada
Need a map of Montreal? You've come to the right place. Use our Montreal map collection to explore the second largest city of Canada like a local.
Our map collection includes a road map, an interactive map, and a list of things to do. Each map can help you appreciate one of the most desirable cities to live in the world.
Find your way around the city of Montreal and become immersed in its French roots, yet European characteristics.
Jump To: Interactive Map | Printable Road Map | 10 Things to Do | Reference Map
Montreal map collection
Interactive Map of Montreal
Find your way around Montreal with ease. This interactive map includes all the important tourist information, transportation options, and updated attractions. You'll be able to see the best attractions and find your favorite restaurants or points of interest. The perfect way to explore Montreal is with our interactive map. From entertainment to transportation, this map has everything you need.
Montreal Road Map
Our road map of Montreal includes the major highways and streets so you can find your way around the city. As you may already know, Montreal can be a bit hectic for driving. With our detailed Montreal road map, you can easily find your way around the city.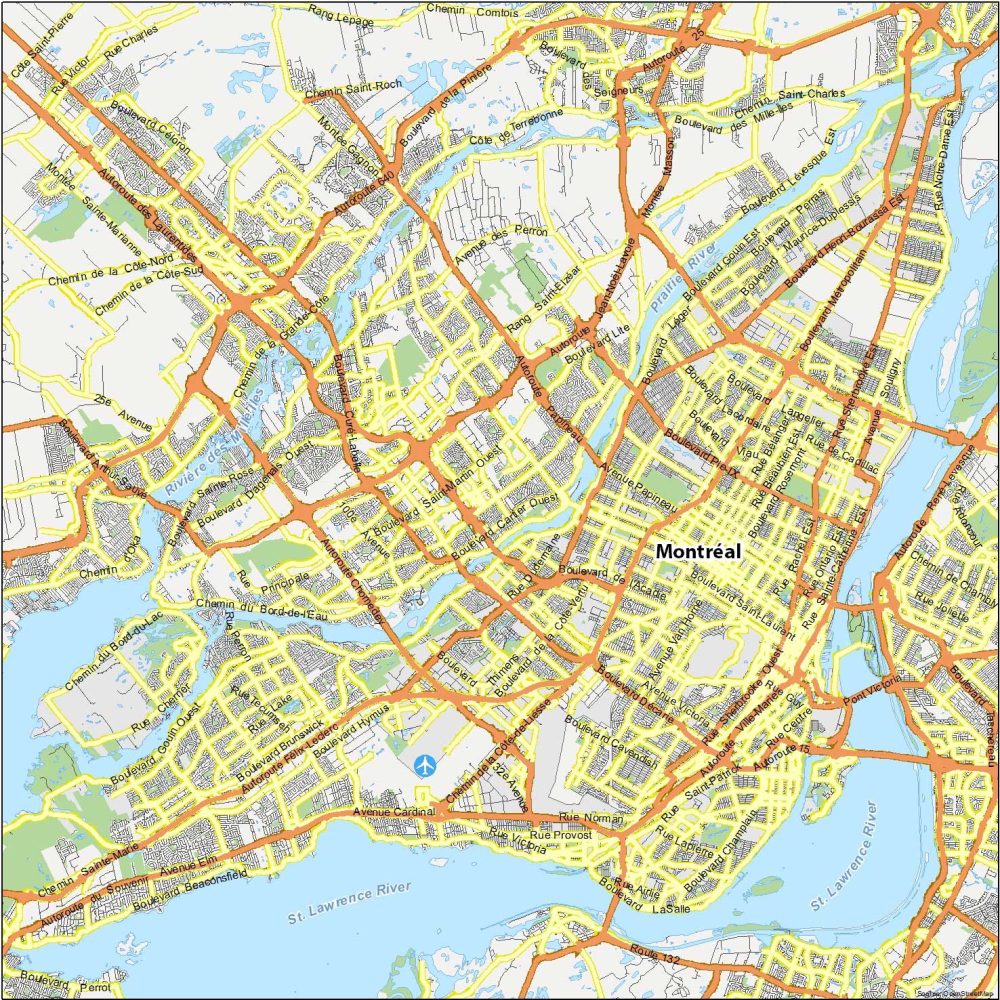 Highways: Route Transcanadienne, 15, Bonaventure Expressway, Chomedey, Autoroute de la Côte-de-Liesse, Décarie, Autoroute des Laurentides, Autoroute du Souvenir, Autoroute Félix-Leclerc, Autoroute Ville-Marie, Autoroute Louis-Hippolyte-Lafontaine
Major Roads: Boulevard Langelier, Avenue Papineau, Boulevard Saint-Michel, Rue Notre-Dame, Boulevard Perras, Boulevard Saint-Laurent, Boulevard Lacordaire, Boulevard LaSalle, Boulevard De La Vérendrye, Boulevard Métropolitain, Boulevard Rosemont, Boulevard de la Côte-Vertu, Rue Saint-Patrick, Boulevard de l'Acadie, Boulevard Saint-Jean-Baptiste, Boulevard de Pierrefonds, Boulevard Décarie, Avenue Van Horne
10 Things To Do in Montreal
This Montreal attractions map is an essential tool for travelers looking to explore the city. From Notre-Dame Basilica to La Fontaine Park, find out all the most important sights to see. Discover Montreal's best attractions and get the most out of your stay when you're there.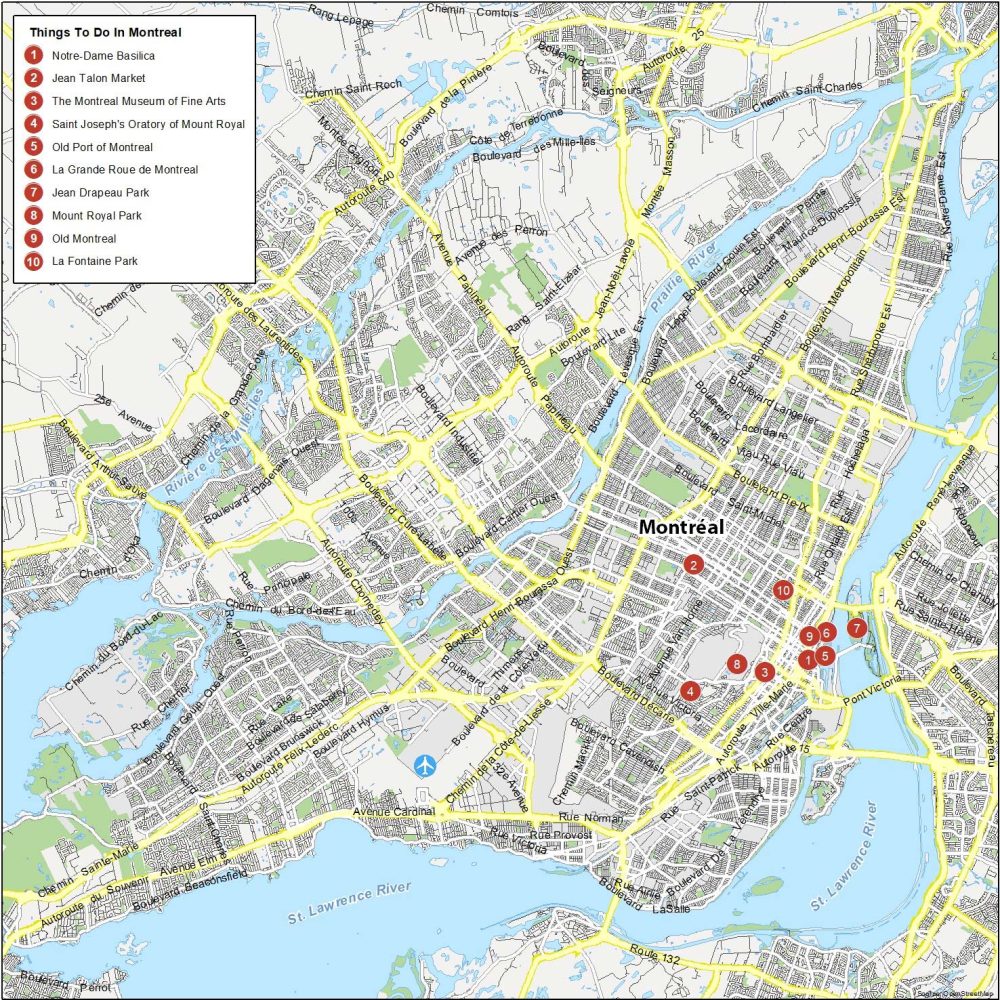 Montreal is the largest city in the Province of Quebec and has the most French-speaking in North America. But Quebec City is the capital. No matter your age, Montreal is filled with fun activities. Here are the 10 attractions that we recommend.
Notre-Dame Basilica
Jean-Talon Market
The Montreal Museum of Fine Arts
Saint Joseph's Oratory of Mount Royal
Old Port of Montreal
La Grande Roue de Montreal
Jean Drapeau Park
Mount Royal Park
Old Montreal
La Fontaine Park
Montreal Reference Map
Explore the city from top to bottom, or dive right into the neighborhoods. This map will help you explore the various francophone communities of Montreal. From Old Montreal to Little Italy and Downtown, get the big picture with this reference map of Montreal.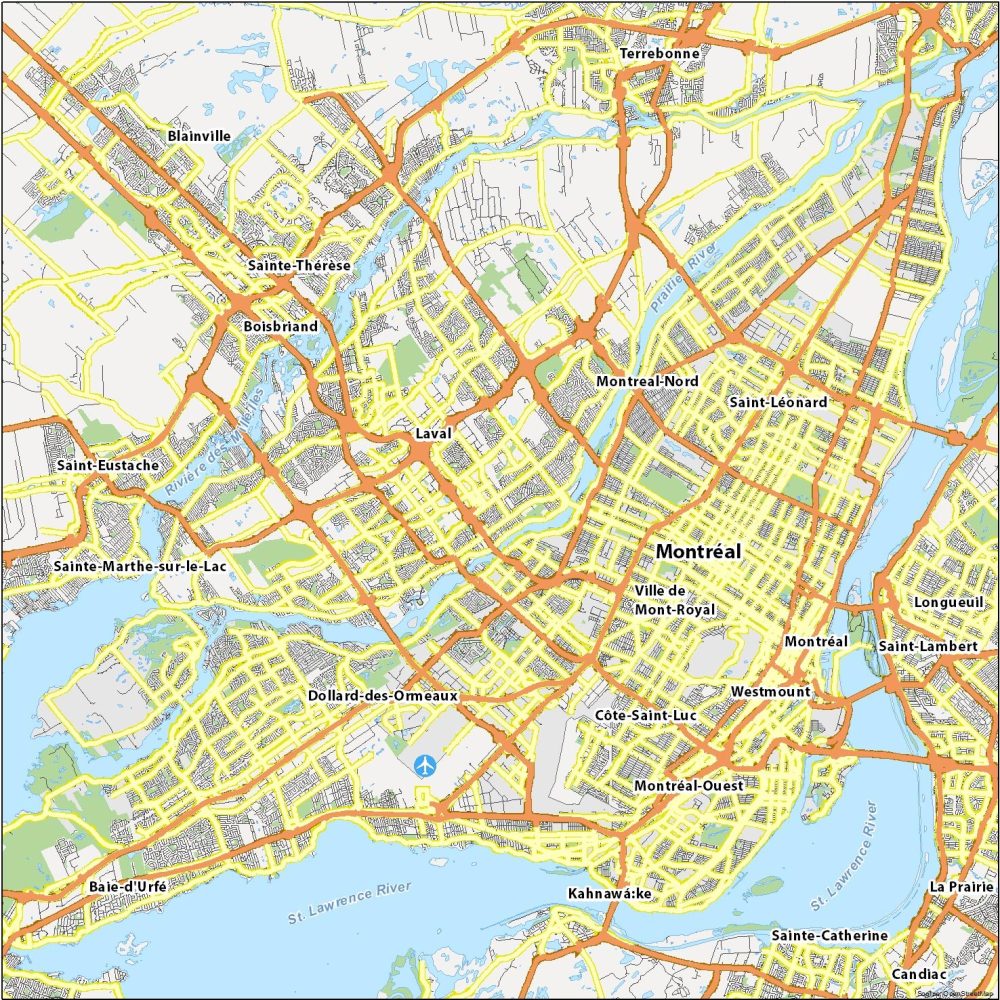 Airports: Montréal-Trudeau International Airport
Rivers: St. Lawrence River, Prairies River, Rivière-des-Mille-Îles
Communities: La Prairie, Baie-d'Urfé, Candiac, Sainte-Catherine, Boisbriand, Sainte-Thérèse, Blainville, Saint-Eustache, Montréal, Saint-Lambert, Laval, Kahnawá:ke, Montréal-Ouest, Terrebonne, Côte-Saint-Luc, Dollard-des-Ormeaux, Westmount, Ville de Mont-Royal, Saint-Léonard, Montreal-Nord, Sainte-Marthe-sur-le-Lac
Canadian city map collection