Map of Quebec City
Packing up your things for a trip to Quebec City? Before you go, don't forget to bring a handy map of Quebec City.
Our printable map collection is free and highlights everything from highways to things to do and neighborhoods.
Ready to dig in and learn more about Quebec City? First, let's start with an interactive map so you can get better acquainted.
Jump To: Interactive Map | Printable Road Map | 10 Things to Do | Reference Map
Quebec City map collection
Interactive Map of Quebec City
There's no better way to learn about a city than to explore it on Google Maps. By using the map below, you'll get to learn the layout of Quebec City. Explore key neighborhoods like Old Quebec, Montcalm, and Saint-Jean-Baptiste.
Quebec City Road Map
There are a lot of picturesque streets in Quebec City. Although we can't include them all on this map, we can at least show you how to get there. We always recommend driving along the scenic Boulevard Champlain. This route will take you along the coast of the St. Lawrence River through the iconic Old Quebec and it's quite a sight to remember.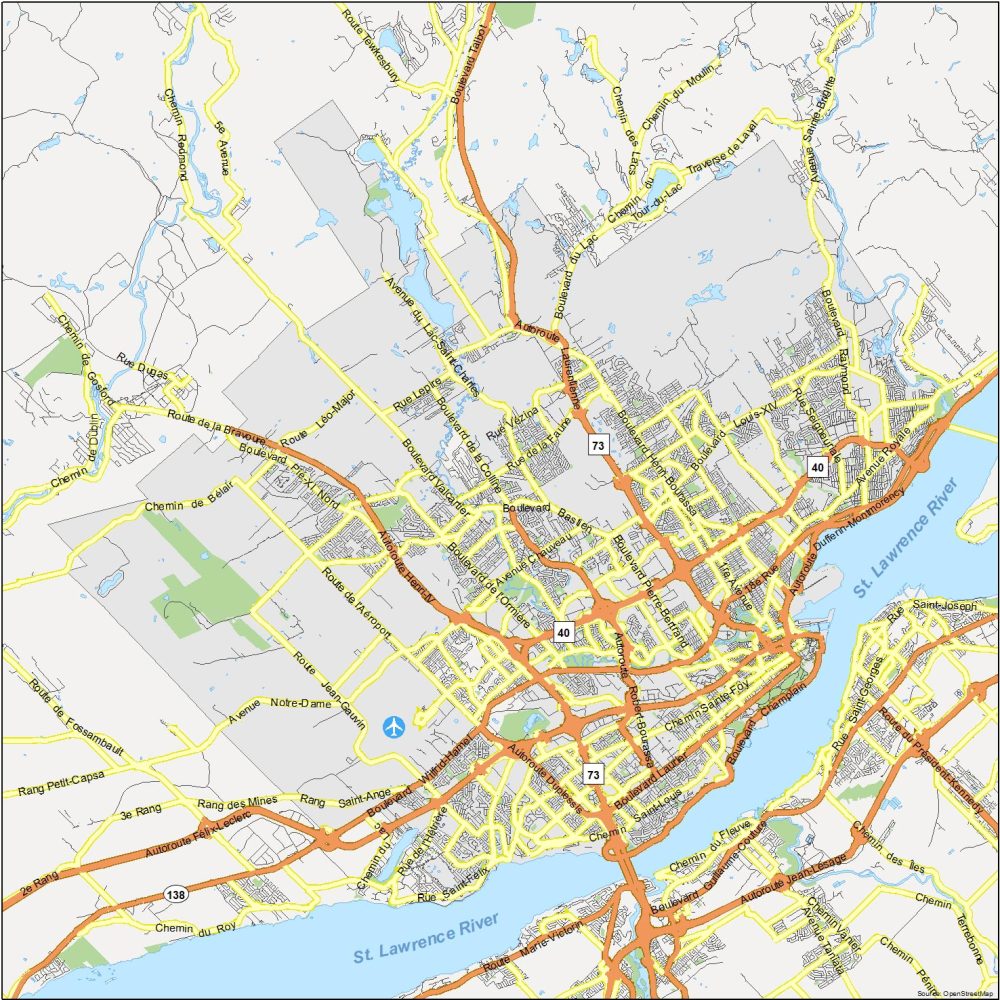 Highways: 18, 40, 73, 138, Charest, Dufferin-Montmorency, Duplessis, Félix-Leclerc, Henri-IV, Laurentienne, Robert-Bourassa
Major Roads: Avenue Eugène-Lamontagne, Avenue Honoré-Mercier, Bd Champlain, Bd Charest Est, Boulevard Charest Ouest, Bd Laurier, Bd Sainte-Anne, Bd Wilfrid-Hamel, Chemin de la Canardière, Côte d'Abraham, Grande Allée Est, Grande Allée Ouest, Pont Pierre-Laporte, Quai Saint-André, Rue Dalhousie, Rue de la Couronne, Rue Dorchester, Rue du Marché Champlain, Rue Saint-Paul, Rue Saint-Vallier Est
10 Things To Do in Quebec City
Quebec City is unique because it combines the characteristics of Europe with the familiarity of North America. For example, the architecture of Old Quebec includes cobblestone streets and stone buildings. But at the same time, it adds elements that are modern. It's something you shouldn't miss and it's why Chateau Frontenac tops our list of things to do.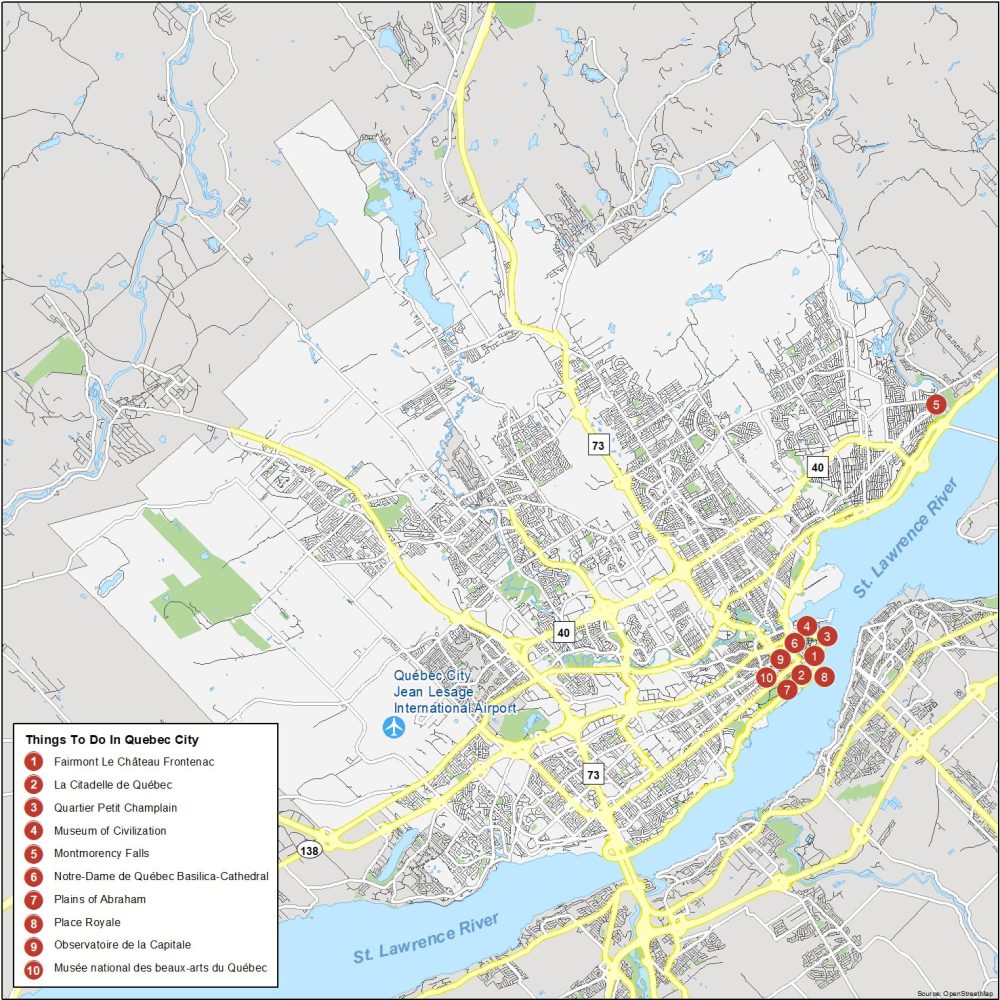 Quebec City is the capital of the province with the same name (Province of Quebec). It's the second-largest city in Quebec (right after Montreal). Here are the top 10 attractions that we recommend in Quebec City.
Fairmont Le Château Frontenac
La Citadelle de Québec
Quartier Petit Champlain
Museum of Civilization
Montmorency Falls
Notre-Dame de Québec Basilica-Cathedral
Plains of Abraham
Place Royale
Observatoire de la Capitale
Musée national des beaux-arts du Québec
Quebec City Reference Map
See the sights, sounds, and flavors that make Quebec City unique. This neighborhood map provides you with a detailed snapshot of the communities of Quebec. It includes the Quebec City Jean Lesage International Airport and the communities that lie on the outskirts of the city.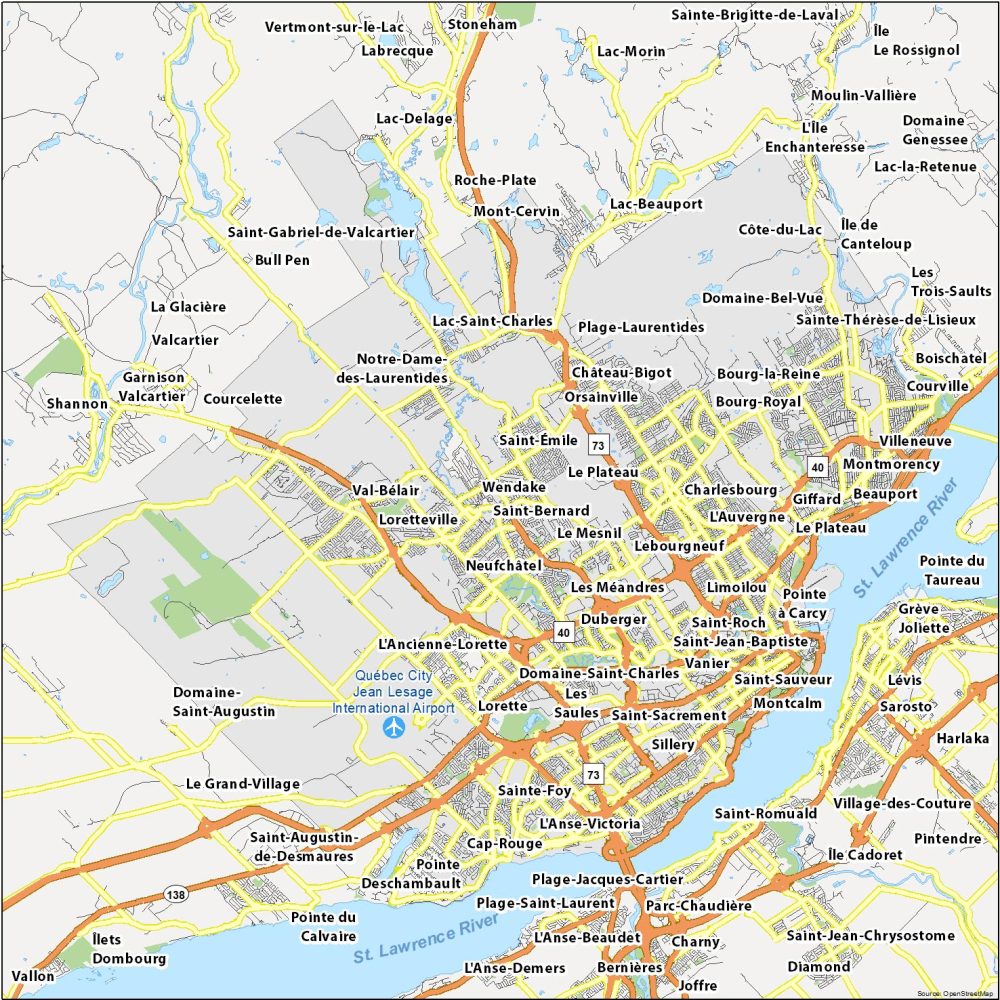 Airports: Quebec City Jean Lesage International Airport
Rivers: St. Lawrence River, St. Charles River
Communities: Beauport, Bourg-la-Reine, Bourg-Royal, Cap-Rouge, Charlesbourg, Château-Bigot, Côte-du-Lac, Courville, Des Châtels, Domaine-Bel-Vue, Domaine-Saint-Charles, Duberger, Giffard, Île de Canteloup, Lac-Saint-Charles, L'Anse-Victoria, L'Auvergne, Le Mesnil, Le Plateau, Lebourgneuf, Les Grands-Déserts, Les Méandres, Les Saules, Limoilou, Loretteville, Montcalm, Montmorency, Neufchâtel, Notre-Dame-des-Laurentides, Orsainville, Plage-Jacques-Cartier, Plage-Laurentides, Plage-Saint-Laurent, Plaines d'Abraham, Saint-André, Saint-Bernard, Sainte-Foy, Saint-Émile, Sainte-Thérèse-de-Lisieux, Saint-Jean-Baptiste, Saint-Joseph, Saint-Roch, Saint-Sacrement, Saint-Sauveur, Sillery, Val-Bélair, Vanier, Villeneuve
Canadian city map collection