Esri Redistricting: Mapping Political Boundaries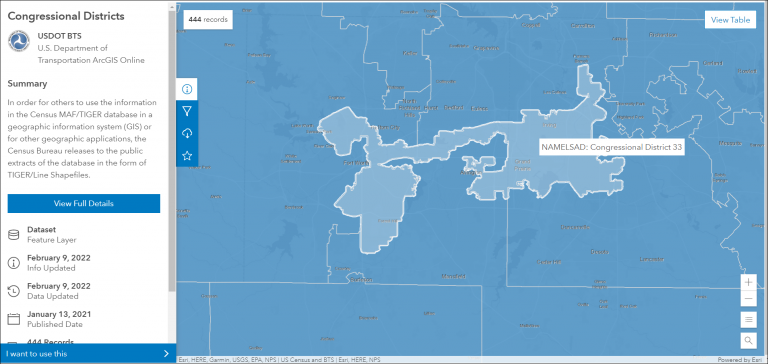 Esri Redistricting
The Esri Redistricting tools provide an easy and efficient way that help state legislatures redraw accurate redistricting maps.
Esri is one of the only vendors to offer a fully integrated suite of software for redistricting legislative districts.
Its software is not only for redrawing district boundaries. But it also offers citizens the opportunity to create and submit their own statewide redistricting plans.
Today, let's take a look at some of the capabilities of ArcGIS redistricting software.
Redistricting Background
Redistricting is the process of mapping out new voting districts. Governments have to update them in order to reflect recent changes in population guided by census data. It's usually a political process because it can change the balance of power as different communities get more or less population.
The process is used to make sure that each district has about the same number of people. But the process is not free of disagreements. It often can be a contentious process with political acrimony. Gerrymandering is the idea of manipulating a political boundary in favor of one party or the other.
Although this process cannot be completely free of scrutiny, Esri provides a web-based solution for redistricting, which can assist with this complicated process. This suite of tools provides the capabilities for mapping data, plotting districts, and even analyzing demographics.
Esri Redistricting Deployment
Esri has several possible configurations for how to deploy Esri redistricting. Here are some of the most common ways that users deploy the software:
SaaS subscription with subscription pricing
A configured instance as a cloud-hosted surface
An on-premise deployment completely behind a firewall
No matter how you deploy it, it's rich with features to smooth the process of drawing out boundaries using census information.
Tools and Functionality
There is a wide range of tools and functionality available for Esri redistricting software. Here are some of its capabilities:
| Functionality | Description |
| --- | --- |
| Editing and visualization tools | Create, edit, and visualize redistricting plans leveraging census information. |
| Collaboration and sharing | Citizens have the opportunity to create and submit statewide redistricting plans through ArcGIS Online. |
| Thematic mapping | Build, print, and share thematic maps with census information to illustrate redistricting alternatives. |
| Run reports | Use reporting tools to check fair demographic distribution within each boundary. This is a way to check the integrity of redistricting plans and ensure allowable populations are met. |
Summary: Esri Redistricting
Redistricting is often scrutinized by the general population because it's a difficult and complex process in some states.
To help simplify this process, Esri has developed redistricting software that can be used by individuals, organizations, or government agencies to create maps with detailed demographic information at the local level.
Additionally, Esri's redistricting tools can help policymakers create fair and accurate districts with more equitable representation. The alternative is using Maptitude From Caliper.
Have you ever used the Esri redistricting product? What did you think of it? Please let us know with a comment below.