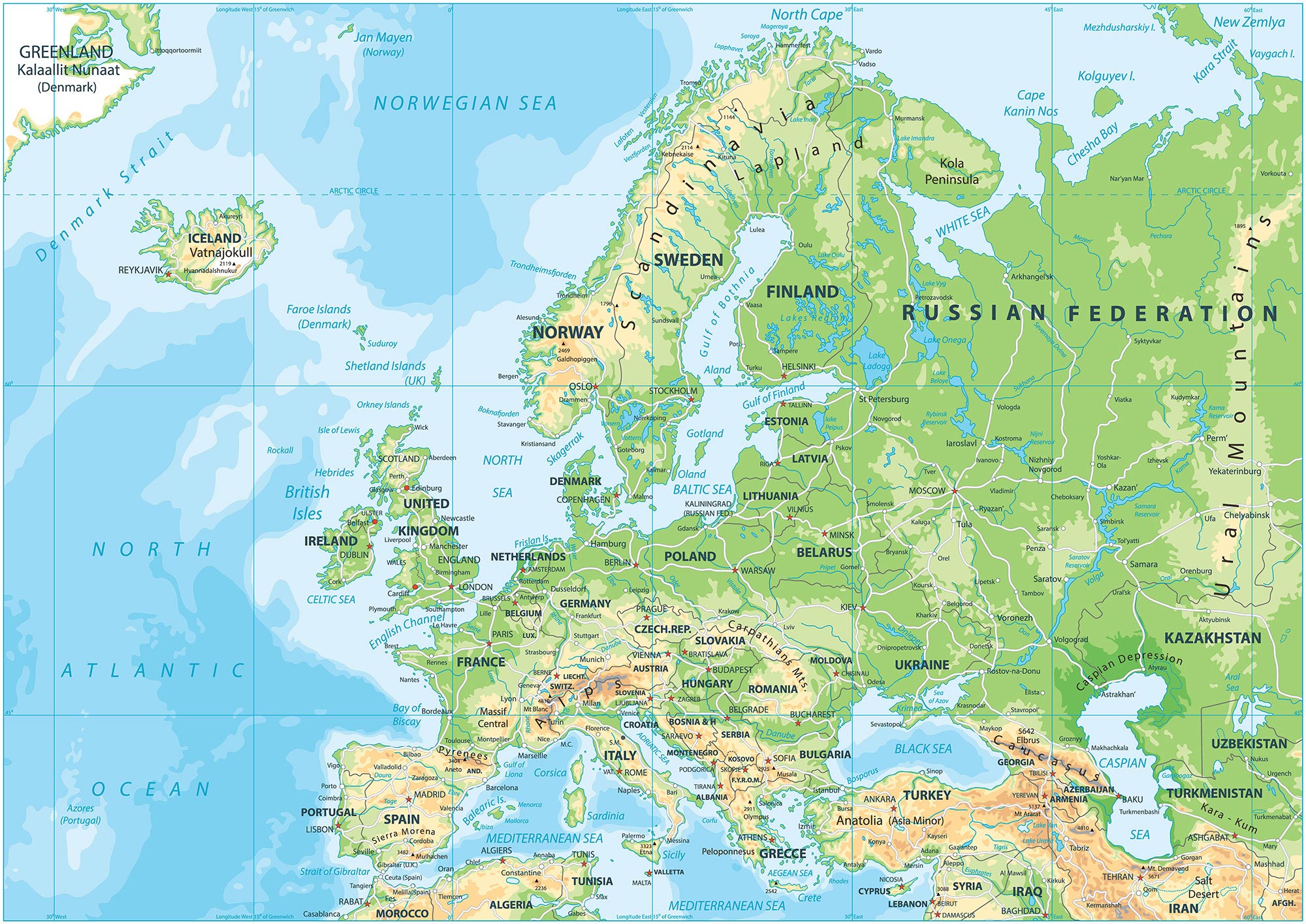 About the map
The European landmass occupies a total area of 10,180,000 square kilometers (3,930,000 sq mi) which makes it the second smallest continent. Even though just the western 23% of Russia is located in Europe, it accounts for the largest amount than any other country.
But Ukraine, France, and Spain are the next largest countries in Europe. Europe is a mix of different types of terrain with its major mountain chains such as the Alps, Pyrenees, and Carpathians.
Whereas the Great European Plain is one of the largest uninterrupted flatlands in the world, spanning into France, Belgium, The Netherlands, Germany, and Poland. Europe is situated in the middle latitudes, so its climate is temperate with more distinct seasonal change.

Europe in Google Maps
Physical Features
Alps
Carpathians Mountains
Pyrenees
Sierra Morena
Lapland
Caucasus
Massif Central
Vatnajokull
Olympus
Capital Cities
Albania – Tirana
Andorra – Andorra la Vella
Austria – Vienna
Belarus – Minsk
Belgium – Brussels
Bosnia and Herzegovina – Sarajevo
Bulgaria – Sofia
Croatia – Zagreb
Czechia – Prague
Denmark – Copenhagen
Estonia – Tallinn
Finland – Helsinki
France – Paris
Germany – Berlin
Greece – Athens
Hungary – Budapest
Iceland – Reykjavik
Ireland – Dublin
Italy – Rome
Latvia – Riga
Liechtenstein – Vaduz
Lithuania – Vilnius
Luxembourg – Luxembourg
Malta – Valletta
Moldova – Chisinau
Monaco – Monaco
Montenegro – Podgorica
Netherlands – Amsterdam
North Macedonia – Skopje
Norway – Oslo
Poland – Warsaw
Portugal – Lisbon
Romania – Bucharest
Russia – Moscow
San Marino – San Marino
Serbia – Belgrade
Slovakia – Bratislava
Slovenia – Ljubljana
Spain – Madrid
Sweden – Stockholm
Switzerland – Bern
Ukraine – Kiev
United Kingdom – London
Waterbodies
Baltic Sea
North Sea
Celtic Sea
English Channel
Mediterranean Sea
Black Sea
Denmark Strait
Norwegian Sea
Gulf of Bothnia
Gulf of Finland
Bay Biscay
Aegean Sea
Strait of Gibraltar
Rivers
Dnieper
Danube
Vistula
Oder
Rhine
Weser
Elbe
Rhone
Seine
Loire
Po
Tage
Douro
Ebre
Kemi
Tana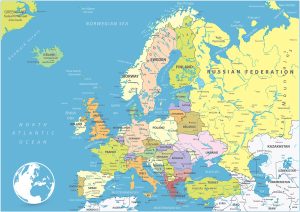 A Europe Map featuring countries and labels. It includes western, northern, southern, and eastern Europe with outlines for each country.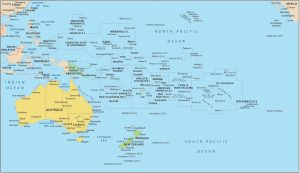 An Oceania map displaying countries and geography including Australia, New Zealand, Papua New Guinea Map, Melanesia, Micronesia, and Polynesia.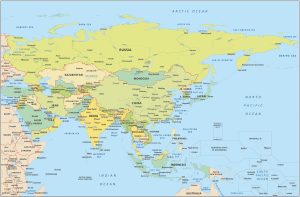 A map of Asia with countries and labels, including outlines of all the countries. It includes southeast Asia, Middle East, and central Asia.
World Atlas
Visit our world atlas and explore all the continents and countries of the world. Get a blueprint of the world with political, satellite, and topographic maps.