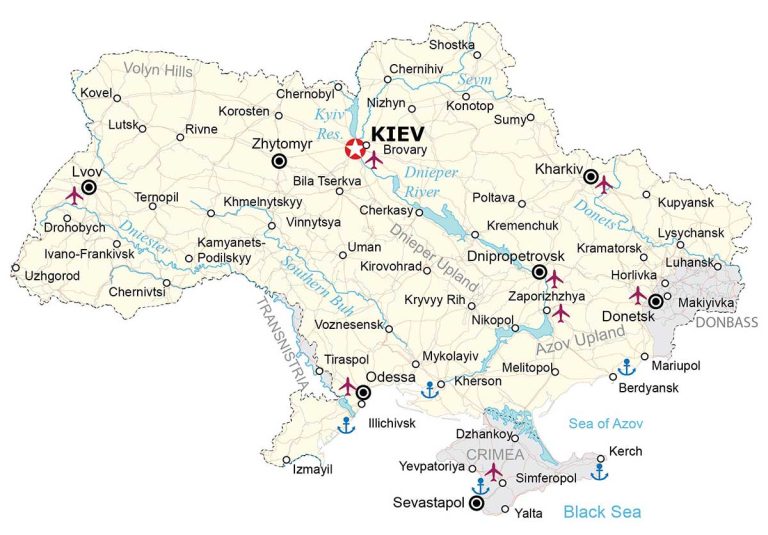 Download
This map of Ukraine contains major cities, rivers, highways, and disputed areas. It also features a satellite and elevation map to see features like the Dnieper River, vast plains, and hilly terrain.
You are free to use our Ukraine map for educational and commercial uses. Attribution is required. How to attribute?
About the map
Ukraine is an eastern European country, along the coast of the Black Sea. It borders several countries in Europe including Russia to the northeast, Moldova and Romania to the south, Hungary and Slovakia to the southwest, Poland to the west, and Belarus to the north.
But it also shares disputed borders in the Crimea, Donbas, and Transnistria regions with Russia and Moldova. Ukraine is the second-largest country in Europe, after Russia, at 603,628 square kilometers (233,062 sq mi).

Ukraine in Google Maps
IMAGERY
Ukraine Satellite Map
One of the most notable features in Ukraine is how the Dnieper River cuts through it in a north-south direction. Not only is it the longest river in Ukraine, but it's the fourth-longest in all of Europe.
It holds several large reservoirs within this river system such as the Kyiv, Kakhovka, and Dnieper Reservoirs. Only about 17% of Ukraine is covered in Europe which makes it one of the lowest of all countries in Europe. Its largest freshwater lake is Lake Yalpuh covering an area of 149 square kilometers.
HILLSHADE
Ukraine Elevation Map
The majority of Ukraine consists of fertile plains and plateaus. It doesn't have any major mountain chains in the country. Instead, it has mountainous regions with the Carpathian Mountains in the west and Crimean Mountains in the south.
Its highest point is Mount Hoverla located in the southwest, standing 2,061 meters (6,762 ft) in height. This mountain is part of the Ukrainian Carpathians in the southeast of the country.