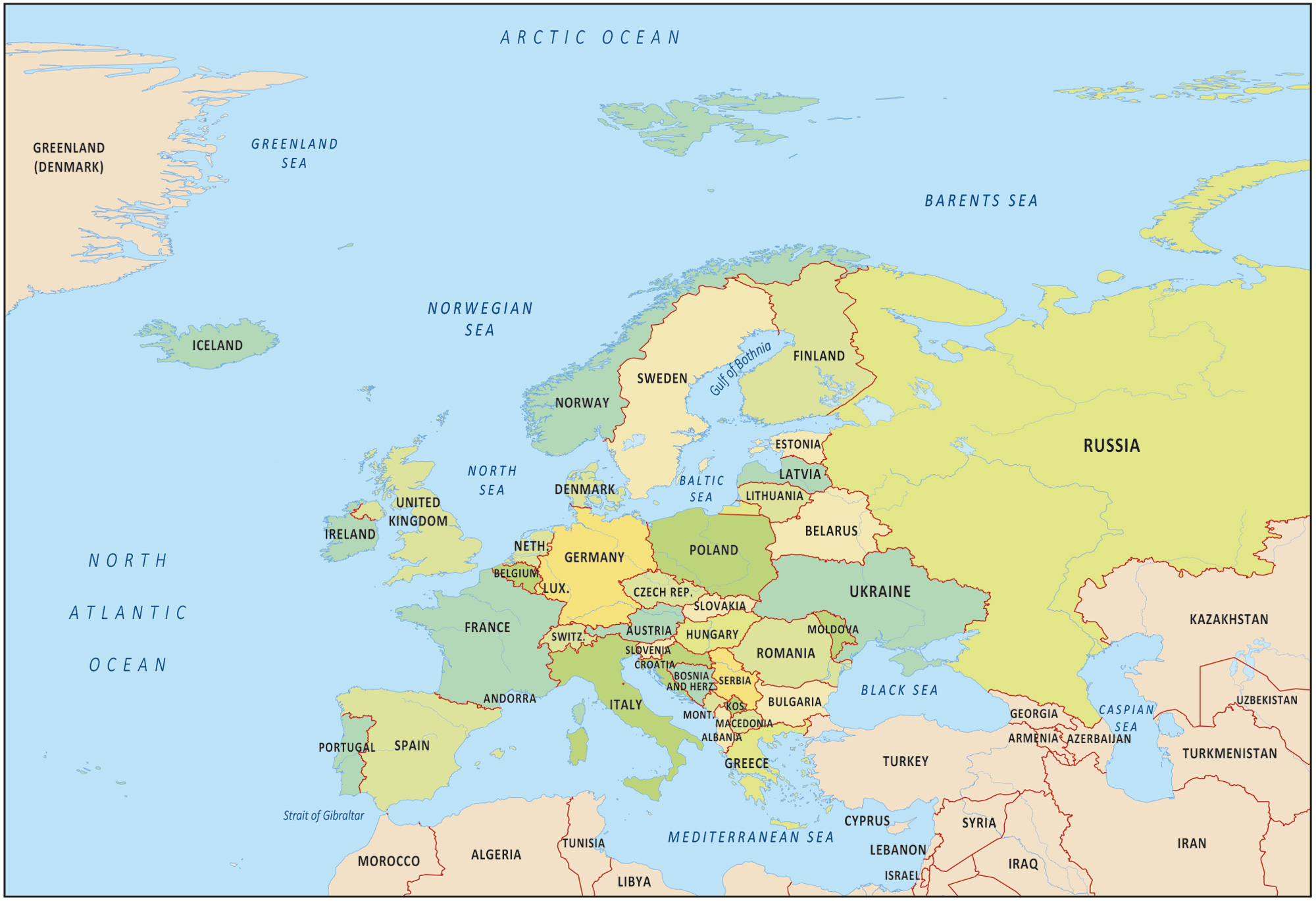 This Europe country map will help you learn more about the continent's geography. It includes country boundaries and labels within the continent of Europe.
About the map
This Europe country map displays all the boundaries and labels of countries in Europe. In general, we can group European countries into 4 regions – (1) Northern, (2) Western, (3) Southern, and (4) Eastern regions.
First, Western Europe includes mainland countries like Austria, Belgium, France, Netherlands, Germany, and Switzerland. Next, Northern Europe contains the Nordic Region (Denmark, Norway, Sweden, Finland, and Iceland). Not only does it include Scandinavia, but also the United Kingdom and the Republic of Ireland.
Southern Europe includes the Mediterranean Region countries such as Spain, Portugal, Turkey, Italy, and Greece. Finally, Eastern Europe contains countries like Bulgaria, the Czech Republic, Hungary, Poland, and Ukraine.

Europe in Google Maps
European Countries
Albania
Andorra
Austria
Belarus
Belgium
Bosnia and Herzegovina
Bulgaria
Croatia
Czechia
Denmark
Estonia
Finland
France
Germany
Greece
Hungary
Iceland
Ireland
Italy
Latvia
Liechtenstein
Lithuania
Luxembourg
Malta
Moldova
Monaco
Montenegro
Netherlands
North Macedonia
Norway
Poland
Portugal
Romania
Russia
San Marino
Serbia
Slovakia
Slovenia
Spain
Sweden
Switzerland
Ukraine
United Kingdom
Waterbodies
Greenland Sea
Norwegian Sea
North Sea
Strait of Gibraltar
Gulf of Bothnia
Baltic Sea
Black Sea
Mediterranean Sea
Barents Sea
Oceans
North Atlantic Ocean
Arctic Ocean