Map of Ontario – Cities and Roads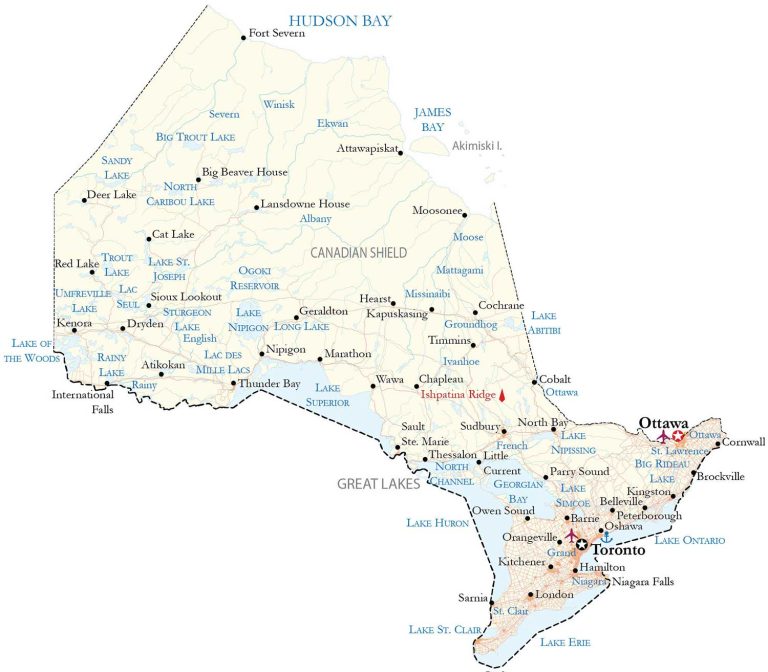 Download
An Ontario map showing major highways, roads, lakes, rivers, and cities of the most populous province in Canada. It also includes satellite imagery of the province and an elevation map with hillshade relief.
You are free to use our map of Ontario for educational and commercial uses. Attribution is required. How to attribute?
About the map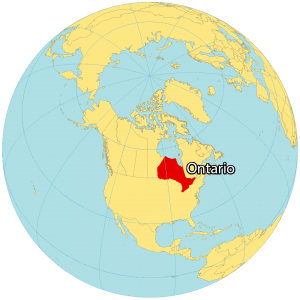 The province of Ontario is the most populous in Canada with major cities like Toronto, Ottawa, and Hamilton. It's also the second-largest province (excluding territories) in size after Quebec. The province of Ontario borders Hudson Bay to the northwest as well as the Canadian provinces of Manitoba to the west and Quebec to the northeast.
Additionally, it borders the Great Lakes and the US states of Minnesota, Michigan, Ohio, Pennsylvania, and New York to the south. Ontario holds two capital cities. First, Ottawa is the capital city of Canada where its parliament buildings are located. Secondly, Toronto is the provincial capital of Ontario and the largest city in Canada. Ontario was one of the four original provinces (along with New Brunswick, Nova Scotia, and Quebec) when Canada became a country in 1867.

Ontario in Google Maps
IMAGERY
Ontario Satellite Map
There are three geographical regions in Ontario – the Hudson Bay Lowlands, the Canadian Shield, and the St. Lawrence Lowlands. First, the Hudson Bay Lowlands is a wetland region along the shores of Hudson Bay and James Bay virtually uninhabited. Secondly, the Canadian Shield occupies about half of Ontario, sparsely populated and rich in minerals. Lastly, the St. Lawrence Lowlands contain the majority of its population with most of its arable land.
Despite its large size, Ontario's climate is mostly warm-summer humid continental in the south and subarctic to the north. There are over 250,000 freshwater lakes in Ontario, which account for about one-fifth of the world's freshwater. Altogether, Ontario occupies a total area of 1,076,395 square kilometers (415,598 sq mi). If Ontario was a country, it would be in the top 30 countries for size.
HILLSHADE
Ontario Elevation Map
There are no major mountain chains in Ontario. Instead, there are several upland areas within the Canadian Shield as well as the Niagara Escarpment and Blue Mountain geological formations. At 693 meters (2,274 ft) above sea level, Ishpatina Ridge is the highest point in the province of Ontario.
Previously, Maple Mountain within Lady Evelyn-Smoothwater Provincial Park was believed to be the highest point in Ontario. Both peaks are part of the Canadian Shield in the eastern region of Ontario.
Canadian Provinces
Canadian Territories