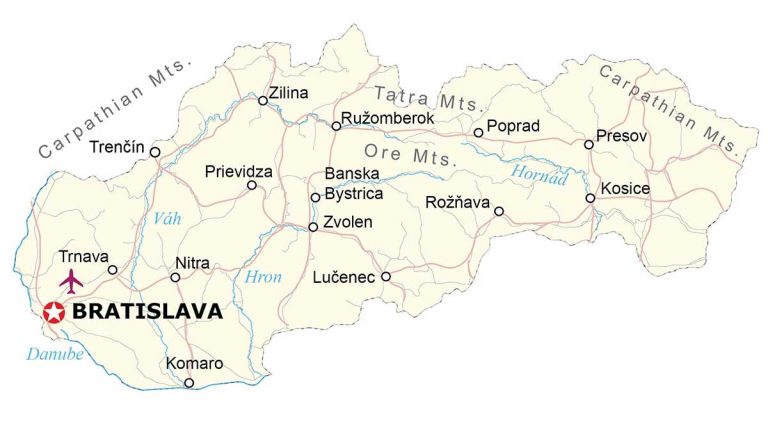 Download
This map of Slovakia contains major cities, rivers, and highways. From the Eastern Slovak Lowlands to the Tatra Mountains, it also features a satellite and elevation map of Slovakia.
You are free to use our Slovakia map for educational and commercial uses. Attribution is required. How to attribute?
About the map
Slovakia is a landlocked country located in central Europe. It borders five European countries including Poland to the north, the Czech Republic to the northwest, Austria to the west, Hungary to the south, and Ukraine to the east.
Bratislava is the capital and largest city of Slovakia, located in the southwest of the country. In 1993, Slovakia separated from the Czech Republic to form its own country.
The country is known for its caves and mountains. It also possesses the highest concentration of castles of any other country in the world. The geography of Slovakia is diverse, with the Carpathian Mountains running through the north of the country and the Danube River flowing through the capital, Bratislava.

Slovakia in Google Maps
SATELLITE IMAGERY
Slovakia Satellite Map
Slovakia occupies an area of 49,035 square kilometers (18,933 sq mi) similar in size to Bosnia and Herzegovina. The longest rivers in Slovakia are the Váh, Morava, and Hron. Besides these major rivers, the Danube River also forms a partial boundary between Hungary and Slovakia.
Slovakia is highly forested with over 40% of the country covered with forests. Even the capital city of Bratislava contains the Bratislava Forest, which is 26 square kilometers (10 sq mi) and located in the foothills of the Little Carpathians. Lakes and valleys are scattered throughout the country such as the Palcmanská Masa or Orava.
PHYSICAL MAP
Slovakia Elevation Map
Slovakia's terrain is mostly rugged and mountainous. But its terrain gradually flattens out further to the south towards Hungary. One of its most prominent features is the Tatra Mountains (or the Carpathian Mountains) in the north.
Its highest point, Gerlachovsky Stit (or Gerlach), stands at 2,655 meters (8,711 ft) close to its border with Poland. Conversely, some of Slovakia's plains are part of the Danubian Plain, which is situated in the southwestern region of Slovakia.
POLITICAL MAP
Slovakia Regional Map
There are 8 regions in Slovakia, which are divided administratively and geographically. Regions are the first-level administrative unit but they can be divided further into kraje. Next, each kraje consists of okresy (counties or districts). The eight regions of Slovakia are Banská Bystrica, Bratislava, Košice, Nitra, Prešov, Trenčín, Trnava, and Žilina.