Moldova Map – Cities and Roads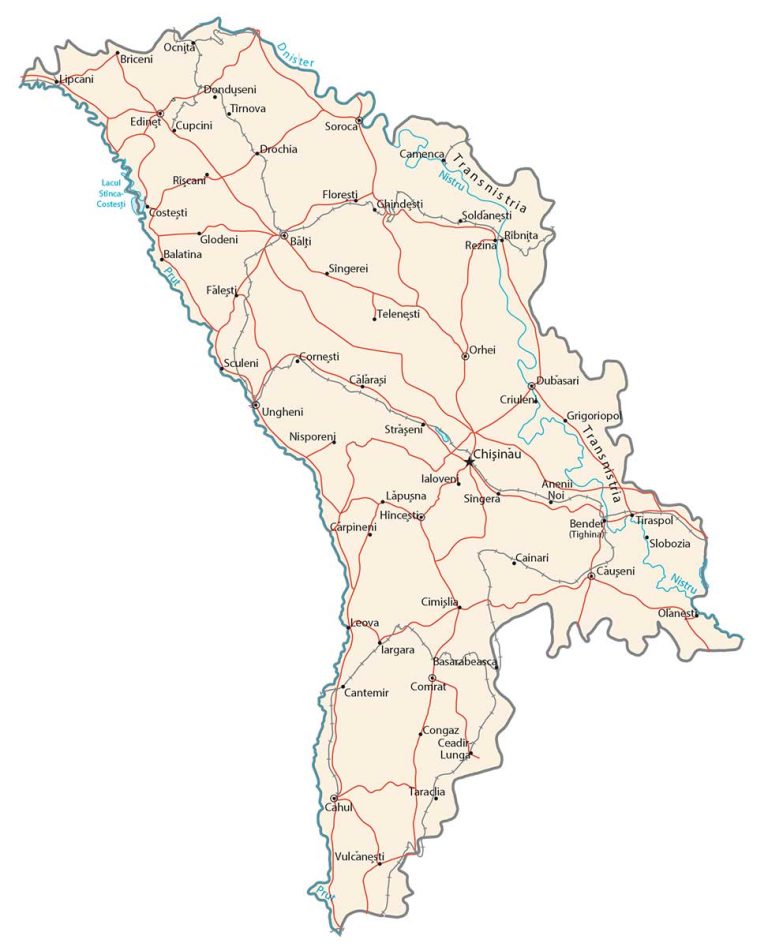 Download
This map of Moldova contains cities, towns, rivers, lakes, and highways. It features an elevation map and satellite imagery to view its landscape like the historical Bessarabia region.
You are free to use our Moldova map for educational and commercial uses. Attribution is required. How to attribute?
About the map
Moldova is a landlocked Eastern European country close to the Black Sea. It borders just 2 European countries including Romania to the southwest and Ukraine to the northeast.
The country also contains the narrow strip of land between the Dniester River and the Ukrainian border, Transnistria, which is internationally recognized as part of Moldova.
Overall, Moldova is a low-income country and is the least visited of any European country. Chișinău is the capital and largest city. But its other major cities are Bălți, Tiraspol, and Bender (Tighina).

Moldova in Google Maps
SATELLITE IMAGERY
Moldova Satellite Map
Moldova occupies an area of 33,843 square kilometers (13,067 sq mi), including Transnistria. This makes it larger than Armenia but smaller than Switzerland. Moldova lies between 45° and 49° N latitudes with a continental climate. Summers are long without much humidity. Whereas winters are more miles without much snow. The historical Bessarabia Region occupies close to 90% of the country, bound by the Dniester River to the east and the Prut River to the west.
PHYSICAL MAP
Moldova Physical Map
The terrain is composed of rolling grasslands with two main rivers the Nistru and the Prut. Then, it transitions to gradual slopes to the low-lying Black Sea region to the south. Altogether, it consists of the Bessarabian Upland and the Black Sea Lowland. At just 430 m (1,410 ft), Bălănești Hill it's the highest point in the west of the country. Whereas its lowest point is the Dniester River at 2 meters above sea level.