Map of Romania – Cities and Roads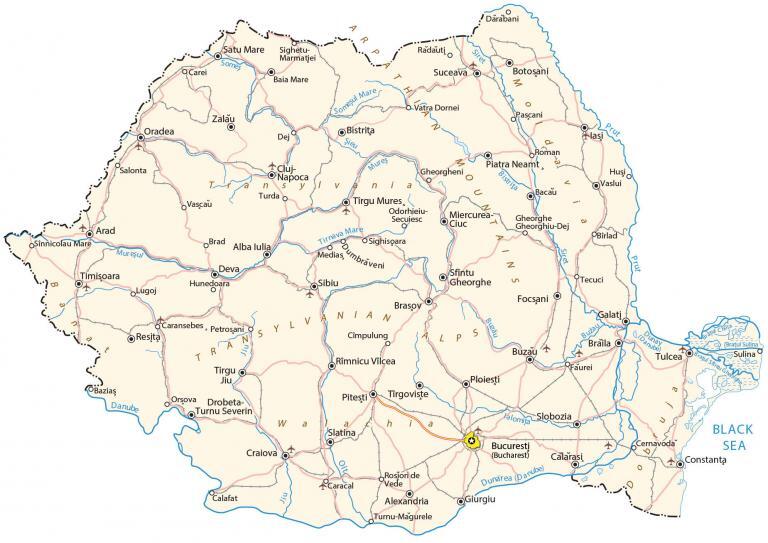 Download
This map of Romania displays cities, roads, water, satellite imagery, and elevation. It contains features like the Transylvania Region, the Carpathian Mountains, and the Wallachian Plain.
You are free to use our Romania map for educational and commercial uses. Attribution is required. How to attribute?
About the map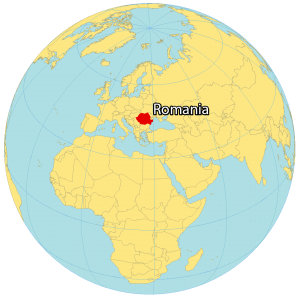 Romania is a country located in southeastern Europe next to the Black Sea. It borders Moldova to the east, Ukraine to the north, Hungary to the northwest, Serbia to the southwest, and Bulgaria to the southeast. Romania is known for its forested Transylvania region and the Carpathian Mountains.
It's recognized for its medieval towns and castles like the clifftop Bran Castle and the legend of Dracula. Bucharest is the capital and largest city of Romania. Other major cities are Cluj-Napoca, Timișoara, and Constanta.

Romania in Google Maps
SATELLITE IMAGERY
Romania Satellite Map
Altogether, Romania occupies an area of 238,397 square kilometers (92,046 sq mi). In comparison, it is smaller than the United Kingdom but larger than Belarus. Romania is not completely landlocked because it shares a coastline of 245 km (152 mi) with the Black Sea to the southeast. At 615 kilometers (382 mi), the Olt River is its longest river.
Whereas its largest lake is Lake Razelm at 511 square kilometers (197 sq mi). The country lies between 44°N and 48°N latitude so its climate is mostly temperate continental and wet. According to the FAO, forests cover 28.6% of Romania. Its major historical regions are Oltenia to the southwest and Moldavia to the northeast.
PHYSICAL MAP
Romania Elevation Map
The terrain of Romania is a relatively evenly distributed mix of plains, uplands, hills, and mountains. Its major mountain chain is the Carpathian Mountains, which circle the Transylvania Plateau. Within this mountain range, it contains Moldoveanu Peak. At 2,544 meters (8,346 ft), this is the highest peak in Romania.
Whereas its lowest point is the Black Sea at 0 meters (0 ft) sea level. The Wallachian Plain is a vast historical region in the south and is bound by the Danube River to the east. Whereas the Dobruja region is located to the east of the Danube River to the southeast divided between Bulgaria and Romania.